Don't Miss The Best Summer Concerts In Atlantic City
The summer weather combined with the beaches in South Jersey provides an excellent venue for live music.
From its history as being a pinnacle for entertainment from The Beatles to Frank Sinatra, Atlantic City, New Jersey still ranks among the best places to see live music in America.
Here, I'll round up some of my most-anticipated events throughout the summer in South Jersey and I'll do my best to keep the list updated. Remember, for most of these free concerts you're going to want to bring a beach chair or blanket.
Atlantic City, New Jersey
Phish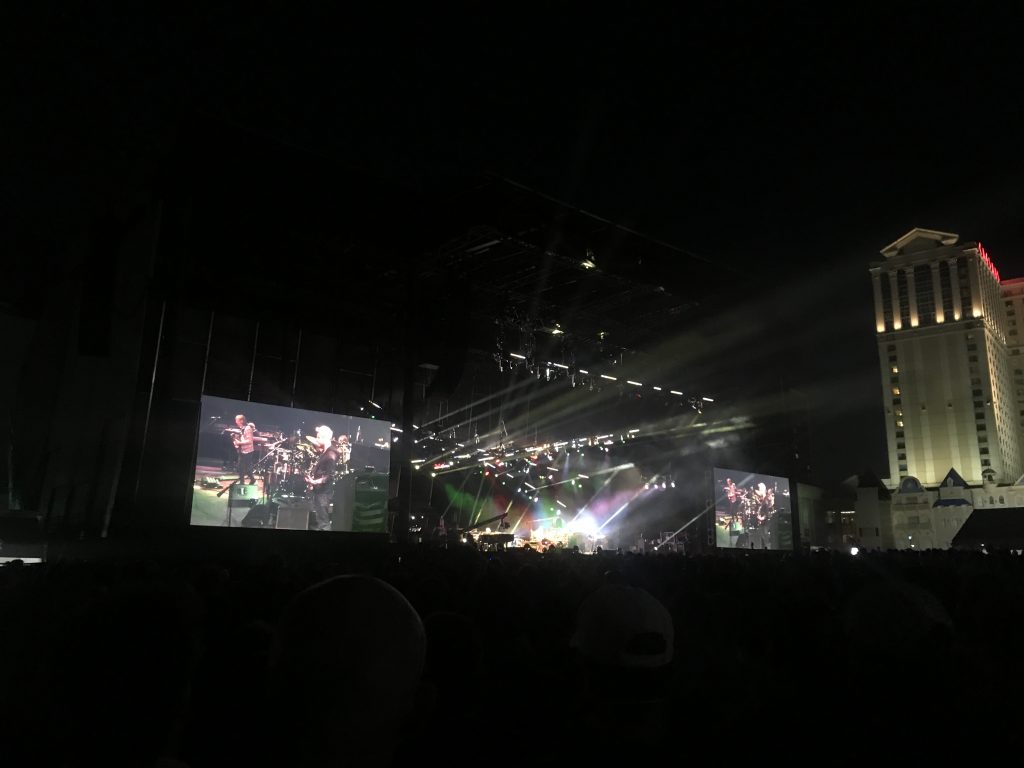 The popular jam band will return to Atlantic City for three nights of beach concerts Aug. 5-7, 2022. Tickets are on sale now. Check out my review of last year's show.
Tidal Wave Music Festival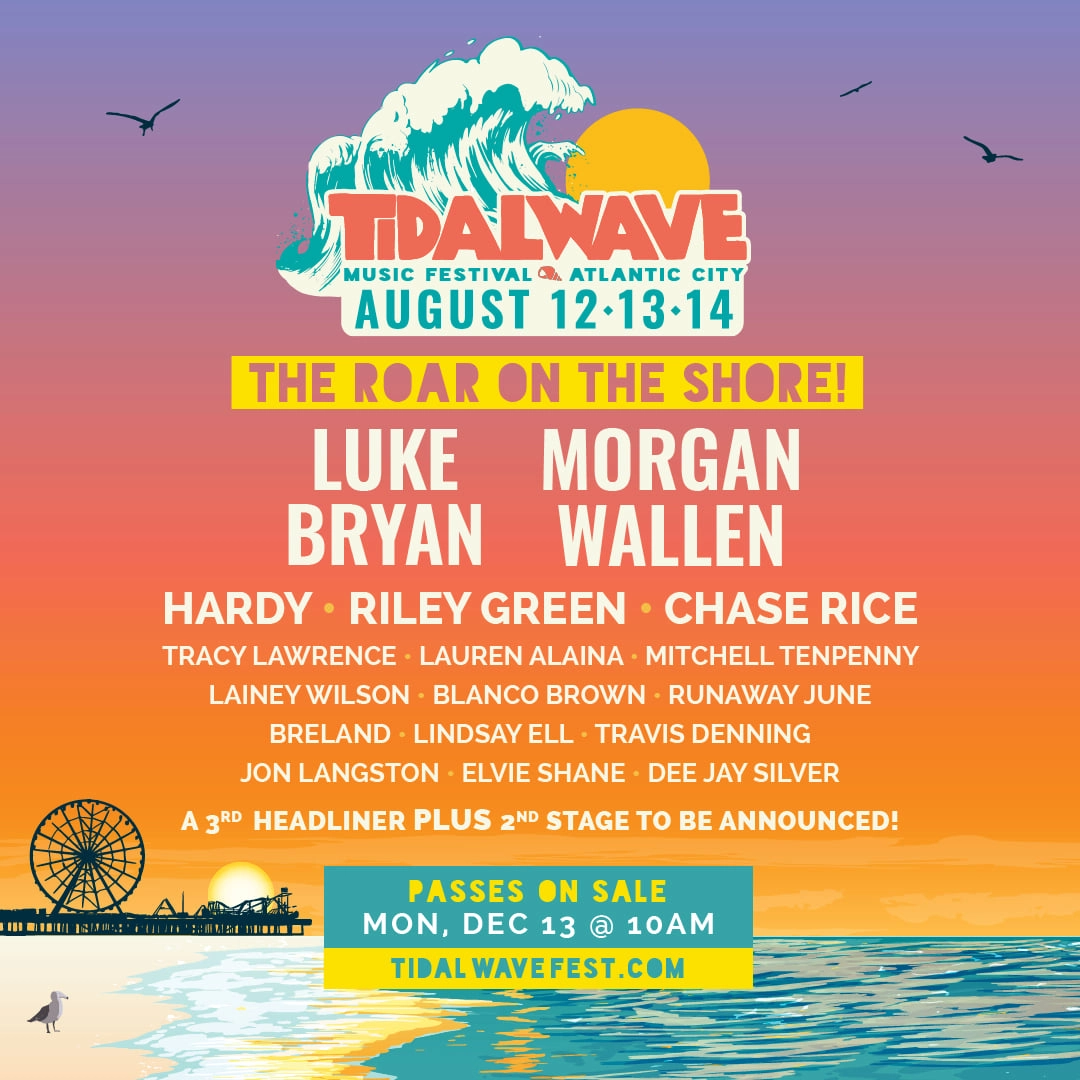 The following weekend, country music will take over the beach with the TidalWave Music Festival Aug. 12-14 featuring Luke Bryan, Morgan Wallen, Dirks Bentley, Hardy, Riley Green, Chase Rice and more. Tickets are on sale.
Concerts at Kennedy Plaza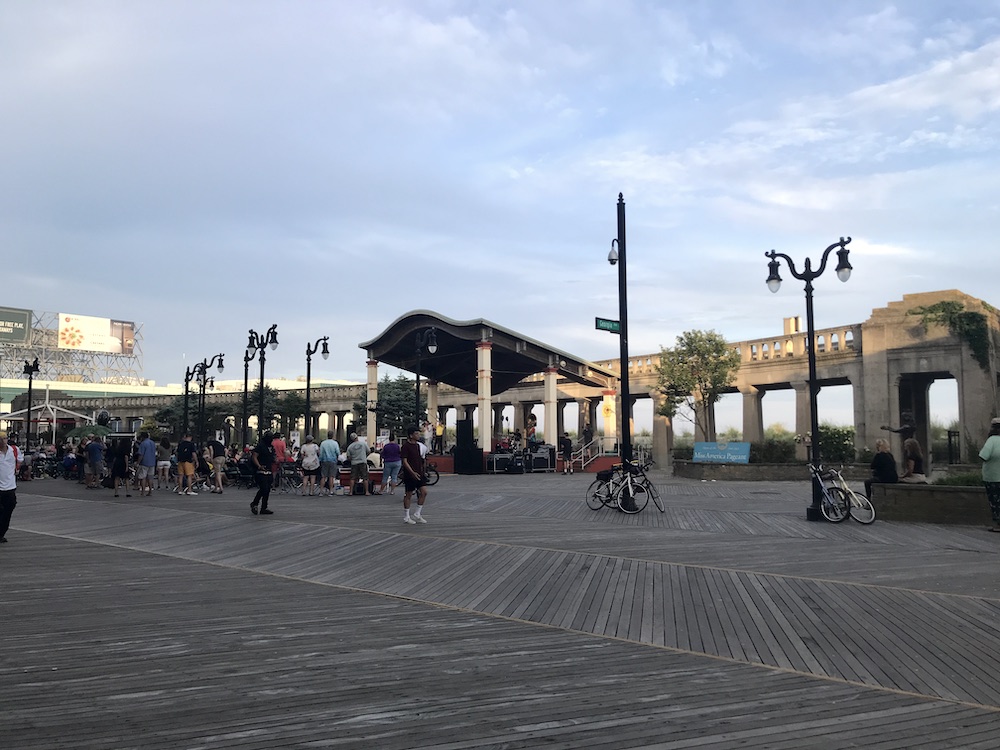 Beginning June 29, Mardi Gras is coming to the Boardwalk with free concerts at Kennedy Plaza kick off 7-10 p.m. every Wednesday directly in front of Boardwalk Hall on the Boardwalk. Bring your own beach chair and dancing shoes. See TonyMart.com for information.
June 29 – Concert kick-off party, starring James Andrews "Satchmo of the Ghetto" recording star from HBO's Treme "Trombone Shorty's" celebrity brother
plus the Billy Walton Band, funky New Orleans tributes to the Nevilles, The Meters and Little Feat
July 6 – Kim Wilson and The Fabulous Thunderbirds – legendary 7-piece Austin roadhouse rockers whose legacy gave us Stevie Ray Vaughn
June 13 Gary "US" Bonds classic rock legend performing "this little girl is mine" written for him by Springsteen plus, the award-winning Johnny Sansone
July 20 – BB King entertainer of the year, Tommy Castro and the painkillers plus: willpower a funky tribute to War, Kool and the Gang and more
July 27 – Bonerama, funky, brassy New Orleans rhythm and blues and rock 'n' roll
Aug. 3 – Golden Globe nominee Dana Fuchs, contemporary roots rock diva. Portrayed Janis Joplin off-broadway. She was featured in The Beatles cult classic movie "Across The Universe" and Flow Tribe – popular New Orleans high-energy party rock ban. Bringing jazzfest to the Boardwalk.
Aug. 10 – Peter Rivera, Rare Earth's founder and lead vocalist with Paul Nelson, Grammy Award-winning producer/guitarist for the Johnny Winter band
Aug. 17 – Stanley Jordan plays Jimi Hendrix plus Curtis Salgado Band, soul/blues and BB King entertainer of the year (multiple years). The man who taught the blues to the blues brothers
Aug. 24 – Airshow Finale, 8 p.m. start with Inca: a tribute to Carlos Santana, Edgardo Cintron and his all-star band
Aug. 31 – John Cafferty and the Beaver Brown Band. The original "Eddie and the Cruisers" sound track recording artists plus, John Papa Gros – New Orleans tribute to Dr. John, The Meters and more.
Frantic City Music Festival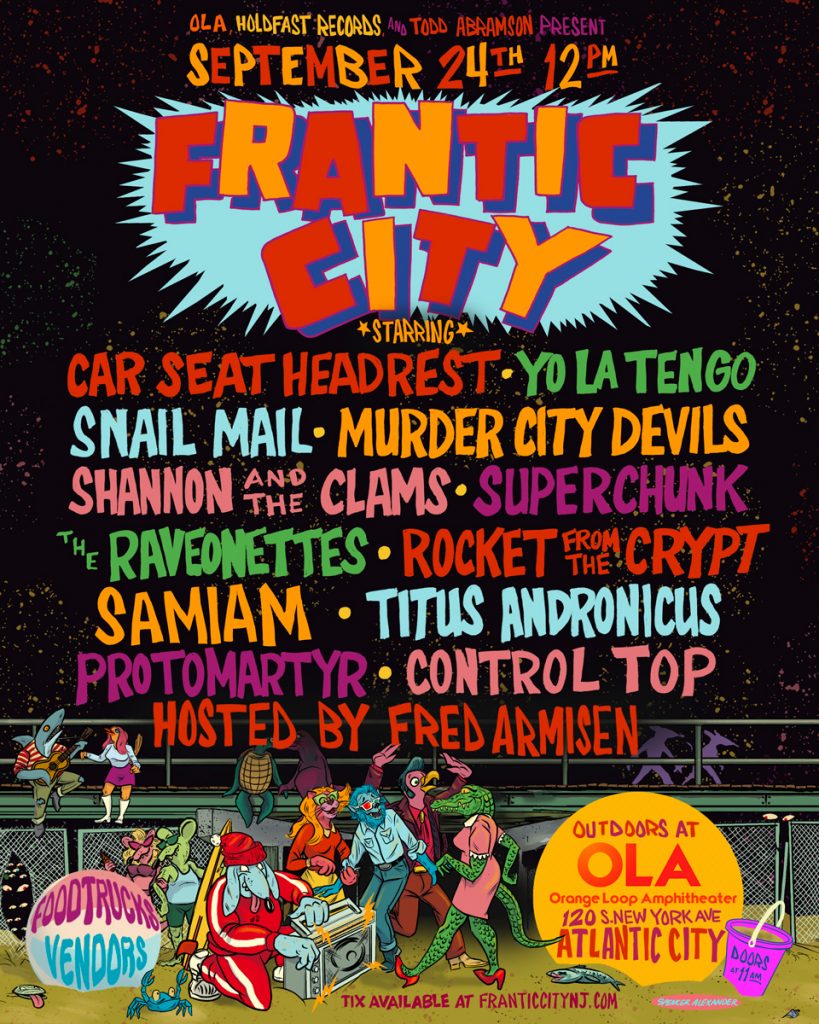 Rock fans will want to mark down on Sept. 24 on their calendar for Fantic City at the Orange Loop Amphitheater on New York Avenue in Atlantic City hosted by Fred Armisen and featuring Yo La Tengo, Car Seat Headrest, Snail Mail, the Raveonettes, Superchunk, Protomartyr and more. See franticcitynj.com.
Ventnor City, New Jersey
Just down the boardwalk from Atlantic City, Ventnor City hosts its Summer Beach Jam series at 6 p.m. on Saturdays at Newport Avenue. Vendors open at 5 p.m. See Facebook for details
Ventnor Beach Jam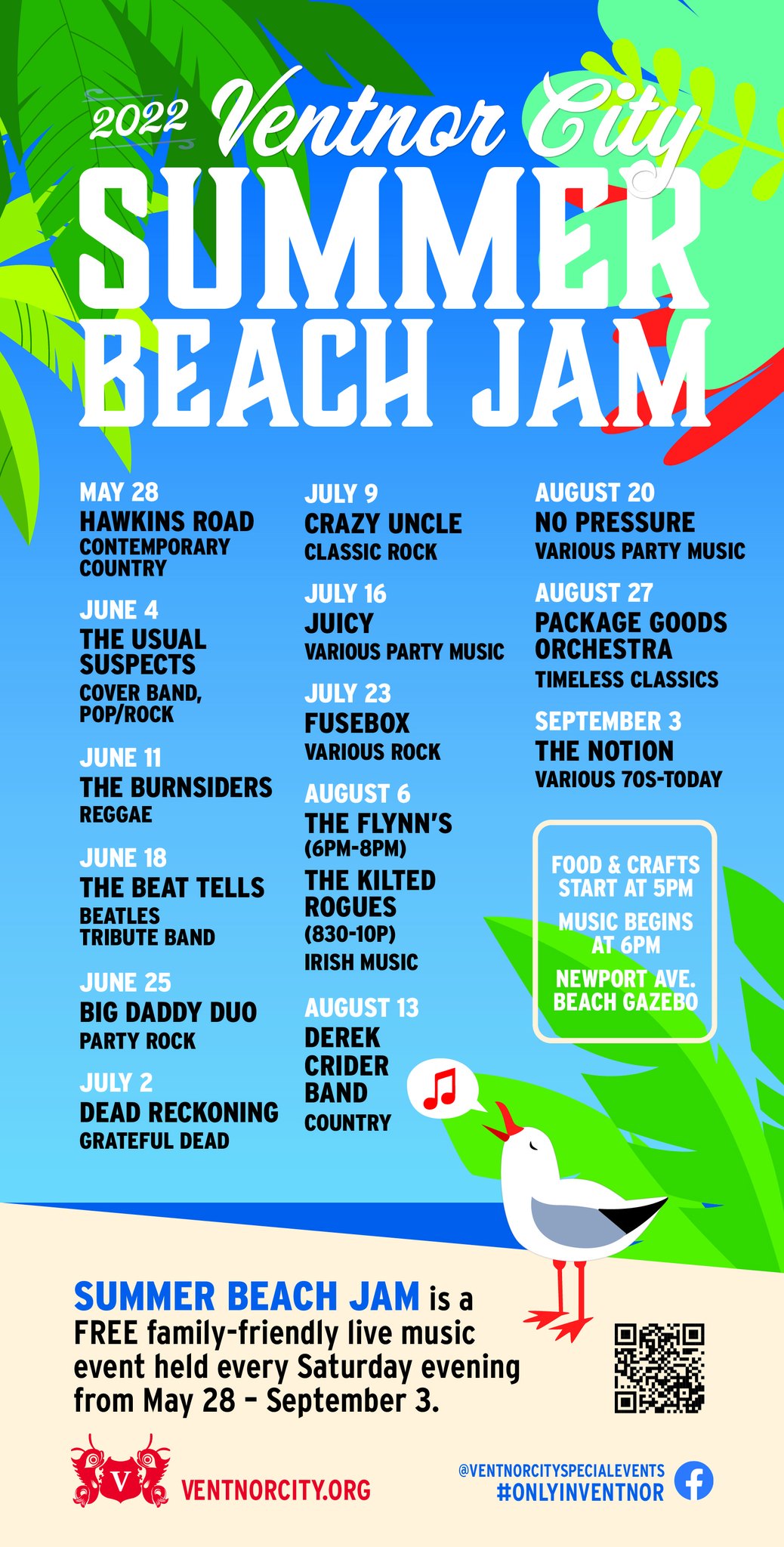 June 18 – The Beat Tells, Beatles tribute band
June 25 – Big Daddy Duo, party rock
July 2 – Dead Reckoning, Grateful Dead tribute band
July 9 – Crazy Uncle, classic rock
July 16 – Juicy, party music
July 23 – Fusebox, mixed bag
Aug. 6 – The Flynn's and Kilted Rouges, Irish music
Aug. 13 – Derek Crider, country
Aug. 20 – No Pressure, party music
Aug. 27 – Package Goods, timeless classics
Sept. 3 – The Notion, 70s to today
The city also hosts its Sunsets at Ski Beach, 6 p.m. Wednesdays located at Dorset and Burk avenues with vendors opening at 5 p.m.
Sunsets At Ski Beach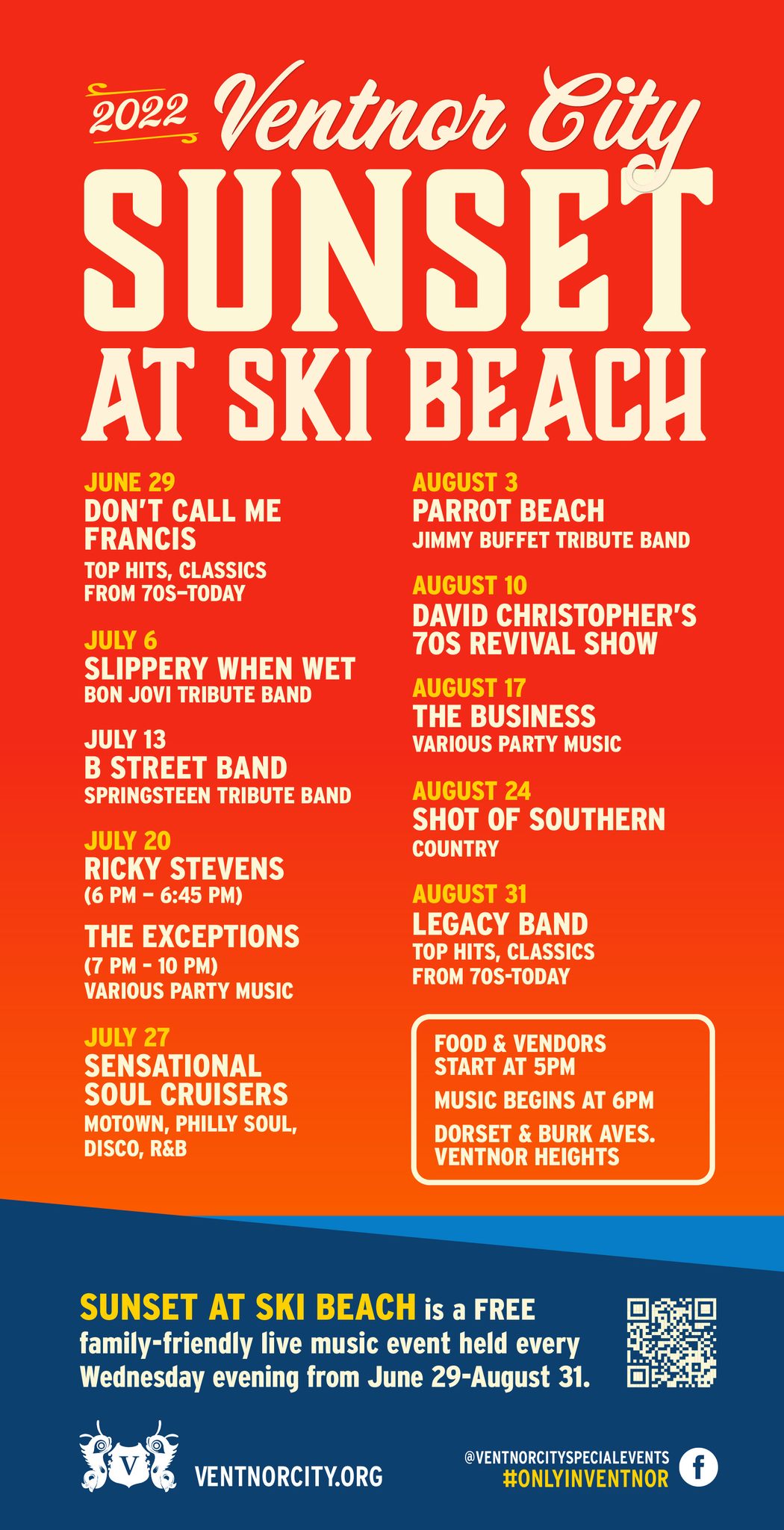 June 11 – The Burnsiders Reggae Band, reggae
June 29 – Don't Call Me Francis, hits from the 70s to today
July 6 – Slippery When Wet, Bon Jovi tribute band
July 13 – B Street Band, Springsteen tribute band
July 20 – The Exceptions, party music
July 27 – Sensational Soul Cruisers, Motown, Philly soul, disco, R&B
Aug. 3 – Parrot Beach, Jimmy Buffett tribute band
Aug. 10 – David Christopher's 70s Revival Show, 70s music
Aug. 17 – The Business, party music
Aug. 24 – Shot of Southern, country
Aug. 31 – Legacy Band, classics 70s to today
Somers Point, New Jersey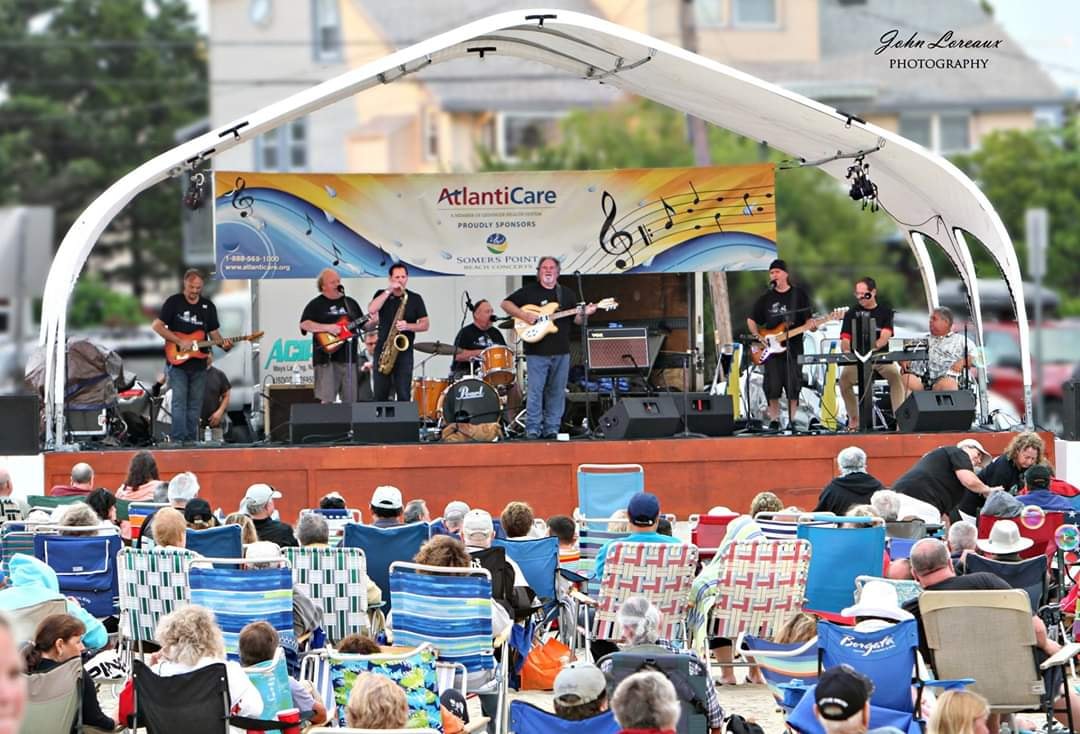 Keeping with its own rich musical tradition, Somers Point brings some legendary musicians to its own beach.
The 29th Annual Somers Point Beach Concert Series begins 7 p.m. Fridays at William J. Morrow Memorial Beach located between Higbee and New Jersey Avenues on Bay Ave in Somers Point. For information see http://www.somerspointbeachconcerts.com/
June 17 – "Countdown to Ecstasy" – Steely Dan Tribute
June 24 – Joe Louis Walker – blues, and Patty Blee and her band
July 1 – The Tony Mart Allstars perform "Eagles Country"
Monday, July 4 – The Billy Walton Big Band featuring singer Destinee Monroe
July 8 – The Dane Anthony Band – dance music from Motown through today
July 15 – Victor Wainwright and The Train
July 22 – Maria Muldaur and Vanessa Collier – roots and Americana music
July 29 – Bonerama – New Orleans-flavored rock 'n' roll
Aug. 5 – Gary U.S. Bonds – rock and roll legend featuring The Billy Walton Band
Aug 12 – Roomful of Blues
Aug 19 – Rick Estrin and the Nightcats – swinging rock, and Kid Anderson – classic surf rock
Aug 26 – Hawkins Road – rock and reggae
Sept 2 – John Cafferty and the Beaver Brown Band – from "Eddie and the Cruisers," and The Tony Mart Allstars
Sept. 9 – The Cowsills Premiere Original Classic Pop Band, and Teddy Royal with Howard Isaacson
Country at The Point
Country music 6-10 p.m. Thursdays at The Point, located at Gull and Bay avenues in Somers Point. See TonyMart.com for information.
June 30 – Tony Mart Allstars country rockin' dance party featuring the funky country fiddle of Heather "Lil' Mama" Hardy
July 7 – Tony Mart Allstar Concert starring Danny Eyer, "The Country Voice" of Brian Conover, Brian "Coconutz" Varhelyi and Heather "Lil' Mama" Hardy
June 14 – Johnny Sansone's "Louisiana Squeezbox" and Hawkins Road Nashville country dance party
July 21 – The Fabulous Silver Wings, roured and recorded with Loretta Lynn, Alan Jackson, Linda Ronstadt, Kenny Chesney and more
July 28 – The Rhythm Wranglers, high energy dance country with four voices of harmony
Aug. 4 – Not Leaving Sober, hot young good time country fun
Aug. 11 – The fabulous Silver Wings
Aug. 18 – Tony Mart Allstars Country Sing-a-Long tribute to Toby Keith, John Denver, Johnny Cash, Garth Brooks and more
Aug. 25 – The Rhythm Wranglers
Sept. 1 – The Tony Mart Allstars "Eagles Country" Tribute to the Eagles, Joes Walsh, Linda Ronstadt and Don Henley
Ocean City, New Jersey
Across the bridge from Somers Point is home one of the most unique music venues around – The Ocean City Music Pier, which kicked off its summer concert series on May 5 with Janis Ian. See ticketmaster for tickets or contact BRE Presents at info@brepresents.com or call 856-429-6100. Concerts begin at 7 p.m. See ocnj.us/SummerConcertSeries for information.
Monday, June 20 – It Was 50 Years Ago Today, A Tribute TO The Beatles featuring Todd Rundgren, Christopher Cross, Jason Scheff (Chicago), Joey Molland (Badfinger) and Denny Laine (Moody Blues and Wings) performing their own hits and "Rubber Soul" and "Revolver"
Monday, June 27 – Get The Led Out!
Tuesday, June 28 – Dave Mason
Monday, July 11 – Killer Queen
Monday, July 18 – Gordon Lightfoot
Monday, July 25 – The Moody Blues' John Lodge
Monday, Aug. 1 – Happy Together Featuring The Turtles, Chuck Negron of Three Dog Night, Gary Puckett and The Union Gap, The Association, The Vogues and The Cowsills
Tuesday, Aug. 2 – The Bacon Brothers
Monday, Aug. 8 – An Evening With Graham Nash
Monday, Aug. 15 – Girl Named Tom – Winner of NBC's "The Voice!"
Monday, Aug. 22 – Kenny Wayne Shepherd Band
Egg Harbor Township, New Jersey
Centrally located in Atlantic County, Egg Harbor Township hosts its Rhythm in The Park concert series 7-10 p.m. Fridays at Robert J. Lincoln Amphitheater which is located within Tony Canale Park, 5045 English Creek Ave.
Rhythm in the Park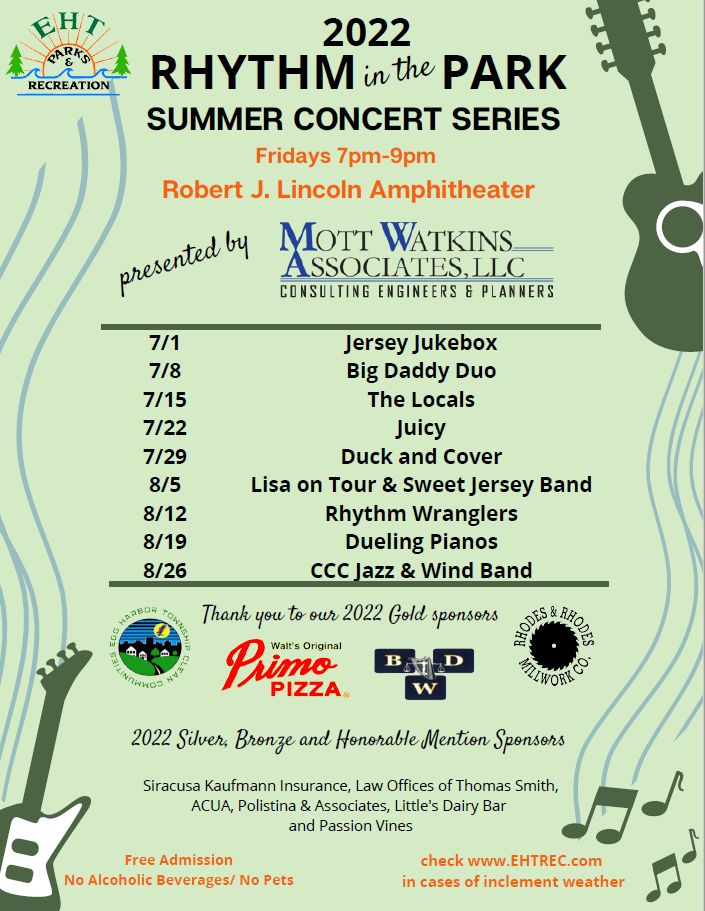 July 1 – Jersey Jukebox
July 8 – Big Daddy Duo
July 15 – The Locals
July 22 – Juicy
July 29 – Duck and Cover
Aug. 5 – Lisa Ontour
Aug. 12 – The Rhythm Wranglers
Aug. 19 – Dueling Pianos
Aug. 26 CCC Jazz and Wind Ensemble
Other notable festivals and concerts in the region
Beardfest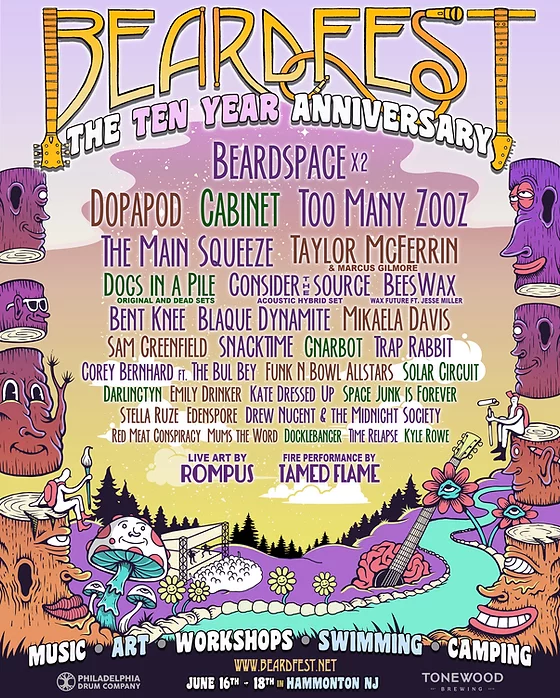 June 16-18 in Hammonton, New Jersey
Featuring Beardspace, Dopapod, Cabinet, Too Many Zoos, The Main Squeeze and more.
https://www.beardfest.net/
Barefoot Country Music Festival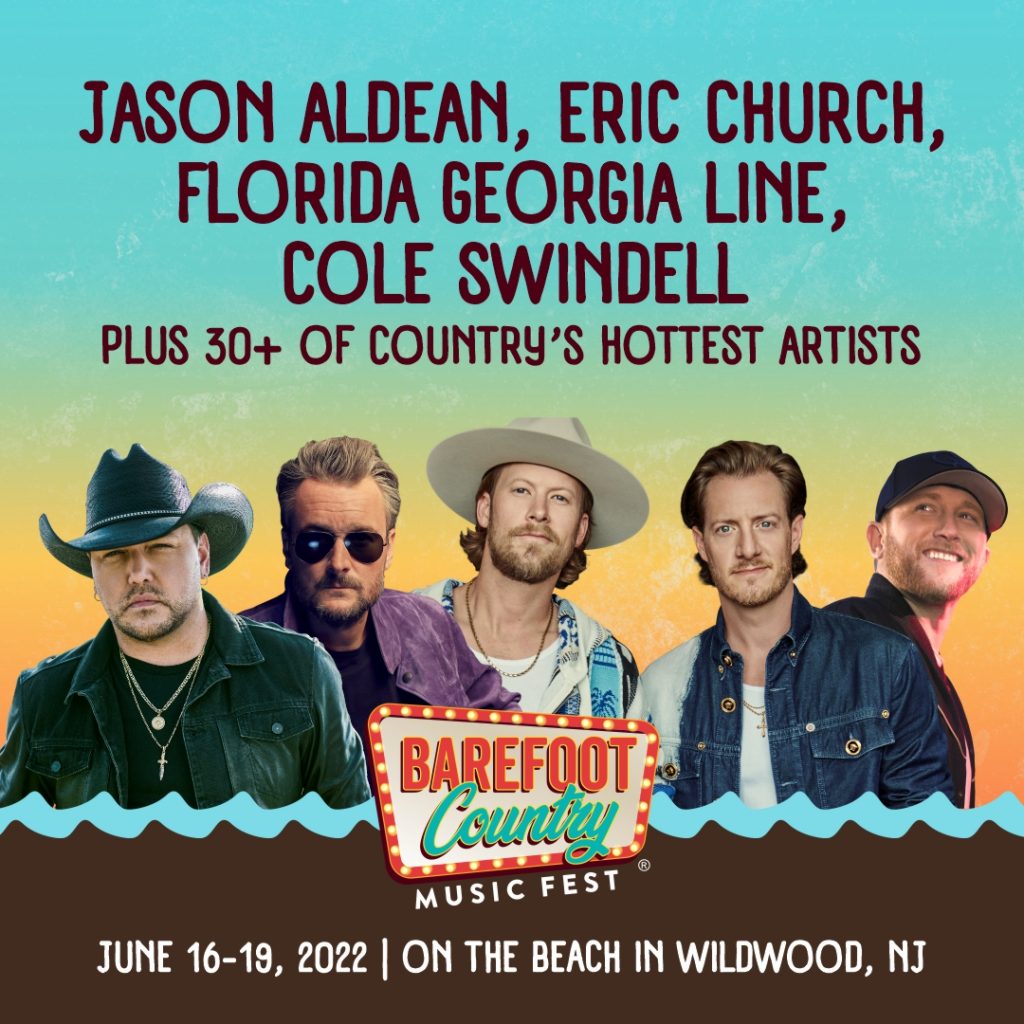 June 16-19 on the Wildwood Beach
Jason Aldean, Eric Church, Flordia Georgia Line, Cole Swindell and more will make up more than 40 musical acts across five stages all along the beach in Wildwood, New Jersey.
barefootcountrymusicfest.com
Elephant Talk Indie Music Festival
Aug. 5-6 at The Watering Hole in Mays Landing, New Jersey
Featuring The Surf Jerks, Truant Minds, Johnny Germ, Khalid Quesada, Capitol Minds, Pending light, Jack Donnelly and Friends and more.
https://www.facebook.com/events/633358287921371/
Ska at the Shore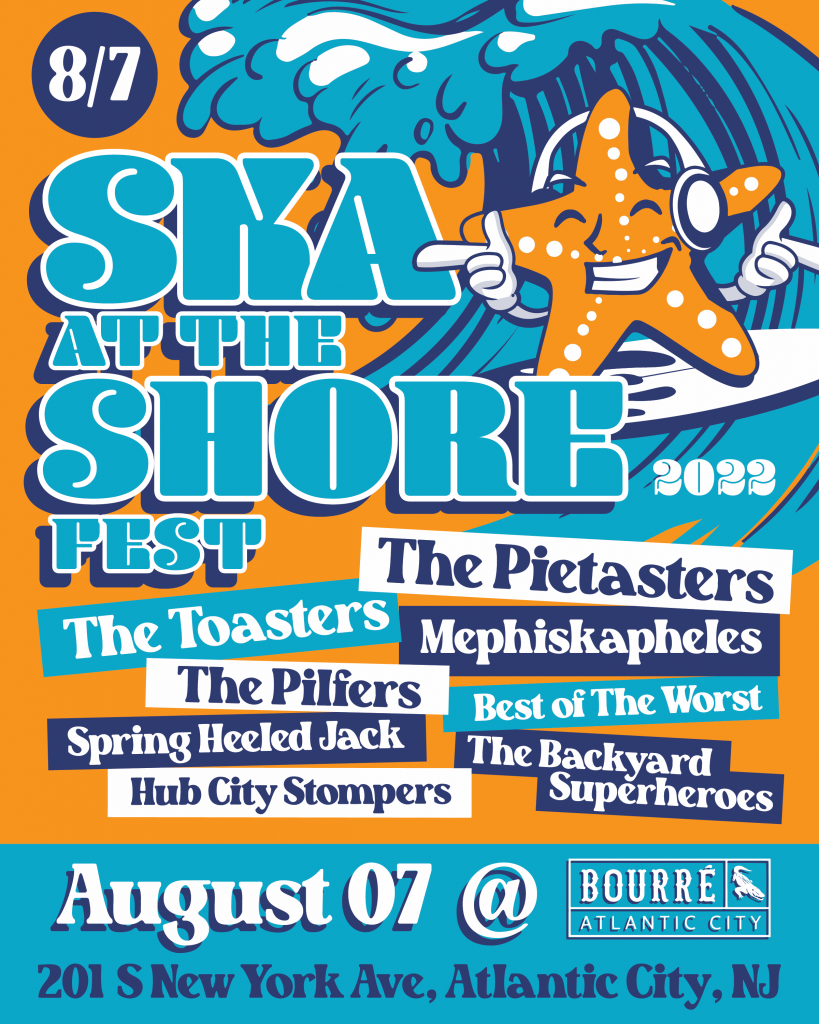 Aug. 7 at Bourre in Atlantic City
Featuring The Pietasters, The Toasters, The Pilfers Mephiskapheles, The Backyard Superheroes, Hub City Stompers, Spring Heeled Jack and Best of the Worst.
https://www.eventbrite.com/e/ska-at-the-shore-tickets-322765037917?aff=ebdssbdestsearch
Philadelphia Folk Festival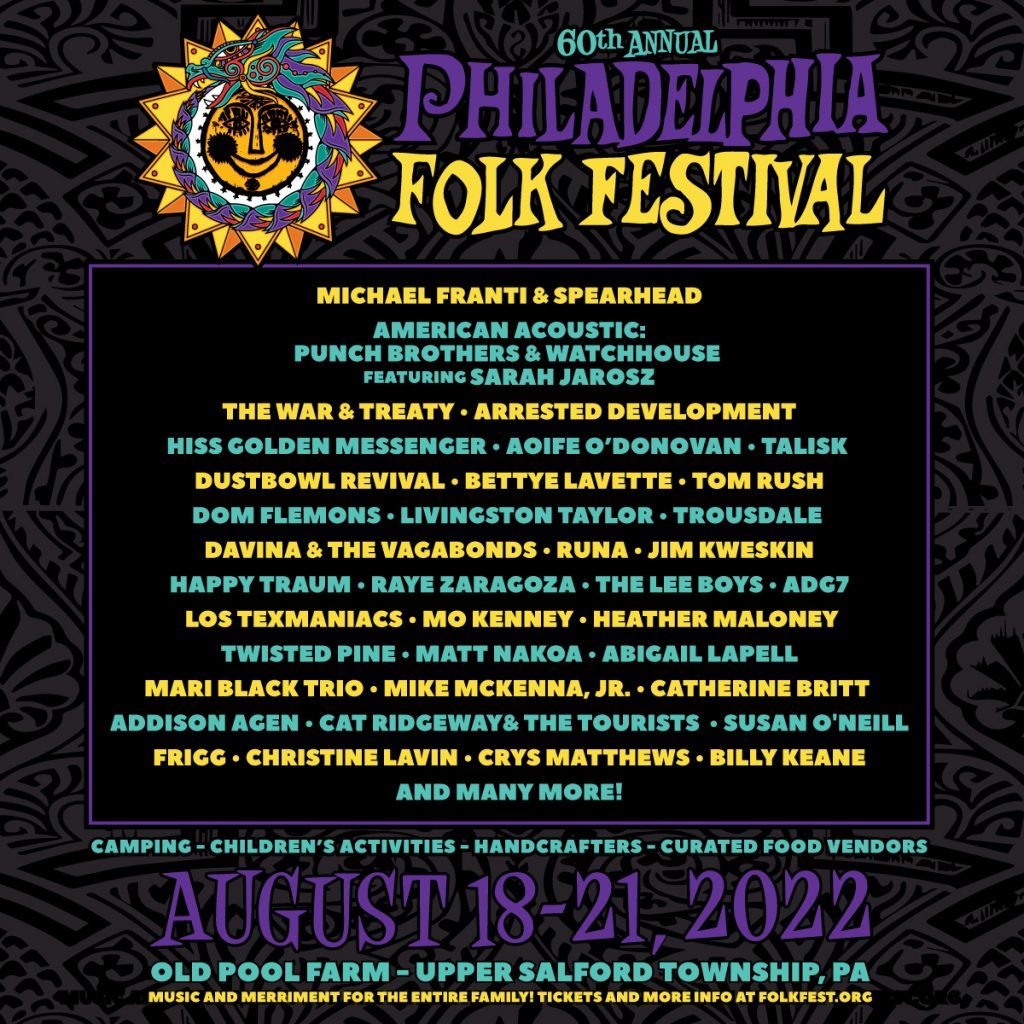 Aug. 18-21 at the Old Pool Farm in Upper Salford Township, Pennsylvania
Featuring Michael Franti and Spearhead, American Acoustic: Punch Brothers and Watchhouse featuring Sarah Jarosz, The War and Treaty, Arrested Development, Hiss Golden Messenger, Talisk, Tom Rush and more. See folkfest.org for info and see my preview here.
Delaware Valley Bluegrass Festival
Sept. 2-4 at the Salem County Fairgrounds in Woodstown, New Jersey
Featuring Ricky Skaggs and Kentucky Thunder, Del McCoury Band, and Michael Cleveland and Flamekeeper.
https://delawarevalleybluegrass.org/
Sea.Hear.Now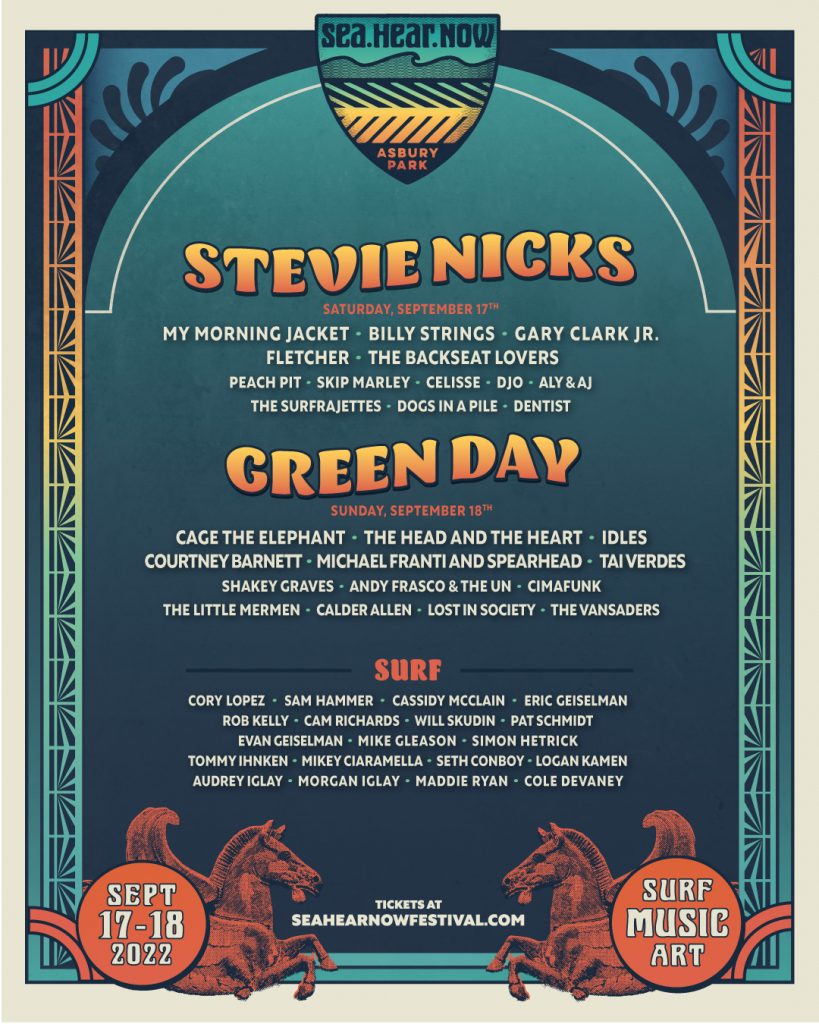 Sept. 17-18 on the Asbury Park Beach
Featuring Stevie Nicks, My Morning Jacket, Billy Strings, Gary Clark Jr. Green Day, Cage the Elephant, The Head and the Heart and surfing by many including Ventnor City's own Cassidy McClain.
https://www.seahearnowfestival.com/
Firefly Music Festival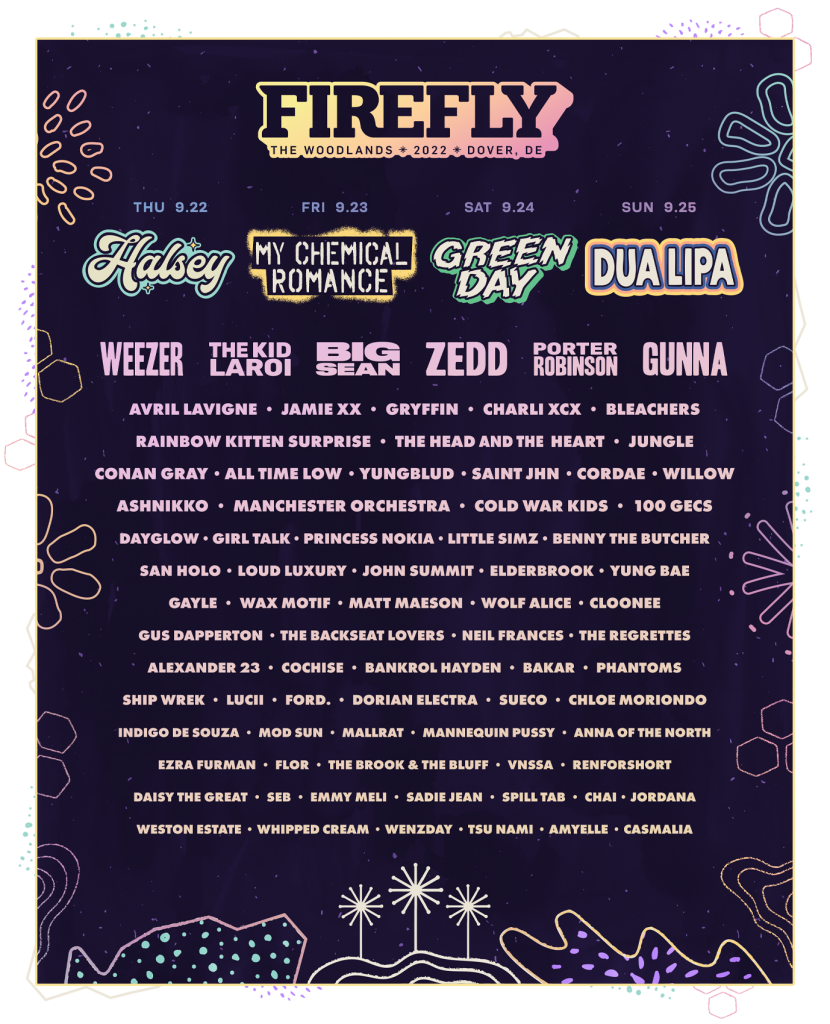 Sept. 22-25 The Woodlands, Dover Delaware
Headliners include Halsey, My Chemical Romance, Green Day, Dua Lipa, Weezer, Porter Robinson, Haim and more.
https://fireflyfestival.com/
Outlaw Music Festival
Sept. 23 at the Waterfront Music Pavilion in Camden
Featuring Willie Nelson and Family, Chris Stapleton, The Avett Brothers, Nathaniel Rateliff and the Nightsweats, Jason Isbell and the 400 Unit, Billy Strings, ZZ Top and more. See  https://blackbirdpresents.com/concert/outlaw-music-festival-tour-2022/.
XPoNential Music Festival
Sept. 16-18 on the Camden Waterfront
Featuring The War On Drugs, Patti Smith, Geese, Nathaniel Rateliff and the Nightsweats, The Revivalists, Snacktime, Jenny Lewis and Taj Mahal.
https://xpnfest.org/
Ocean's Calling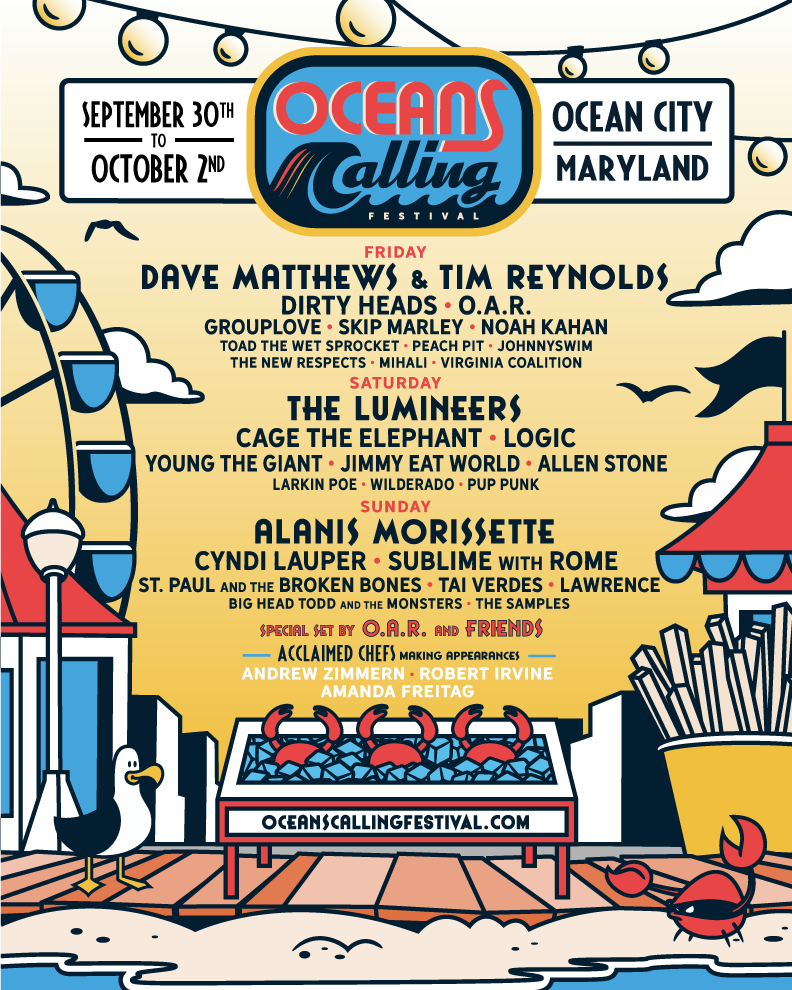 Sept. 30-Oct. 2 in Ocean City, Maryland
Featuring Dave Matthews and Tim Reynolds, Dirty Heads, O.A.R., The Lumineers, Cage the Elephant, Logic, Alanis Morissette, Cyndi Lauper, Sublime with Rome, St. Paul and the Broken Bones and more.
https://www.oceanscallingfestival.com/
I'm sure I missed some so let me know what you're going to this summer in the comments below and on social media @highnoteblog.