The Alchemist is a mysterious figure. He appears on tracks that I love and sprinkles his magic before disappearing back into the ether.
From his work with Eminem to Action Bronson and beyond, The Alchemist has consistently been one of my favorite producers over the years. He has also been one of most prolific, here's a recent greatest hits: in 2019 his own "Yacht Rock 2," and "Lamb Over Rice" with Action Bronson; last year "The Price of Tea in China" with Boldy James, "LULU" with Conway the Machine, "Alfredo" with Freddie Gibbs, his own "The Food Villian, and most recently "Haram" with Armand Hammer, and "Covert Coup" with Curren$y.
He is one of these guys who says away from the spotlight, whether he is on stage or on television, he is just humming away, working in the background with something smoldering in his hand. I thoroughly enjoy his disdain for being on camera during "Traveling the Stars: Action Bronson and Friends Watch Ancient Aliens" and his food choices on "Fuck That's Delicious."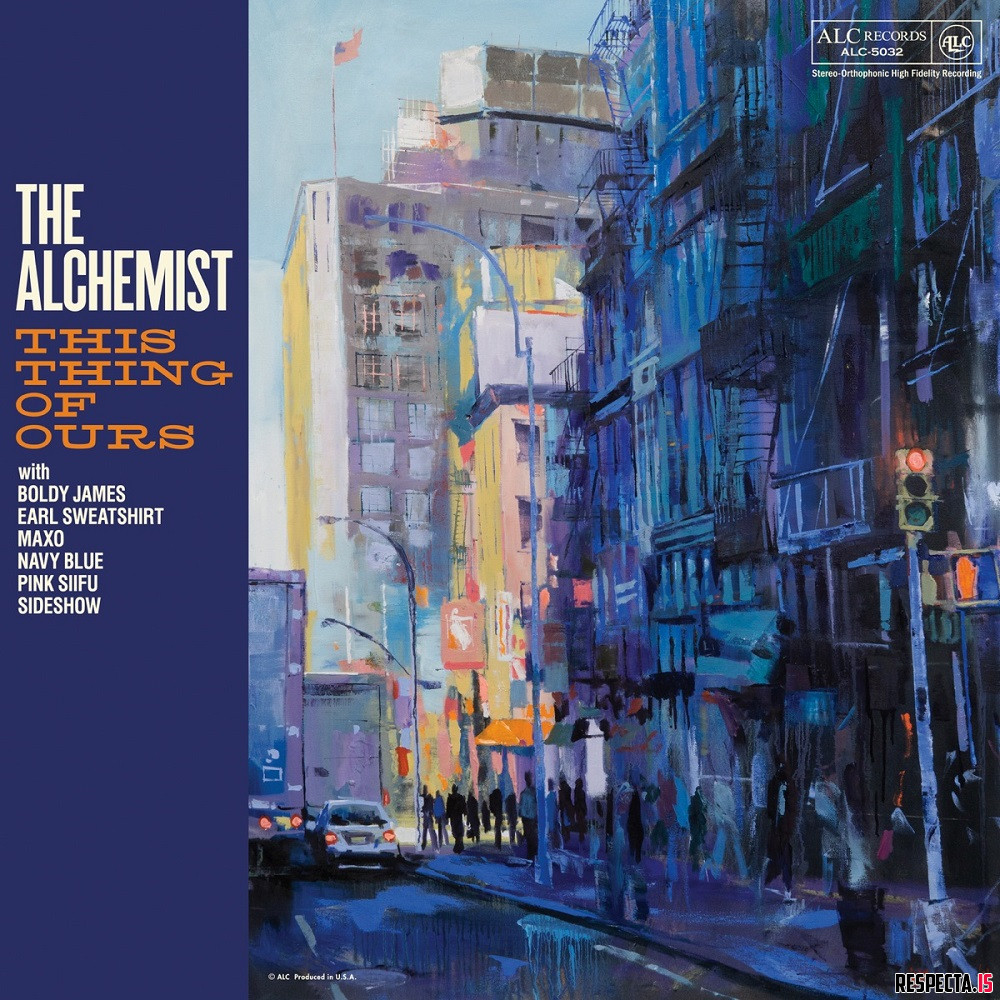 Despite all of his amazing collaborations, this blog is about his own project, "This Thing of Ours," an eight-track album released April 30, 2021 on his own ALC Records.
On it, he divides the tracks into two sections; the first featuring Earl Sweatshirt, Navy Blue, Boldy James, SIDESHOW, Maxo and Pink Siifu, and the second containing the instrumentals to those first four songs.
I can't say enough about how much I resonate with The Alchemist's vibe. Being a little bit older than me and growing up in Beverly Hills, he is like the cool older brother of my best friend growing up who opened a door into the world of pop culture with movies and music that were apparently required to get through life, only to have them referenced back occasionally throughout the years.
Like the score to any good hero's quest, The Alchemist opens with an epic idea, this from "The Never-ending Story," which was everywhere when I was a kid – "A creature of darkness also began his quest."
The Sam Gamgee to his Frodo Baggins is Earl Sweatshirt, who appears on two of the tracks, including the opening "Nobles," with Navy Blue.
There is something timeless about The Alchemist's style – it's classy, loose and it's the perfect bed for Earl Sweatshirt and Navy Blue to spit on. It ends with the jazz god Sun Ra speaking about how everyone is just playing their instrument in the band that is the universe.
On "TV Dinners," The Alchemist creates a twisted, but melodic vibe and of course splices in quotes from "The Sopranos." I love Boldy James but the way that Sideshow ends his verse is cold:
"These people don't really know who I am
They just know the destruction I can
No, will do for my fam
I keep a hammer if, when in a jam."
The Alchemist brings out the muted horns on "Loose Change," and allows Earl Sweatshirt tell his story about hanging out with this boys on the corner growing up and then going back and what it was like to feel those memories.
There are so many projects by The Alchemist that I can really just pick any of them, like the amazing "Alfredo" with Freddie Gibbs or "Covert Coup" with Curren$y, but this one is all about the man behind the mixing board – The Alchemist.
Get "This Thing Of Ours" from ALC Records, Amazon, Apple Music, YouTube Music, Spotify, Tidal and Deezer.
Favorite Tracks:
Nobles
TV Dinners
Loose Change