Action Bronson is my spirit animal.
The Albanian-American born Ariyan Arslani in Flushing, Queens, New York City is only a couple years my senior but seems to have created a new class of fun uncommon by an anxiety-riddled generation.
Action Bronson comes to the rap game from the kitchen and for the past decade, he hasn't been able to stop creating magical items – food, movies, television shows, food, books and music – for his fans to consume.
By his own telling on "C12H16N2" from his latest album, he's an author, singer, dancer, doctor, chiropractor, actor and exotic olive oil taster – and he's not exactly lying. His lyrics, like The Beastie Boys before him, are often obscure references to New York City sung with the type of enthusiasm that makes everyone want to live there.
He brings the same zeal to his food and culture shows on Viceland – "Fuck, That's Delicious," "The Untitled Action Bronson Show" and "Traveling the Stars: Action Bronson and Friends Watch 'Ancient Aliens.'" He also released a "Fuck That's Delicious" line of Bianclilla virgin olive oil.
And really, just like a perfectly rosemary-infused olive oil he brings a certain flavor of burly bravado that makes everything from smoking marijuana to eating hotdogs seem like more fun when he's doing it.
I've been squarely in the corner of Action Bronson since 2015's "Mr. Wonderful," and I've loved every project since – "Blue Chips 7000" in 2017 and "White Bronco" the following year.
It was from the song "Mt. Etna" on that last album, where he raps: "Finesse at its best, White Bronco, others known him as Le Bronson, My next album's only for dolphins."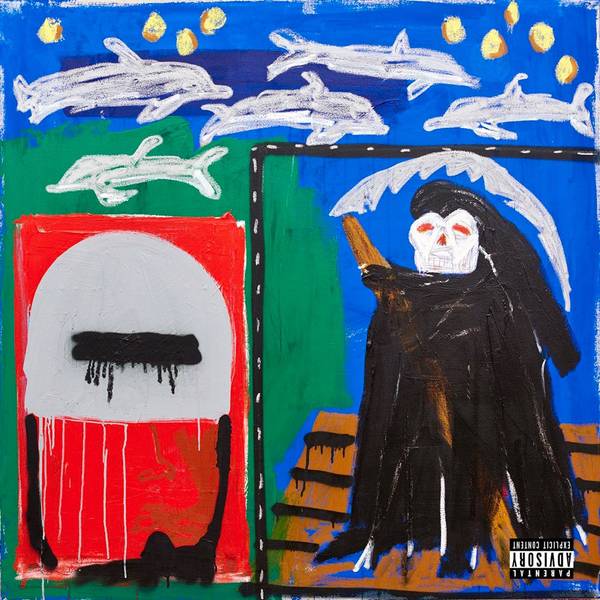 True to his word, Action Bronson released his latest album, "Only For Dolphins" Sept. 25 via Loma Vista Recordings. All of our friends from "Fuck, That's Delicious" are here including rapper Meyhem Lauren, producer Alchemist, and renaissance man Big Body Bes.
Just like his previous albums, he brings world influences, including jazz, rhythm and blues, calypso, funk, reggae and rock and roll, to the sampling table for his latest creation. He also pulls in his loves of New York baseball, 90s professional wrestling, pop culture, movies, music and food to his poetic pallete – adding even more familiar flavors to his flow. Also like his previous album, he even painted the cover artwork.
As soon as you turn on the album, you hear some dolphins presumably introducing the main event – Bam Bam Baklava. Then, Bronson raps smoothly over the album's intro "Capoeira" featuring a saxophone solo by Yung Mehico. He has the same force and fluidity as well as humor like name dropping green slime and rapping "Power bomb 'em through the dinner table/ It sound like a moose hittin' a Winnebago."
Action Bronson is perpetual motion in practice where thoughts become things quickly and that's a style in itself – besides his New York City flow which is heavier than a winter down jacket.
On "C12H16N2," Bronson gets psychedelic as the track is named for the chemical formula for Joe Rogan's favorite subject, DMT. The track is a trip through where he's been and what he's done over the past two years since we heard him on "White Bronco," which includes a cameo in "The Irishman."
On "Latin Grammy's," Bronson is living la vida loca over top of some bright horns and spinning on the idea that "I might not be able to touch my toes." But in reality, since the coronavirus pandemic began a lockdown in March, Bam Bam has turned into big slimy by losing more than 100 pounds and hitting the gym.
On the reggae-inspired "Golden Eye" he goes off with the precision of James Bond.
"Twenty Kawasakis looking like wild horses on stampede
I look like a character that was drawn by Stan Lee
Strength like Žydrūnas Savickas, speed of a crackhead
Took five minutes to get from here to Baghdad."
He samples a classic line from "The Wire" on "Mongolia" featuring Meyhem Lauren and Hologram. The track borrows a funky fiddle-laden beat that sounds like it was sampled from a traditional Russian dance tune.
On what could either be poking fun at himself, Bronson sings "'Splash,' a new fragrance, by Baklava," to create the hook over an infectious rhythm and blues beat as he drops more 90s references: "I'm like a Ninja Turtle, Battletoad / T-tops on the black Camaro."
Joined by Big Body Bes and The Alchemist, Bronson shimmies his way through rhymes on "Sergio." He vibes about feeling good and doing what he does best.
"Just like a mango, alpha bravo
Lookin' like your boy just won the lotto
But then drowned every dollar in a bottle
And put a bunch of junk, in his arm and his nose
And between his toes
'Cause feelin' good's the only thing he knows."
On "Shredder," he travels back in time and name drops the Grand Cherokee Laredo and "Mario Kart," "Blade 2" and of course "Teenage Mutant Ninja Turtles."
"Cliff Hanger," puts Bronson in the starring role of his own action movie in his hometown. He drops references to "Face-Off" as well as some Eddie Murphy movies over a sunny reggae beat. The opposite feeling comes across on "Marcus Aurelius" where he fires himself up as he raps the hook "If I had a watch, I'd probably throw that shit in the river."
"Only For Dolphins" brings us on a journey with Action Bronson as he fights in a royal rumble of rap to reign supreme. Like all good wrestlers, he has drifted away from the squared circle through his massive success, but his latest project puts him back in the recording studio, where he is most dangerous.
Get "Only For Dolphins" from Loma Vista Recordings, Bandcamp, Amazon, Apple Music, YouTube Music, Spotify, Tidal and Deezer.
Favorite Tracks:
C12H16N2
Latin Grammys
Mongolia
Splash
Cliff Hanger
Marcus Aurelius