After covering the other half of Better Oblivion Community Pavilion last week with Bright Eyes frontman Conor Oberst, this week I am writing about the new Phoebe Bridgers album.
This is a long-overdue review of "Punisher," the sophomore album by the singer-songwriter released June 18, 2020 on Dead Oceans – a day earlier than the planned Juneteenth drop date.
She and Oberst released their self-titled debut in January of last year after releasing her debut album "Stranger in the Alps" in 2017. She followed that up with another collaborate project, Boygenius, with Julien Baker and Lucy Dacus.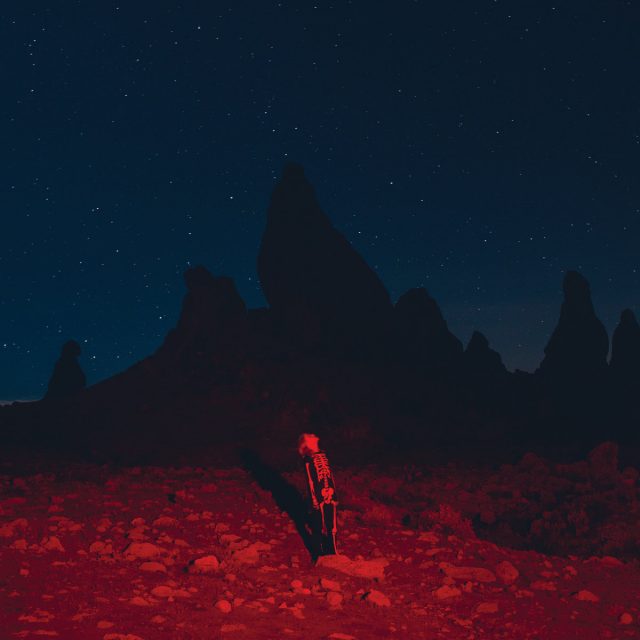 "Punisher" is even more collaborative than those previous projects with the album reuniting her with Oberst, Baker, as well as producers Tony Berg and Ethan Gruska who worked on her debut. It was recorded over the course of a year at Sound City Studios in Los Angeles, California in the order that the 11 tracks appear on the album.
Mike Mogis of Bright Eyes, who also mixed "Stranger In The Alps," returned for this project as did her seasoned band comprised of drummer Marshall Vore, guitarist Harrison Whitford, Nick White on keys and bassist Emily Retsas.
Bridgers is also joined by Christian Lee Hutson, Nathaniel Walcott of Bright Eyes, Nick Zinner of the Yeah Yeah Yeahs, Jenny Lee Lindberg of Warpaint, Blake Mills and Jim Keltner throughout the 40 minutes and 37 seconds of exquisite experimental alternative folk rock.
Opening with the instrumental "DVD Menu," Bridgers sets the environmental setting for the album before segueing into "Garden Song." The whimsical track features some incredible songwriting, including one of my favorite lines on the album "The doctor put her hands over my liver and told me my resentment's getting smaller."
Bringing in singer Jeroen Vrijhoef on "Garden Song" is the perfect choice as his deep voice is a great contrast to Bridgers. The full band and horns kick in by the time we hit the third track – "Kyoto."
I wouldn't have known that "Punisher" was a tribute to Elliott Smith if I didn't read about it. That doesn't make it any less incredible – it just doesn't hit me over the head like when Ben Folds sang, "Elliott, man, you played a fine guitar, and some dirty basketball."
That's because the song is not about Smith as much as it about her obsessive love of him and how his music influences her and if she ever met him, she would have punished him by not shutting up. I mean, hey, we've all been, there, right? She sings ", I swear I'm not angry, that's just my face / A copycat killer with a chemical cut / Either I'm careless or I wanna get caught / Who I'm not," in a wink to her own borrowing of Smith's style.
I love the honesty that begins "Halloween," which may be my favorite track on the album, although it's always hard to pick just one, in this case, it is especially hard. It features some great backup vocals by Oberst who adds textured feeling to the lyrics.
As much as there are folk, singer-songwriter and emo elements on the album, Bridgers creates an electronic soundscape at the beginning of "Chinese Satellite," which then opens to a more stringed arrangement to create an appropriate contrast as she sings about the difficulties of being a touring musician.
On "Savior Complex," Bridgers begins with some impeccable songwriting with her and an acoustic guitar as well a layered bed of strings that are elegantly arranged by Rob Moose. There are notes, especially when she sings the word "complex," that reminds me of the production on Smith's albums.
"Wake up and start a big fire
In our one-room apartment
But I'm too tired
To have a pissing contest
All the bad dreams that you hide
Show me yours, I'll show you mine."
-"Savior Complex," Phoebe Bridgers
Bridgers makes the pain of seeing an ex, particularly her drummer Vore, on "I See You." She hits on the right emo notes just right with lines like "I've been playing dead, My whole life," and just saying "I hate your mom." The track still comes up listed as "ICU," but it was renamed after the coronavirus pandemic.
"I used to light you up
Now I can't even get you to play the drums
'Cause I don't know what I want
Until I fuck it up."
-I See You
One of the best folk tracks on the album is "Graceland Too," which also ranks as one of my favorites on "Punisher." Berg on banjo is fantastic, as is the tonal organ by Ethan Gruska and Sara Watkins plays a punctuated fiddle and Dacus and Baker come in for vocals.
The final track is the sprawling epic "I Know The End," which is as literal as it sounds. It's a theatrical closer to the album that clocks in at 5 minutes and 44 seconds and devolves into a metalcore screamo finish that is remarkable before Bridgers adds some extra breathwork at the end, just to excise all the demons.
"Punisher" puts Phoebe Bridgers in the control room of her emotional output. By bringing in and combining the creative forces of so many talented and diverse musicians, she has created an atmosphere for her songs to live, breathe and die within. And, if they come back to life, she'll be waiting.
Get "Punisher" from Phoebe Bridgers, Dead Oceans, Bandcamp, Amazon, Apple Music, Google Play, Spotify, Tidal and Deezer.
Favorite Tracks:
Garden Song
Kyoto
Halloween
Savior Complex
ICU
Graceland Too