It's a good idea to double down when you're on a winning streak. Molly Tuttle has done just that with "City of Gold," her latest collaboration with Golden Highway, released Friday, July 20, 2023, on Nonesuch Records.
Following her acclaimed "Crooked Tree" from the previous year, Tuttle returned to the studio with a team of bluegrass powerhouses that make up Golden Highway fiddle player Bronwyn Keith-Hynes, mandolin player Dominick Leslie, bassist Shelby Means and Kyle Tuttle on banjo.
The album features co-writing efforts with Old Crow Medicine Show's Ketch Secor, Melody Walker, Shelby Means, and Mason Via. The dobro player from the previous album, co-produced this one too, and both Jerry Douglas and Dave Matthews lend their talents on some tracks.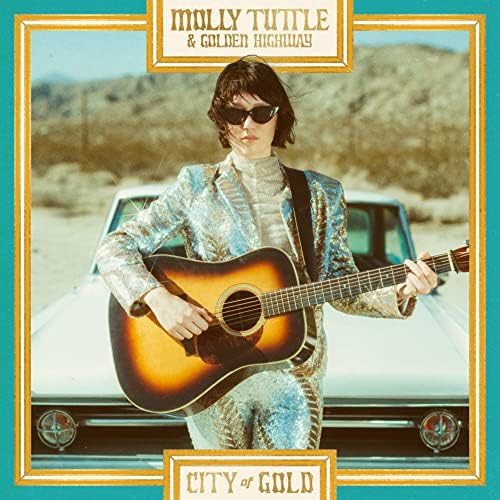 From the opening riffs of "El Dorado," we're not at the Philadelphia Folk Festival, where I first saw the multi-talented singer-songwriter in 2018.
In the intervening years, she has garnered numerous awards in the bluegrass circuit and secured a global mainstream audience. Her album, "Crooked Tree," not only landed her a Grammy nomination for Best New Artist but also clinched the Best Bluegrass Album title.
Reflecting on her music, Tuttle said, "Music has always captivated me, captured my heart, and driven me to great lengths to explore its depths. The songs span from breakdowns to ballads, fairy tales and fiddle tunes, from Yosemite up to the Gold Country and out beyond the mountains."
Tuttle introduces us to vibrant characters throughout "City of Gold," as in "El Dorado" with Goldrush Kate and Snakeoil Jake. The album's innovation shines as it merges the charm of traditional bluegrass with the contemporary jam band energy, notably on tracks like "Where Did All The Wild Things Go."
Ketch Secor's influence is palpable, especially in "San Joaquin," bearing Old Crow Medicine Show's hallmark sound. Dave Matthews appears on "Yosemite," one of the standout tracks about hope and love on the open road.
Venturing into mainstream appeal, "Next Rodeo" showcases Tuttle's country flair, likely resonating with radio audiences nationwide.
The touching ballad "When My Race Is Run" and the reminiscent "Stranger Things" highlight Tuttle's growth as an artist.
The future of bluegrass seems promising with the likes of Tuttle and peers like Billy Strings. Tracks like "Alice in the Bluegrass" will surely usher in a new generation of fans.
"Down Home Dispensary" targets the younger demographic in content and the swift musical delivery from The Golden Highway. Tuttle isn't one to shy away from serious subjects, as evidenced in "Goodbye, Mary," a poignant tale of a woman reflecting on a past abortion.
"More Like A River" echoes Tom Paxton's "Bottle of Wine," and the closing track, "The First Time I Fell In Love," gives a nod to the early 2000s, mixing EDM with punk rock vibes.
Boasting the talent of The Golden Highway, "City of Gold" positions Molly Tuttle as a strong Grammy contender. Across 13 compelling tracks, listeners are treated to nearly 47 minutes of captivating storytelling intertwined with bluegrass brilliance.
See Molly Tuttle and Golden Highway Nov. 18 at the Landmark on Main Street in Port Washington, New York, Nov. 19 at the Ardmore Music Hall in Ardmore, Pennsylvania and Nov. 21 at the 9:30 Club in Washington, DC.
Get "City Of Gold" from Molly Tuttle, Nonesuch Records, Bandcamp, Amazon, Apple Music, YouTube Music, Spotify, Tidal, Pandora, Deezer and qobuz.
Favorite Tracks:
El Dorado
Where Did All The Wild Things Go
Yosemite
Next Rodeo
When My Race Is Run
Alice in the Bluegrass
Down Home Dispensary
More Like a River
Evergreen, OK
The First Time I Fell In Love