With her lightning-quick picking and heartfelt vocals, Molly Tuttle makes a fast and memorable impression.
A lifelong musician who grew up playing guitar in her family band The Tuttles in San Francisco, California, she has released two previous albums and also performed twice at the Philadelphia Folk Festival in 2018 and 2020.
Tuttle, who now lives in Nashville, Tennessee, recruits a cast of Philadelphia Folk Festival all-stars to join her and her band Golden Highway on her latest album "Crooked Tree," released April 1, 2022 on Nonesuch Records.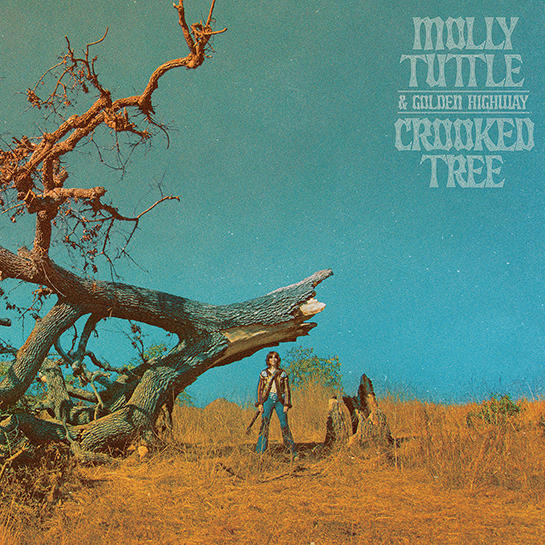 "I always knew I wanted to make a bluegrass record someday," Tuttle said in a release. "Once I started writing, everything flowed so easily: sometimes I've felt an internal pressure to come up with a sound no one's heard before, but this time my intention was just to make an album that reflected the music that's been passed down through generations in my family. I found a way to do that while writing songs that feel true to who I am, and it really helped me to grow as a songwriter."
Tuttle co-produced the album with Jerry Douglas who can also be heard throughout the album playing the dobro. Her live band Golden Highway, which includes mandolin player Dominick Leslie, banjo player Kyle Tuttle, fiddle player Bronwyn Keith-Hynes and bassist Shelby Means was joined by Ron Block on banjo, guitar and vocals, upright bass player Mike Bub, Jason Carter on fiddle and vocalist Tina Adair to record the album live at Oceanway Studios in Nashville.
There are also a few fellow Philadelphia Folk Festival alumni on the album Margo Price, Old Crow Medicine Show and Sierra Hull as well as the cream of the bluegrass crop – Billy Strings, Gillian Welch and Dan Tyminski to add to the marvelous musicianship.
The album fires off like a shot – the first single "She'll Change." Co-written by  Tuttle and Ketch Secor from Old Crow Medicine Show, the track pays homage to the women of bluegrass who wrote about themselves – specifically "It's Hard to Tell the Singer from the Song" by Hazel Dickens, and "Ellie" by Kathy Kallick.
"I wanted to write my own bluegrass song about a badass woman who lives by her own rules," Tuttle said. "'She'll Change' is my homage to the strong musical women who helped me find my own voice."
She nailed the bullseye "Just when you think you know her, she'll change," is a great motto to kick off the album. I thought I knew the quiet singer-songwriter after seeing her perform twice, but after hearing the first track of the album, her greatness only begins to emerge after less than three minutes.
On "Flatland Girl," Tuttle plants her roots in the heartland with the help of Margo Price. On it, she is sentimental about her childhood memories but also knows that she is taking them with her storytelling songs.
With both bootleggers and Dooley's in my family, my ears perked up when I heard "Dooley's Farm." On this third-generation farm where they used to grow tobacco and make moonshine and now are growing a different kind of crop behind the barn. Billy Strings joins in to lend some serious texture to the story and feverous fingerpicking.
"Big Backyard" is the kind of song that will go over well at a big outdoor music festival – it has that Woody Guthrie feeling in its chorus: "Come on out to the big back yard, It ain't mine, it ain't yours, it's all of ours."
With the help of the boys from Old Crow Medicine Show, the song sounds like a big bluegrass jam and is one of the brightest spots on the album.
I found a little solace in the autobiographical nature of "Crooked Tree." On it, Tuttle sounds like she is taking ownership of her songwriting story. Instead of being able to fit Tuttle's music in a neat category, she grows whichever way she feels inspired – whether that is Americana, roots, folk, country or bluegrass music.
"People say I'm different and my way of life seems strange
I took the road less traveled, twists and turns along the way
But like the crooked tree, I'm growing stronger day by day as the clouds roll by
A river never wonders why it flows around the bend
A mountain doesn't question how it rose up from the land
So who am I to wish I wasn't just the way I am? Who am I?"
She and Sierra Hull are furious and fed up on "Over The Line" and are ready to kick the deadbeat subject of the song to the dusty trail.
On "San Francisco Blues," Tuttle sings about longing for the Golden State with Dan Tyminski. You can hear the heartbreak from the now Nashville resident who grew up in the San Francisco bay area when she sings "most of all I miss the California dreamin.'"
"Goodbye Girl" is all about a young woman going off to chase her dreams and on "Side Saddle," she tells the story of a woman showing up the guys just by doing things her own way.
On the album closer, "Grass Valley" she describes going to a bluegrass festival with her father. I love the way she describes the scene:
"Deadheads and tie-dye array
Dog music devotees
Like nothing I had ever heard or seen
It was jamgrass for the hippies"
Her story comes full circle by the end, when now, as an adult, Tuttle is back performing at the festival and "A shy kid with a mandolin, I could see her on the sideline staring at me, She looks just like I did the first time that I came to Grass Valley."
If this album doesn't win a Grammy for best bluegrass album there is no musical justice in this world. At the very least, this is the first real contender I have heard for my favorite album of 2022.
Don't miss Molly Tuttle and Golden Highway 7 p.m. Wednesday, April 6, 2022 at Brooklyn Made in Brooklyn, New York; 7 p.m. Thursday, April. 7 at Levon Helm Studios in Woodstock, New York; 8 p.m. Friday, April 8 at Outpost in the Burbs in Montclair, New Jersey; 7:30 p.m. Saturday, April 9 at Milkboy Philly in Philadelphia, Pennsylvania and 8 p.m. Sunday, April 10 at Baltimore Soundstage in Baltimore, Maryland.
Get "Crooked Tree" from Molly Tuttle, Nonesuch Records, Bandcamp, Amazon, Apple Music, YouTube Music, Spotify, Tidal, Deezer and Pandora.
Favorite Tracks:
She'll Change
Flatland Girl
Dooley's Farm
Big Backyard
Crooked Tree
Over The Line
San Francisco Blues
Goodbye Girl
Side Saddle
Grass Valley