I remember as a kid watching that episode of "The Flinstones" where Fred goes to the Water Buffalo convention in Frantic City. I learned later that it was meant to be Atlantic City. In fact, to this day, I can still hear the bird squawking at Wilma "Frantic City!"
Not long after watching those cartoons, I was thrust into the punk rock scene as an angry young teenager filling with angst and lust for screeching electric guitar and fast, heavy drums.
I could feel my little heart palpating when I heard of the inaugural Frantic City festival featuring two stages of music hosted by comedian and Portlandia co-star and creator Fred Armisen.
Armisen is a veteran punk rocker in his own right as the drummer for post-hardcore punk band Trenchmouth out of Chicago, Illinois.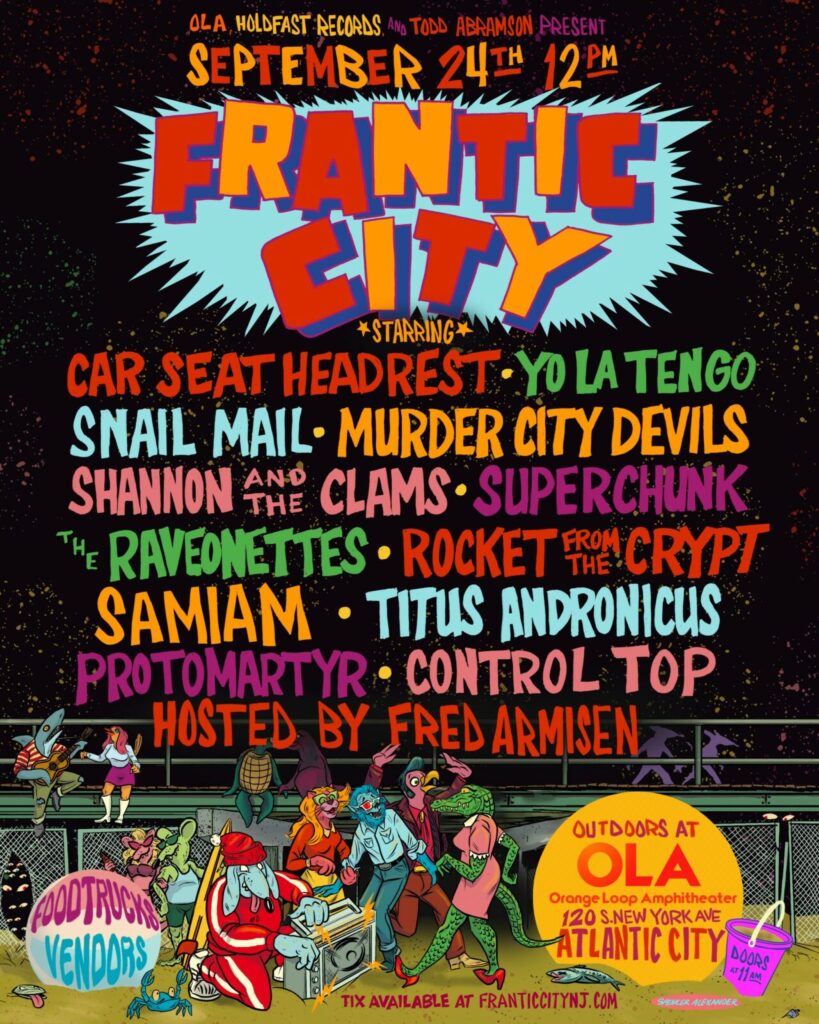 The lineup included Control Top, Titus Andronicus, Protomartyr, Samiam, Superchunk, Murder City Devils, Shannon and The Clams, Bouncing Souls, Rocket From The Crypt, Snail Mail and headliners Yo La Tengo.
The bands alternated between two stages set up perpendicular to one another in the newly created Orange Loop Amphitheater on the beach block between New York and Kentucky avenues in Atlantic City, New Jersey.
Across the street from the location of what was formerly Mamma Mott's restaurant, Rendezvous nightclub and more recently Butch Bradley's Comedy Hideaway, the crowd could see the ongoing transformation of the block thanks to new and favorite local establishments including threadware company Homegrown AC, HayDay Coffee, MPX marijuana dispensary, Bourré and Anchor Rock Club.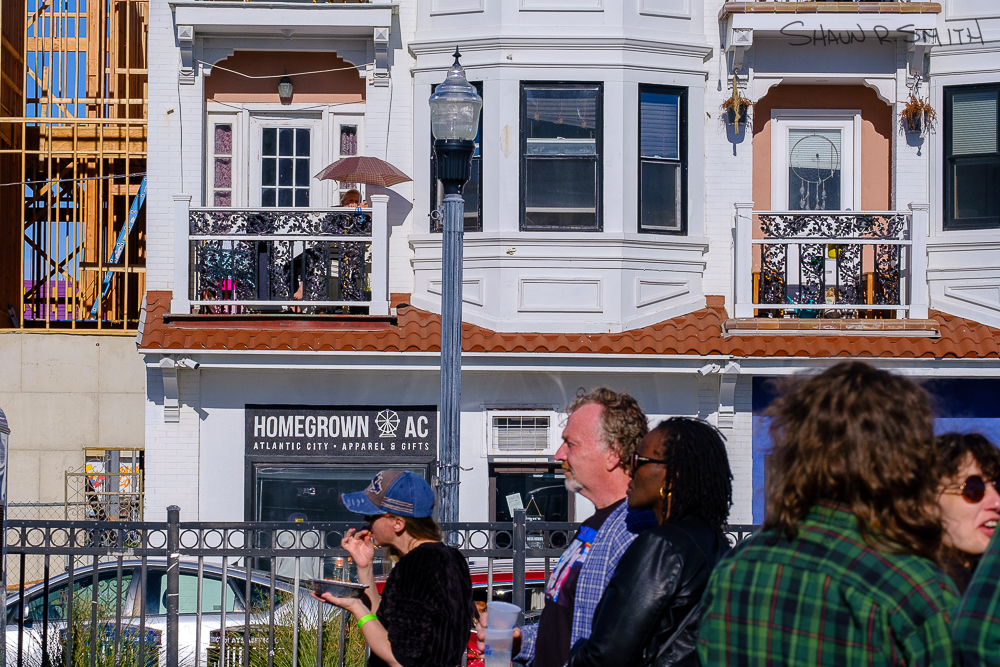 On one of many empty shoulder-season parking lots, Frantic City director of operations Charlie Interrante, Asbury Park music promoter Joe Kukos from Holdfast Records and Hoboken punk rock mainstay Todd Abramson created a venue that reminded me of my first punk show – Warped Tour Friday, July 14, 2000 in the parking lot of what is now called The Freedom Mortgage Pavilion in Camden, New Jersey.
Many of the punks that I saw walking, sitting and even moshing throughout the day looked like they were also at those glorious Warped Tour days when punk intersected with high school and those pre 9/11 days.
It was a picturesque day for vendors such as Modern Soul Records, Cvlt 33, NJ Mobile Axe Throwing, Vinyl Rescue, The Cat's Pajamas, Princeton Record Exchange, plenty of beer in including a Frantic City Ale and a marijuana vendor, keeping the crowd spread out and entertained between sets which alternated between the Toodophonic Stage and Holdfast Records Stage.
There were a steady stream of people entering the festival as it began at noon and later, as some may have been out late at the official kickoff party Friday night featuring Samiam, Night Birds and The Ergs at Bourré.
The vibes were immaculate in the area that was once known for its free flowing gay bars and clubs beginning in the 70s and earlier in the 40s was known for its jazz clubs.
One of the bands which I felt fit the crowd was the doo-wop-inspired surf punk band Shannon and the Clams who may have won the contest for best dressed. Or, it could have been that they were most noticeable when they were out and in the crowd taking photos.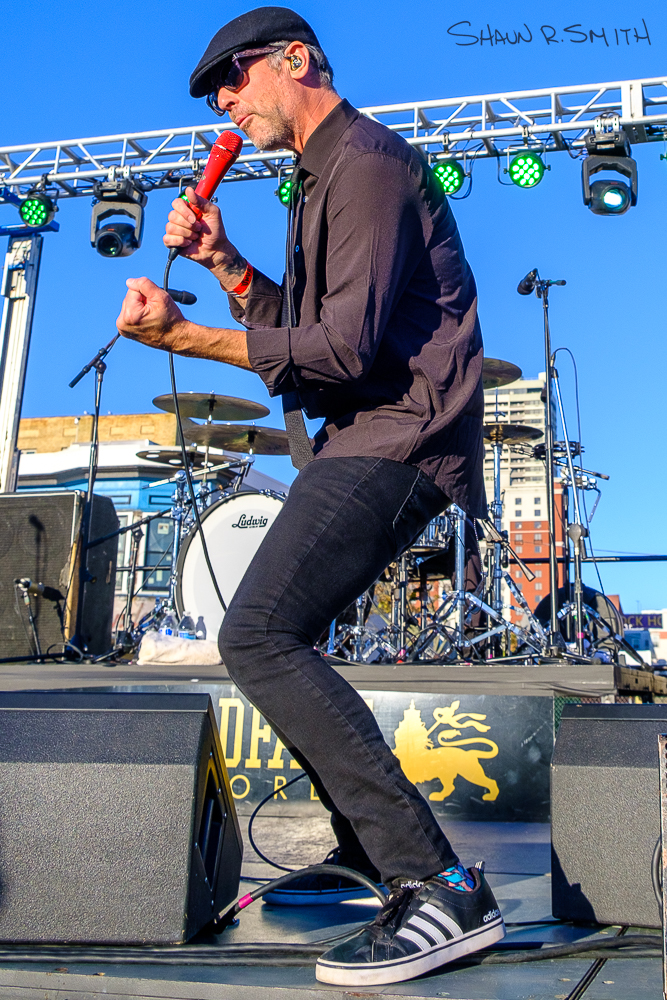 It was common to see people with band badges walking and mingling with the crowd that seemed to hover around a few thousand as the sun began to set on The Bouncing Souls guitarist Pete Steinkopf.
The crowd favorites from Basking Ridge and New Brunswick, New Jersey went through old songs including "East Coast, Fuck You," "I Like Your Mom" "The Ballad of Johnny X" and newer ones like "Hopeless Romantic," "That Song," "Manthem," "True Believers" and "The Something Special."
Lead singer Greg Attonito played into an intimate venue by having the crowd vote for which song they wanted to hear – "Better Things" by The Kinks won but the band still played a rousing version of "Here We Go," that got the pit swirling.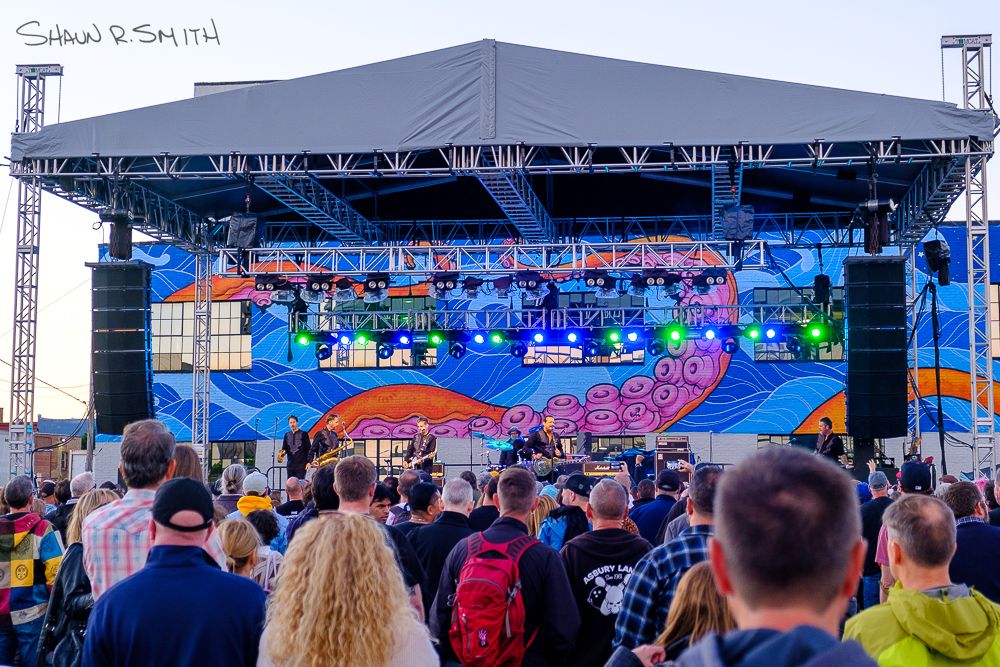 Considering the success of the evening which ended with headliners Yo La Tengo, the inaugural Frantic City festival will hopefully come back to the Orange Loop Amphitheater to revitalize the area with the creative energy of punk rock music.