It feels like Conor Oberst has been a constant presence in my musical life, even if he only showed up when I was in high school.
I was 16 years old when I first heard Bright Eyes and as the years have gone on, I have heard the artist grow up and deal with a multitude of personal challenges. The now 40-year-old Oberst is still only five years older than me and giving me insight into what I have to look to with work, life and death in the birthdays ahead.
The 2000 album "Fevers and Mirrors" was what made me a Bright Eyes fan – it features what I thought was a Dylaneqsue interview and now I know is a scripted joke. I was just discovering it and his earlier works as I was diving, what was then, an emerging offshoot of punk rock, emo.
Again, as my tastes were shining, Oberst was leading the Bright Eyes band, which is accord by the singer, songwriter, guitarist and pianist, Mike Mogis on banjo, mandolin, pedal steel, guitar and Nate Walcott who is responsible for that eerie trumpet, piano, organ, and accordion, in the same direction.
On the same day in 2005, Bright Eyes released two albums – the electronic "Digital Ash in a Digital Urn," as well as the folk album "I'm Wide Awake, It's Morning." It remains one of my favorite albums and it was followed up by the similarly golden "Cassadaga," in 2007.
After "The People's Key," in 2011, Bright Eyes took a break while Oberst stayed active with projects like Better Oblivion Community Center with Phoebe Bridgers his solo albums.
One of those albums was the 2016 masterpiece, "Ruminations." which resulted in me writing the most viewed blog in the history of The High Note – "Mornings With Conor."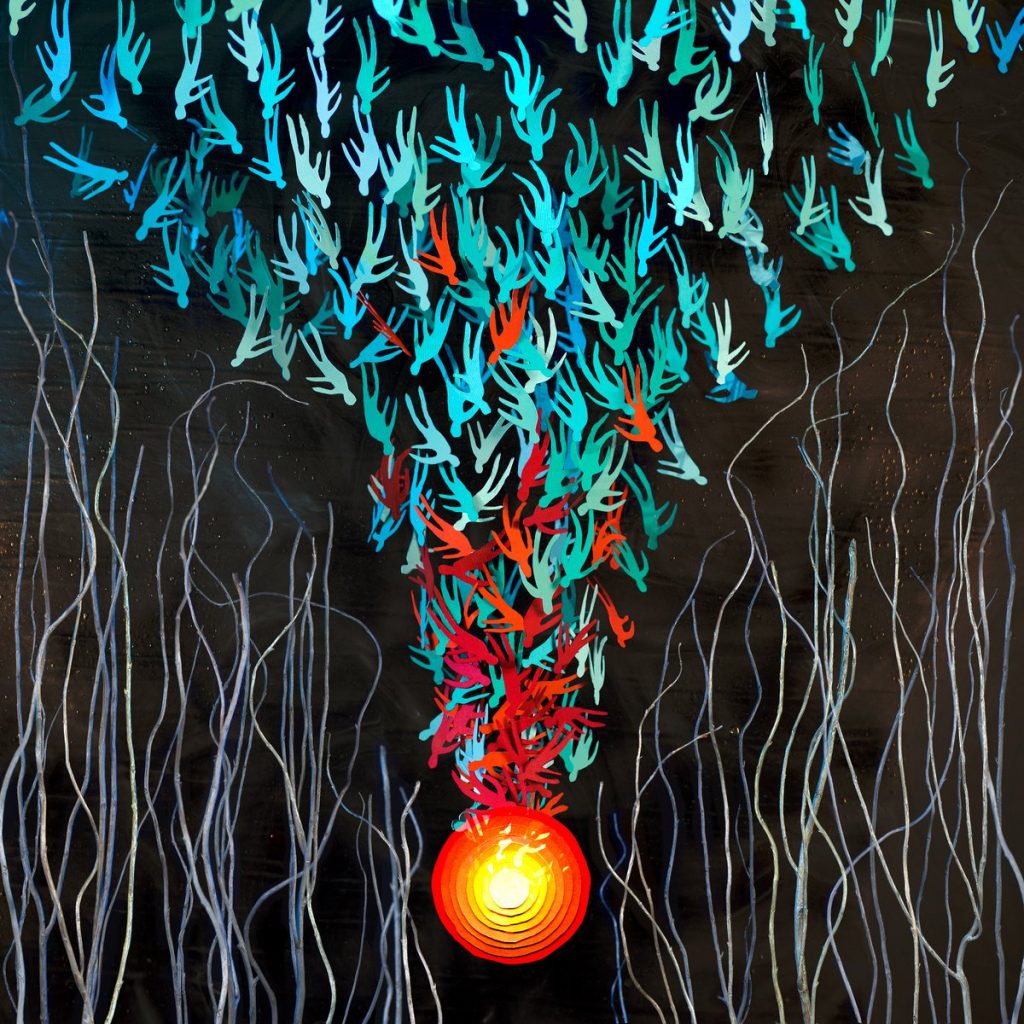 Now, coming off a divorce and the death of his brother Matt, Oberst has seen the light and gotten the band back together for a new album.
"Down in the Weeds, Where the World Once Was," the 10th studio album by Bright Eyes, was released August 21 on Dead Oceans. It marks the first Bright Eyes album not released on Saddle Creek, which was founded by Oberst's other brother Justin in 1993.
Throughout the 14 tracks, which includes bassist Flea and Jon Theodore, drummer for The Mars Volta, Queens of the Stone Age, across many of them, the album covers all the best aspects of nearly every Bright Eyes album released.
The baroque vocal introduction on "Pageturners Rag" is something of a staple for Bright Eyes albums and the voices hear are those of his ex-wife Corina and his mother Nancy.
The first proper song "Dance and Sing" is rooted in the folk style that was on "Cassadaga" and "I'm Wide Awake It' Morning" but expands on every orchestral note from those previous albums. It also has the first of many heartbreaking lyrics about Obert's divorce:
"I'll grieve what I have lost
Forgive the firing squad
How imperfect life can be
Now all I can do is just dance on through."
It also wouldn't be a Bright Eyes song without some ridiculously vivid lines that paint a picture:
"Got a diamond cold heart and I got it in spades
With the Walkman fading like an Audioslave
It's a self-induced seizure like a kid at a rave
Smeared in Day-Glo paint."
-"Dance and Sing"
You can almost hear the band growing throughout "Just Once in the World." As it begins with just Oberst on the acoustic guitar, which was really how I was introduced to the songwriter – with "A Collection of Songs Written and Recorded 1995–1997." And, I really wasn't a huge fan. It wasn't until the band kicked in on "Fevers and Mirrors," that I really caught on to the music.
As "Just Once in the World," continues, you can hear the band then engulf the singer and his guitar with a cacophony of instrumentation.
The single, "Mariana Trench" features the juxtaposition in lyrics and music as well as the haunting backup vocals by Jesca Hoop.
"One and Done" harkens back to the "Digital Ash days and carries that digital sound into "Pan and Broom" with a weird drum machine that works in a strangely wonderful way.
"Just whistle a tune
While you're digging a grave
On a hot afternoon
Happiness
Left here too soon
With a map and a bag
On a plane to Tulum."
-"Pan and Broom"
The band brings back the orchestral flourish that I loved on "I'm Wide Awake, It's Morning," on "Stairwell Song." It's a piano-led almost history of one of the lowest points in Oberst's life after his divorce.
"You were kind, existential and refined
Always something on your mind
Even then, our love was not in question
Nothing changed, you just packed your things one day
Didn't bother to explain what happened
You like cinematic endings."
-Stairwell Song"
The production on "Tilt-A-Whirl" sounds starkly similar to the "Letting Off the Happiness" with imperfect levels, the bass is a little distorted on the acoustic guitar. It also features extra vocals by Andy LeMaster who adds a more intense feeling of longing on the track.
The simple and quiet production on "Hot Car in the Sun" sounds similar to "Ruminations" in that it's just Oberst and a piano but the extra effects throw it toward the "Salutations" side of the double-concept.
While Oberst has talked about medical conditions and hospitals throughout his career, "Forced Convalescence" could be the most poignant and not just for the timing with Covid-19.
"In a daze
In the doorway
I stood crying for what was
In a trance
In a taxi
Just keep driving, please don't stop
Out of the neighborhood, the multiverse
Iron and rust."
-Forced Convalescence"
"To Death's Heart (In Three Parts)" is one of the deepest and saddest Bright Eyes songs ever written. It sounds like Oberst is watching his marriage disintegrate in front of him as he is singing about it in a fourth-wall kind-of-way. It even features probably the grimmest line I think Oberst has ever sung "There's bodies in the Bataclan, there's music in the air."
There aren't many songs where you will hear a dulcimer and a shredding guitar solo but "Calais to Dover," is one of them. It complements the feeling that Oberst has over his divorce – since he is coming to terms that the marriage is over but still wants to do something to make it right.
"Now that you're gone
Tell me you understand my love
Tell me what's wrong
Make me a list of what you lost
That's all that I want
I'll pay for what I've done
Nothing is changing
To state the obvious."
-"Calais to Dover"
Leave it to 2020 to deliver the world a pandemic as well as one of the best Bright Eyes albums ever released. The band has always been a productive outlet for Oberst to channel his grief and "Down in the Weeds, Where the World Once Was" is a phoenix rising from the ashes.
Get "Down in the Weeds, Where the World Once Was" from Dead Oceans, Bandcamp, Apple Music, Amazon, Spotify, Tidal and Deezer.
Favorite Tracks:
Dance and Sing
Just Once in the World
Mariana Trench
Pan and Broom
Stairwell Song
Forced Convalescence
To Death's Heart (In Three Parts)
Calais to Dover