For some reason, I'm drawn to singer-songwriters that take on monikers that make them sound larger than themselves. Dashboard Confessional, Little Boots and of course The Tallest Man On Earth come to mind. Now, I'm adding Black Belt Eagle Scout to that list.
I have been listening to the multi-instrumentalist singer-songwriter Katherine Paul since her sophomore release in 2019 "At the Party with My Brown Friends."
Just when I feel like most of my connection to the world is through a screen, Black Belt Eagle Scout has show me the way with her latest album "The Land, The Water, The Sky," released Friday, Feb. 10, 2023 via Saddle Creek records.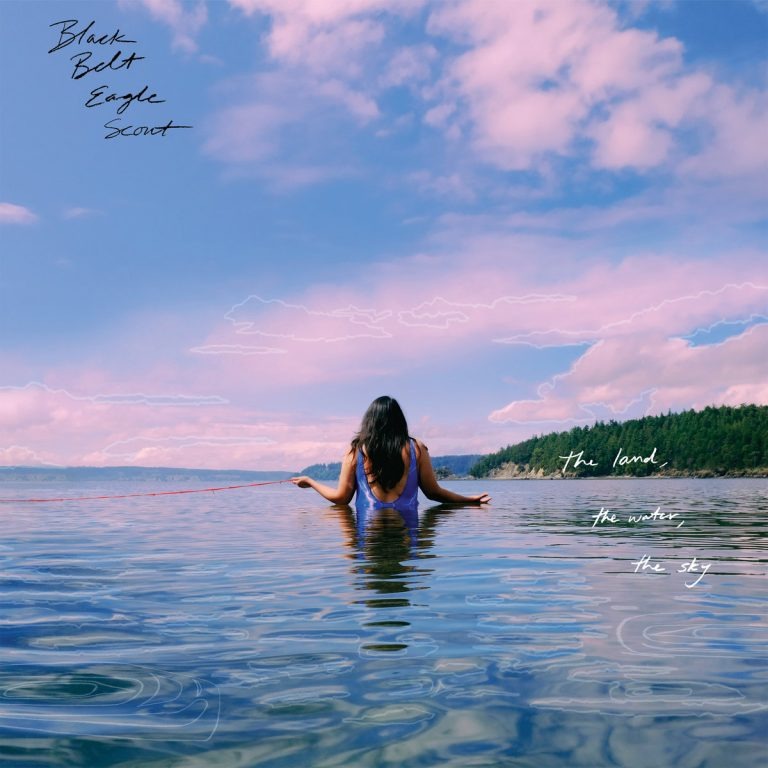 The album is heavily influenced by the ancestral lands of the Swinomish Indian Tribal Community on the Puget Sound in Washington where she grew up and then returned to during the COVID-19 pandemic. Just like Lukas Nelson, she got a lot of inspiration by moving back in with her parents from her home base of Portland, Oregon.
The album opens with "My Blood Runs Through This Land," that washes over listeners with a wave of punk rock, grunge and distorted guitar.
She goes into a haunting extended instrumental that reminds me of the way Nirvana would deliver so much anger and passion without speaking.
I love the introverted sound on "Sedna" which has the same vibes that I get from the bedroom rock of Soccer Mommy.
While the album is mostly focused on Paul's vocals and guitars, she incorporates some gentle orchestration on "Salmon Stinta" that encapsulates her environment with fellow vocalist Phil Elverum. She co-produced the album with Takiaya Reed and recorded it at Anacortes Unknown Recording Studio.
That instrumentation takes hold for the following track, "Blue" which seems to incorporate all artists that she thanked for helping in the recording process: bassist and singer Grace Bugbee, Takiaya on saxophone, keyboardist Nich, cellist Lori Goldston, violinists Swil Kanim and Gibrana Cervantes on violin, and her parents who can be heard singing in the chorus of "Spaces."
I love the way that she can describe being "On The River" just as equally through her guitar fingerpicking and chants as she can through her lyrics. It is as if she is talking directly to the listeners when she sings "I can't see you, but I can feel your energy."
I got lost following the simple guitar lines that run throughout the 12 tracks on "The Land, The Water, The Sky." I found myself reminiscing about summers listening to punk rock while daydreaming through the melodic guitar bridges on "Nobody."
Paul puts forth some punk rock drumming and pop pants for "Fancy Dance," and while she takes listeners on a largely pastoral journey, she speaks to them directly on "Understanding."
"I know it's wrong to love everyone but myself but
Sometimes I can't even hold me
Sometimes I can't even find time for myself yet
Here I am understanding"
-"Understanding," Black Belt Eagle Scout
I love a good recurring theme and a sign that recently reappeared along my Boardwalk bicycle route has a similar message as the final track – "Don't Give Up." Over a simple chord progression, Paul sings puts closure on "The Land, The Water, The Sky."
Throughout the 46 minutes and 34 seconds of "The Land, The Water, The Sky," Black Belt Eagle Scout takes listeners home to what has shaped her songwriting and her outlook on the world.
See Black Belt Eagle Scout Saturday, April 15 at Baby's All Right in Brooklyn, New York, Monday, April 17, at Johnny Brenda's in Philadelphia, Pennsylvania and Tuesday, April 18 at Songbyrd in Washington, D.C.
Get "The Land, The Water, The Sky" from Saddle Creek, Bandcamp, Amazon, Apple Music, YouTube Music, Spotify, Tidal, Deezer and qobuz.
Favorite Tracks:
My Blood Runs Through This Land
Sedna
Salmon Stinta
On The River
Nobody
Spaces
Don't Give Up