It's been a weird year to say the least but nothing can stop reindeer from dropping holiday songs like Santa's sleigh was a 1987 Buick Regal low rider.
What has as become a holiday tradition at The High Note that has me searching across the internet like a kid looking for their presents, I look every year for the best new holiday songs to put a little extra spice in your eggnog.
The High Note's Top New Holiday Songs For 2020
Robbie Williams – Can't Stop Christmas
I'm starting off with one of the most literal takes on the pandemic holiday because Robbie Williams reminds us that you "Can't Stop Christmas," so don't even try, 2020. He doesn't snow over the headlines of the past nine months and mixes them in with his lyrics like "The people gonna need something to believe in, after a year of being in."
Tegan and Sara – Make You Mine This Season
Canadian twin sister singer-songwriters Tegan and Sara bring all the sweetness of a maple dip from Tim Horton's with "Make You Mine This Season." Inspired by the movie "Happiest Season" streaming on Hulu, the song's subject only has one name on their nice list.
The Cribs – Christmas (All Year Long)
It only took me to the third song to get to a rock track and British band The Cribs deliver "Christmas (All Year Long)" by channeling their inner Beach Boys for an original, fun song. With lyrics like, "The gift that keeps on giving, Is peace and understanding," this is one you can share with your mum.
Blossoms – It's Going To Be A Cold Winter
We're going to keep things in England, where "It's Going To Be A Cold Winter," according to Blossoms. Well, of course, it is England. The upbeat pop bed of snow is the perfect playground for someone who is sick of winter, "So you'll find me by the fire with your sister."
Meghan Trainor – Holidays featuring Earth, Wind and Fire
It's really not a celebration unless Earth, Wind and Fire is on the playlist and Meghan Trainor knows that well enough to include all those warm horns and harmonies on her track "Holidays." From "A Very Trainor Christmas" this is one is a party in and of itself and is sure to stick around until when holiday parties are a thing. Remember those?
Kelly Clarkson and Brett Eldredge – Under The Mistletoe
If you want to feel warm this winter, Kelly Clarkson and Brett Eldredge have a duet that will have you dancing "Under The Mistletoe." Clarkson and the country crooner dish up a modern Christmas classic that blends their voices for a booming, jingling holiday anthem.
Dolly Parton – Cuddle Up, Cozy Down Christmas with Michael Bublé
We can all be thankful for Dolly Parton this year with her donation which led to the Moderna Covid-19 vaccine. If that wasn't enough, she just weeks before, released a new album "A Holly Dolly Christmas." In the song and the animated video, Parton uses the winter weather as an excuse to charm the pants off Michael Bublé for a "Cuddle Up, Cozy Down Christmas."
Jonas Brothers – I Need You Christmas
Some people like a traditional Christmas ballad, and I'm not one of them. But some people do, and if you're into that sort of thing, the Jonas Brothers have you covered. If you're feeling a little lonely, look no further than "I Need You Christmas," to keep you company. With lyrics like "Times have been lonely
And lately I just feel alone, I need you Christmas,
Family with nowhere to go," it's got everything minus the marshmallows.
Gwen Stefani – Here This Christmas
If you're looking to bop right into the holiday spirit, Gwen Stefani will put you in the mood with "Here This Christmas." The track is the theme for Hallmark Channel's "Countdown To Christmas," and puts the season, spirit and people at the top of her wish list.
Mandy Moore – How Could This Be Christmas?
We'll call this the 90s section of the Holiday list because Mandy Moore is next with Mandy Moore's original song "How Could This Be Christmas?" Co-written and performed with her husband Taylor Goldsmith from one of my favorite bands ever, Dawes, the song is simply a loving tribute to a partner.
Goo Goo Dolls – You Ain't Getting Nothin'
Closing out the unintended remember the 90s section of The High Note holiday list is the pride of Buffalo, Goo Goo Dolls, delivering my kind of holiday song. From the band's new album "It's Christmas All Over," the song is the ultimate parental threat for reminding children that Santa keeps both a naughty and a nice list. With all the jokes, there's some truth in these lines, "You know I love you but you drive me insane, Chaos is your middle name." "You Ain't Gettin' Nothin" is my kind of Christmas song.
Leslie Odom Jr. – Snow
As much as I love funny, rocking Christmas songs, the best are the ones that I don't even realize I like them until my toes are tapping and my head is bopping. I challenge you not to love, "Snow," by Leslie Odom Jr. Yes, that's "Aaron Burr, Sir," from "Hamilton," who reminds us that spending time, even virtually, with the people we love is what makes us happiest this time of year.
Christopher Kent – A Song For St. Nicholas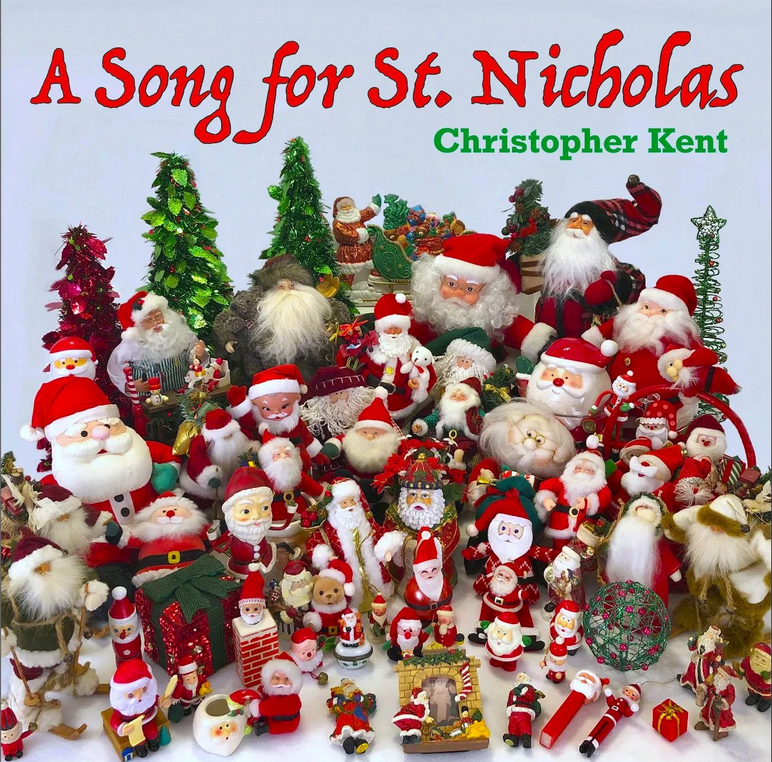 Each year, Pennsylvania-based singer-songwriter Christopher Kent releases a new original Christmas tune. His latest, "A Song for St. Nicholas," tells the story of how Santa Claus was created. If you like that, then check out all of his previous releases for "Songs of the Season: An Original Christmas Suite" over at his website.
This is where I'm going to put a bow on this present. Santa Shaun also makes two lists and not everyone makes the cut. So you can let me know why you loved Lil Nas X and Florida Georgia Line's holiday songs in the comments below or on social media, as well as any other new songs I may have missed this year. You can also get all the songs as a Spotify playlist.
Also, if you like this, see the 2019 list.
There will be more lists, a review and maybe even a podcast or two, but from The High Note to you, Happy Holidays.