The Mountain Goats have a way of creating songs that linger around so long in my head that I have to write about them. You call it a faithful companion or just a part of who I've become, but there aren't a lot of albums that stuck with me the way "Getting Into Knives," the latest album by the Mountain Goats has.
The signature flavors of upbeat, pop-friendly melodies and deep, character-driven lyrics courtesy of songwriter John Darnielle, have melded into a delicious stew stirred together to create the 19th studio album by the Mountain Goats.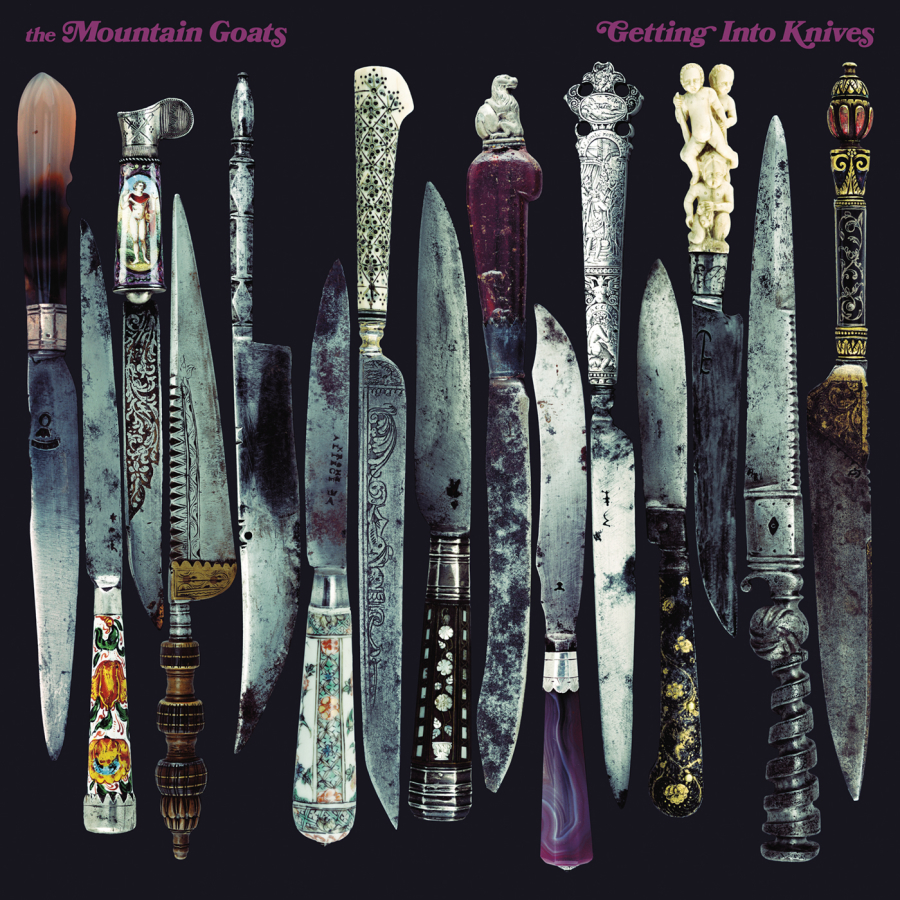 The Mountain Goats began as a vehicle for Darnielle to record and release songs in the mid-90s in California. The band has included bassist Peter Hughes and drummer Jon Wurster since 2008's "Heretic Pride," and Matt Douglas joined with 2015's "Beat the Champ" picking up multiple instruments including woodwinds, keyboard and guitars.
For "Getting Into Knives," released Oct. 23 on Merge Records, the Durham, North Carolina-based band traveled to Memphis, Tennessee early in the year to Sam Phillips Recording to work with Grammy-winning producer and engineer Matt Ross-Spang.
From the opening track, "Corsican Mastiff Stride," the band rolls into a high-energy, familiar tone provided by the light drumming and upbeat strumming.
One of the standout singles from the album, "Get Famous," doesn't pull any punches on its depiction of someone's quest for fame. It's got notes of Frank Zappa and "Weird Al" Yankovic while really giving room for Tom Clary to blow the horns on this track and a searing guitar notes from session guitarist Chris Boerner.
"Light up the sky like a comet
Make yourself want to vomit
Shine like a cursed star
Show everybody exactly who you are."
-"Get Famous," the Mountain Goats
What is easily my favorite track on the album, "Picture Of My Dress," was taken from a Tweet by poet Maggie Smith, who suggested a photo series about a woman who drives around taking photos of the wedding dress from a divorced marriage. Darnielle took the idea somehow made it even more visual and meaningful than the photos could be.
I am also enamored by the way the Mountain Goats can change the tone of the band from thunderous rockers to whimsical folkers between "As Many Candles As Possible" and "Tidal Wave."
"As Many Candles As Possible" puts heavy drums at the forefront of the song and even has shades of The Decembrists before the piano and guitar break into a "West Side Story" style fight for the bridge. It also features Charles Hodges who was organist for Al Green's greatest songs.
While a bass line opens, "Tidal Wave," it is really the woodwinds, flute and clarinet, that take center stage for the slow-building track. Although it was written before Covid-19, there is a striking line that stands out "Everything becomes a blur from six feet away/ Get used to this."
The band has a tight fit from playing together for so many years and that lends itself to the album having a live feeling. That is evident on "Pez Dorado" and "Bell Swamp Connection."
"The Last Place I Saw You Alive," is a touching, if not a little morbid, piano-led track about how a place is always associated with a thought, even if that's not the thought you had at the time. It's on tracks like that and "The Great Gold Sheep," where Darnielle's strengths as a singer and songwriter are enhanced by his backing band.
A song that could be its own epic trilogy is "Rat Queen," which tells the story of a soldier who is serving a queen in the army of rats that lives beneath the streets and is rising up. That's a movie I would watch and reminds me of a cross between 80s horror flick "Rats" and the "Redwall" series of books I read as a kid.
The title and final track is about aging and trying to make sense of the actions of not only others, but yourself. "I'm getting into knives," sounds like something that your friend would tell you and can only prompt one logical response – "Why?"
"I tried to keep things in perspective
As I hunted down the perpetrator
Loaded up my toolkit with every hateful instrument
Now here we are thirty years later
I'm getting into knives."
-"Getting Into Knives," The Mountain Goats
That's because things sometimes are just what they are. There is no real explanation or one that would be satisfy coursing enough. What is a knife? A tool, a weapon, a piece of art. Or it could just be what it is, a knife.
But it is so much more than that. It's a symbol for something that has meaning, much like the album, "Getting Into Knives," by the Mountain Goats. It's an intention to collect things, each being their own body, and let them act individually. But for 56 minutes and 36 seconds, this collection cuts better than any other selection of songs by the Mountain Goats to date.
Get "Getting Into Knives," from Merge Records, Bandcamp, Amazon, Apple Music, YouTube Music, Spotify, Tidal and Deezer.
Favorite Tracks:
Get Famous
Picture Of My Dress
As Many Candles As Possible
Tidal Wave
Rat Queen
Getting Into Knives