Once an artist gets some success, they oftentimes get pigeonholed.
I finally got around to watching the documentary "Elvis Presley: The Searcher" on HBO and it details the struggles he endured while trying to be taken seriously as an actor because people just wanted him to sing pop songs.
Samantha Fish is a woman who I watched play the absolute shit out of a Gibson SG wearing high heels so tall it seemed to add an extra degree of acrobatic difficulty as she strutted across the stage at the Philadelphia Folk Festival.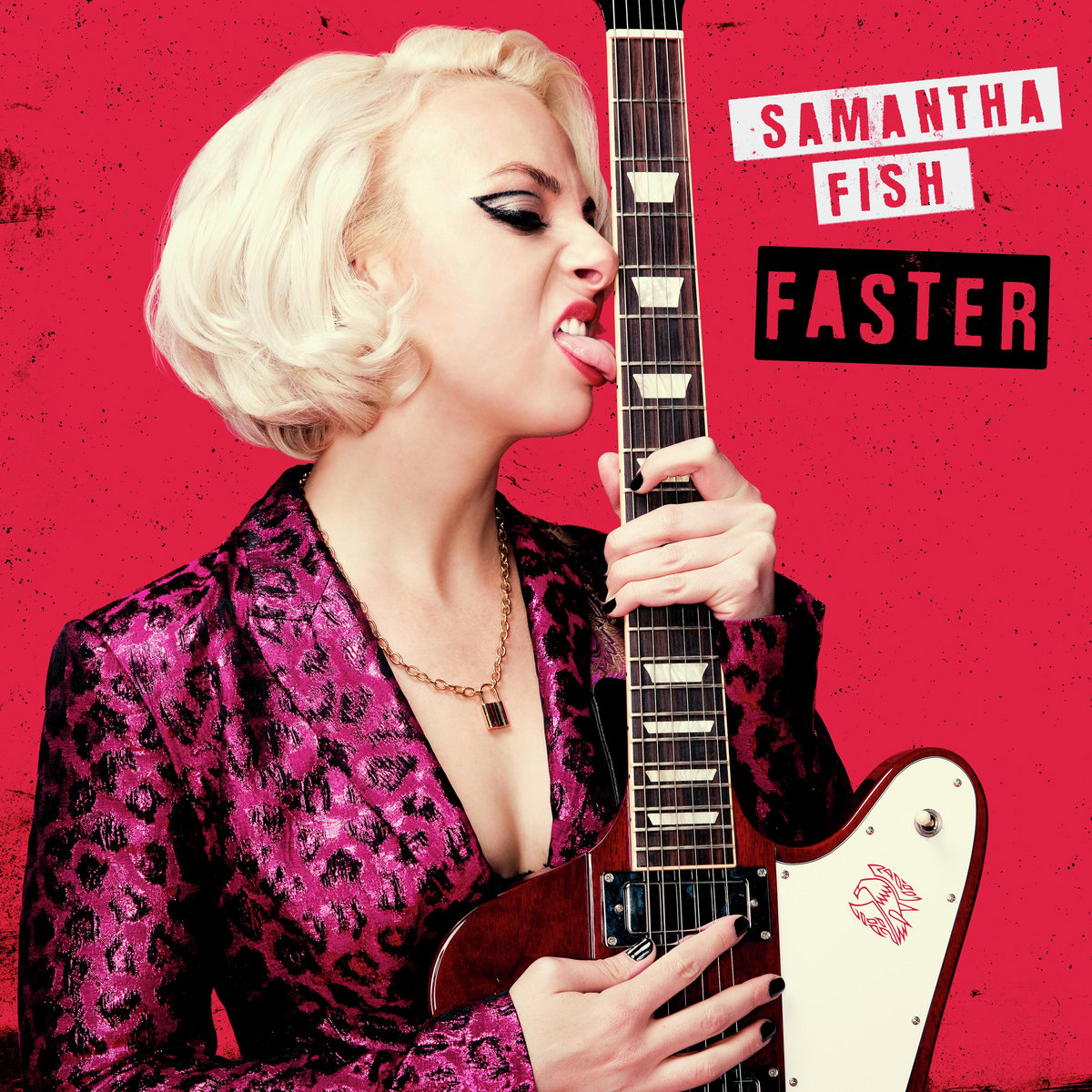 Having loved both her live show and her 2019 album "Kill or Be Kind," I went into "Faster" expecting a straight-ahead blues album – especially given the cover features Fish giving her Gibson Firebird a little French-style mouth love.
The 12 tracks on her seventh studio album released Sept. 10, 2021 range from blues, country, rhythm and blues, pop, all kinds of rock from the south to the garage, and also rap. Most of all the tracks that I loved the most weren't the blues tracks.
The album kicks off with the title track that begins with a tight guitar riff and thumping drums. She "oohs" into the chorus before going off her first rock 'n' roll guitar solo.
The Kansas City, Kansas native has a signature sass in the delivery of her lyrics – just like she teases out the line "Spare me the sweet talk," on "All Ice No Whiskey." The song quickly became of my favorites because it really explores more pop and jazz tones, as well as a funky bass riff.
Drummer Josh Freese and bass player Diego Navaira of The Last Bandoleros join Fish in the studio for "Faster" along with producer Martin Kierszenbaum who also added his own guitar, piano, keyboards, and percussion talent to the tracks. Freese also released a also album which he discussed on Dean Delray's "Let There Be Talk" podcast.
She reaches down deep to display her gritty blues power on the riff for "Twisted Ambition." Her guitar playing is inspiring throughout all the tracks and ranges from expressing tender notes to displaying fierce full-throttled power.
The best track on the album is the poppy Prince-inspired rhythm and blues "Hypnotic." It really is hypnotic the way she uses echo and organ to create a funky vibe. She then opens up her guitar for an enthralling solo that hangs while the bass line carries us back to the rhythm.
Fish seamlessly uses genres to match the tone of her song. She plays with pop punk on "Forever Together" and slows things down to make a point on the rock ballad "Crowd Control."
Show's her attitude on "Imaginary War" where she plays her guitar off psychedelic organ riffs and even throws a little "Hamilton" reference in the lyrics. I love the messy guitar solo that closes the track.
On "Loud" featuring Kansas City, Missouri rapper Tech N9ne, Fish channels a more modern country sound and then matches his verse with an equally enthralling guitar solo.
I love the way that Fish delivers the fiery lyrics on "So-Called Lover" and the way she carries that energy verse to chorus.
The guitar solo on "Like A Classic" is my favorite on the album. It has so much soul and personality and it has a clean simplicity that just clearly conveys her emotions – if you listen closely you can hear it playing under lyrics through the final chorus.
On "Faster" Samantha Fish delivers a full-throttle guitar-heavy musical experience that shifts genres as her subject challenges on the road ahead.
See Samantha Fish with Solomon Hicks today, the day this review is being published Oct. 26, 2021 at Jergel's in Warrendale, Pennsylvania; with Jonathan Long Saturday, Oct. 30 at Brooklyn Bowl in Brooklyn, New York; with River Kittens Sunday, Nov. 7 at Union Transfer in Philadelphia, Pennsylvania and Saturday, Nov. 13 at the Stone Pony in Asbury Park, New Jersey.
Get "Faster" from Samantha Fish, Rounder Records, Bandcamp, Amazon, Apple Music, YouTube Music, Spotify, Tidal and Deezer.
Favorite Tracks:
All Ice No Whiskey
Hypnotic
Crowd Control
Imaginary War
Loud featuring Tech N9ne
So-Called Lover