Wait – was that Post Malone I just heard on NPR? The intro to "Better Now" was playing as an interlude on "Morning Edition" last week. The track is one of my favorites from "beerbongs and bentleys," the sophomore album by the singer and songwriter released Friday, April 27 on Republic Records. When NPR picks your song for its music between segments, that's quite a breakthrough.
Austin Richard Post, better known as Post Malone, has been one of the most successful musical artists since he released "White Iverson" in 2015. That video currently has more than 559 million views on YouTube video plus another 34 million for the audio only version.
The follow up to his 2016 major label debut, "Stoney" and his worldwide tour supporting Justin Bieber, is crushing records. At the time of this writing, this is its second week at the No. 1 position on the Billboard 200 chart; every single song from "beerbongs and bentleys" is on the Hot 100 list; nine songs are in the top 20 of the Hot 100 list and the album was streamed more than 438 million times in the first week alone.
The singles that Malone dropped leading up to the album release gave us a taste of the super smooth style that he is bringing on tracks like "Candy Paint." He also released two songs that have big names – "Psycho" featuring Ty Dolla $ign," and last year's hit "rockstar," with 21 Savage. The album also includes features from Nicki Minaj on "Ball For Me," Swae Lee from Rae Sremmurdf, on "Spoil My Night," and G-Eazy and YG on "Same Bitches."
From the title through the last song, the entire album is a fun contradiction and a self-examination of excess and loneliness. The journey of living the dream and experiencing its downfalls are all on display here. Malone switches between tell-all rap and emo-driven songwriting laid over rock 'n' roll influenced mashups of chillwave and trap beats throughout the 18 songs over 64 minutes on "beerbongs and bentleys."
Being fun and honest are two valuable commodities today's societal influence of Instafame and torching anyone publicly who crosses an imaginary line. Malone excels at showing his vulnerabilities while including all the hiphop bravado that is so enticing.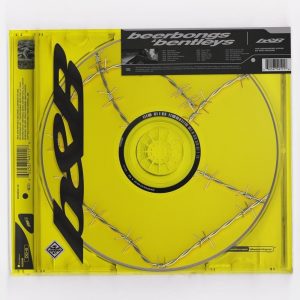 From the opening lines, I can relate to what Malone is talking about – on a level. On "Paranoid," he sings about being afraid of being killed and being pulled over. Malone is sad and anxious, I get that. Who isn't today?
Throughout the songs, we see the many faces of Malone. He is living out the scene in a movie when he raps "I ain't even see the face, but she got beautiful boobies," on "Spoil My Night."
Evoking the nostalgia and enthusiasm of '80s metal rockstars, Malone invites Tommy Lee of Mötley Crüe to lay down the drums and co-write on "Over Now." Then, he switches the beat entirely with the acoustically-driven "Stay," that could be a b-side from Dashboard Confessional's "The Places You Have Come to Fear the Most."
Balancing between the rockstar life and trying to deal with it as a real person is what Malone is trying to convey throughout this album, and he does it so well.
On tracks like "Zack and Codeine," Malone is dropping things that are real and funny to him. We have to remember that he is only 22-years-old, so the "Suite Life of Zack and Cody" means as to him as "Ghostbusters" does to me.
He reminds us as much on the track as he sings "Multi-millionaire by the time I'm 23." But he's also talking about how everyone around him has their hands out on "Zack and Codeine" and how he would give all the money away on "Rich and Sad."
"I don't fuck with nobody, yeah, you hardly know me
What you take me for, no, I can't save your soul
I don't fuck with nobody, yeah, you hardly know me
Please just leave me alone."
-Post Malone "Zack and Codeine"
What artists like Malone and Lil Yachty are doing are opening themselves up to all the niche weirdos out there that are yearning for some real shit instead of the Instafun.
Malone a dude who likes playing "Skyrim" and "Fallout 3," which are two of my favorite video games and I'm not ashamed to admit without firing up the Xbox 360 I've put 200 hours into those games combined.
There can be only one Post Malone, who hails from Grapevine, Texas by way of Syracuse, New York, and he's documenting the Los Angeles dream he is living and the dreams he his is reaching for.
Crack open a Bud Light and live it up or drown out the sadness for the Post Malone in all of us.
Get "beerbongs and bentleys" from Post Malone, Amazon, Apple Music, Google Play, Spotify, Tidal and Deezer.
See Post Malone May 23 at Festival Pier at Penn's Landing in Philadelphia, June 1 at Governor's Ball in New York City
Favorite Tracks:
Paranoid
Rich and Sad
Zack and Codeine
rockstar
Over Now
Psycho
Better Now
92 Explorer
Candy Paint