If you just let go, Palm may make sense.
Palm opens the door and pulls new listeners into its own world of weirdness with the band's latest album "Rock Island" released Friday, Feb. 9. Using MIDI triggers attached to instruments, this four-piece rock band creates hypnotic music that mixes elements of Animal Collective, The Beach Boys, Dr. Dog and Frank Zappa.
The warped sounds on the band's second full-length album are actually the most accessible to date. After meeting at Bard College in Hudson, New York, Palm formed in 2011. The band consists of Eve Alpert and Kasra Kurt sharing guitars and vocals, Gerasimos Livitsanos playing bass and Hugo Stanley playing drums.
They released a debut EP of songs recorded over a few days in 2014 for "Ostrich Vacation," a cassette tape project entitled "Organechs" by JMC Aggregate. In 2015, the band released its first full-length album "Trading Basics" and then signed to Carpark Records to release its second EP "Shadow Expert" June 16, 2017.
Now, in its new home of Philadelphia, Pennsylvania, the band has come a long way toward smoothing out its juxtaposed rhythms and interloping themes that began with pure experimentation in upstate New York.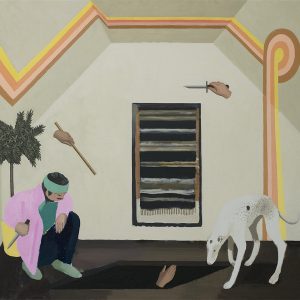 The latest Palm album puts heavy emphasis on steel drums as well as reggae and ska elements that boil to the surface. If you listen closely, there are are a lot of funky, distorted and ambient sounds that are played in the dark corners of "Rock Island" that echo throughout this new creative space.
Like two waves crashing together, steel drums and traditional rock rhythms mash up against one another to create a fluid, dynamic force of energy on the opening song, "Pearly."
The band's sound is rooted in rock music but the various instruments, electronically simulated and traditional, create a whole new experience for listeners that sounds more mainstream than abstract art rock.
On the second track, "Composite," the beats begin to shift closer to experimental rock with a dreamy, Beach Boys quality and then dive deeper into artistic expression. By creating a hyper-spaced bridge that beams the song into another dimension.
"God only sees it from both sides
Take a chance to clean his foggy eyes
Cause I won't seize up with a smile
Fake a nap to breathe in for a while"
-"Composite," Palm – "Rock Island"
My favorite song "Dog Milk" sounds like there are so many instrumentals being used, including vocal triggers, at one point it sounds like echoes are reverberating against one another to create an entirely different sound. It's a great example of how "Rock Island" was built as a studio album, not as an album to be performed note-for-note live.
Due to all the production elements and effects on "Rock Island," the band would definitely have trouble recreating it live. But, that is exactly what makes "Rock Island" so incredibly beautiful and unique. "Rock Island" is a space that was created and can't be replicated or duplicated.
Listening to the album through good headphones is a different experience than listening to it through regular speakers. The sound effects on the songs are more pronounced and if you listen carefully, you can hear sounds pan from side-to-side to create some doppler-like effects.
The band's process of creating music uses traditional instruments like guitars and drums as MIDI triggers that are later replaced with different musical instruments, sounds and effects.
The album was mainly recorded and mixed by Matt Labozza at Mud Creek Farm in Livingston, New York, with the exception of "Swimmer" and "20664," which were recorded by Kasra and Hugo, respectively, in Philadelphia.
Everyone in the band is reported to be a self-taught musician with no classical training. It's interesting to note because while many of the sounds and effects were added in post-production, the band really knows how to tune in to a tremendous sound.
Some of my favorite things about "Rock Island" are just confusing. Like the first time I heard the end of "Forced Hand," I thought something went wrong with my speakers. That's because there are some production artifacts left in, so it sounds like someone was playing the song on their computer and you recorded it on your phone, including the jostling and the sound of record button being hit to stop the recording.
The beauty of "Rock Island" is found in the contrasting elements of super-smooth melodies and rhythms that mash-up in sometimes furious out-of-sync-ism. One of my favorite tracks, "Theme From Rock Island" is a super smooth, upbeat song that is nearly 2 minutes and 18 seconds of blissful, avant-garde jazz.
In addition to playing with different sounds and effects, Palm seems to play with tempo on songs to invoke different feeling on "Bread." On it, just like "Composite," Kurt sounds a bit like Brian Wilson from The Beach Boys.
Contrasting Kurt, Alpert has a beautiful voice that harmonizes so well on this album. When she leads the vocals, she sounds so pure and emotional on "Color Code," "Heavy Lifting" and "(Didn't What You Want) Happen."
See Palm Saturday, March 24 at the Rock and Roll Hotel in Washington, D.C. and Monday, March 26 at the First Unitarian Church in Philadelphia, Pennsylvania.
Get "Rock Island" from Carpark Records, Bandcamp, iTunes, Apple Music, Amazon, Google Play, Spotify, Tidal and Deezer.