I've always been a big fan of M. Ward's methodical approach to music. He sounds like a man who takes his time and, typically using an analog recording process that takes even more time, his sound so warm and sometimes weathered.
But, it's like that line from the opening scene in "The Big Lebowski" where the narrator, "The Stranger," says "Sometimes, there's a man, well, he's the man for his time and place. He fits right in there." If looking at the future means looking at the past in a different light, then M. Ward's style may just be the perfect fit for 2020.
When M. Ward originally wrote the songs for his 10th studio album, released April 3 on Anti- Records, they based on immigration.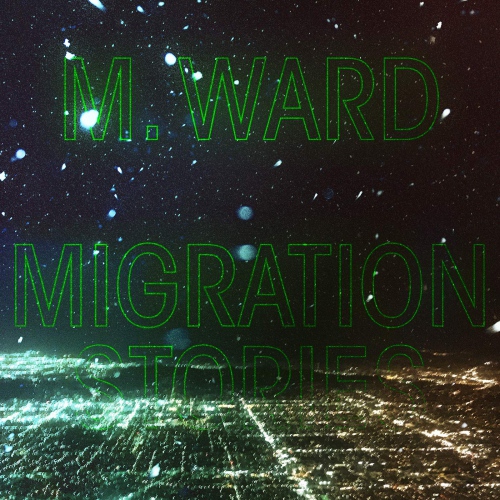 "I had a bunch of demos that were inspired by migration stories I had heard from friends or read in newspapers while on tour in Europe and North America. I remember being struck by the similarities of the stories I heard from both continents and how really only the names of the powerful and the powerless had changed – I thought of what my grandfather probably had to endure and the fact that I'll never really know," he said on his website.
"Some time went by and the stories wove together, and I remember them now closer to characters in a dream of how people could treat each other than any kind of front-page news realism. I think music subconsciously – whether writing or listening – is a filter for me – helping to process all the bad news into something new to build from – some records to me are like self-fulfilling prophecies – visualizing change to wish something into being – those records inspired this one. And so… by the power of suggestion we recorded these 11 largely instrumental ballads – a sci-fi fast forward to a more silent night many generations from here to a maybe-era where movement is free again."
Now, the album has taken on a new meaning for me as life continues to be disrupted by coronavirus. The comforting tones on "Migration Stories" support the stories of separations and reunions that are hauntingly familiar today in the era of social distancing and working from home.
If you're at all familiar with Ward, his delightful duets with Zooey Deschanel as She and Him or the My Morning Jacket and Bright Eyes rooted modern folk supergroup Monsters of Folk, you know he does things a little differently. Songs seem to play out a little slower, more systematic and have a deeper purpose than the surface song.
"Migration Stories," isn't a protest album or political statement – it follows in the folk tradition of storytelling and putting people and events at the forefront of the plot.
Overall, there is a feeling of warmth that comes through the tonality of the album. It begins with the saxophone on the opening track, "Migration of Souls," and the lyrics that list the space and time that will pass while someone moves from one location to another.
There is also a spacey quality to the album, which sparks my interest at the end of the opener. It is as if Ward is opening the door for the listener to embark upon a journey that is "Migration Stories."
There is a campfire feeling to the starlight storytelling on "Heaven's Nail and Hammer" while it also pulls in that 50s rockabilly style that Ward adopted fully for his partnership in She and Him.
The album's lush instrumentation was provided by the team which included Arcade Fire's Tim Kingsbury and Richard Reed Parry, and their producer Craig Silvey as well as Teddy Impakt, who provides that sweet saxophone, at Le Studio Du Arcade Fire in Montreal, Quebec, Canada. The album also got some vocal help from The Lost Brothers on "Migration of Souls."
Ward was once my favorite acoustic guitar player, especially when I first heard his debut album, "Duet for Guitars #2," a few years after it was released in 1999. He reminds me why I fell in love with his incredible fingerpicking on "Stevens' Snow Man" which also highlights his love of Americana music.
The only time that Ward seems to wake up from his meditation on migration is "Unreal City." It's the closest thing on this album to a straight-ahead rock 'n' roll track and it fits quite nicely at the center of this collection of songs.
Ward also provides a spirited modern cover of "Along The Santa Fe Trail," written by Al Dubin, Wilhelm Grosz for the 1940 movie "Santa Fe Trail" starring none other than President Ronald Regan and legendary actor Errol Flynn.
Borrowing from the melody that opened the album on "Torch," the song dives deep into areas in the world that have such conflict, they cause its citizens to leave.
"She said, "Between you and me and the lamppost, we can be
Anyone we wanna be, now the leap is through"
When I thought that she was gone, she took me by the arm
Said, "Even you can't take the soul where you want it to"
And I'm living proof."
-"Torch," M. Ward, "Migration Stories"
The album closes with its own sort of theme song with the tongue-in-cheek title for an instrumental track "Rio Drone." Maybe this is what you would be listening to while watching the sweeping footage shot from a drone as it soars across the Rio Grande river that divides the United States and Mexico.
Throughout the 11 tracks on "Migration Stories," M. Ward connects the celestial stars in his view into a 36-minute, 18-second constellation of creativity. The album extends the earthy tones for which the singer-songwriter is best known into a transitory territory. It's a grounded record, no matter where or when you are listening.
Get "Migration Stories" from M.Ward, Bandcamp, Amazon, Apple Music, Google Play, Spotify, Tidal and Deezer.
Favorite Tracks:
Migration of Souls
Heaven's Nail and Hammer
Stevens' Snow Man
Unreal City
Torch
Rio Drone