I've never really known of James Vincent McMorrow on his own.
The Irish folk and pop singer-songwriter has been a featured artist on tracks with a couple of my favorite electronic artists – "I'm in Love" by Kygo and "The Future" by San Holo.
His fifth album, "Grapefruit Season" ranges from upbeat pop bangers full of bravado to intimate singer-songwriter confessions that touch on regret.
Produced by McMorrow along with Paul Epworth, Kenny Beats, Lil Silva and Patrick Wimberly, he recorded the bulk of the album before the pandemic in London, Los Angeles and Dublin.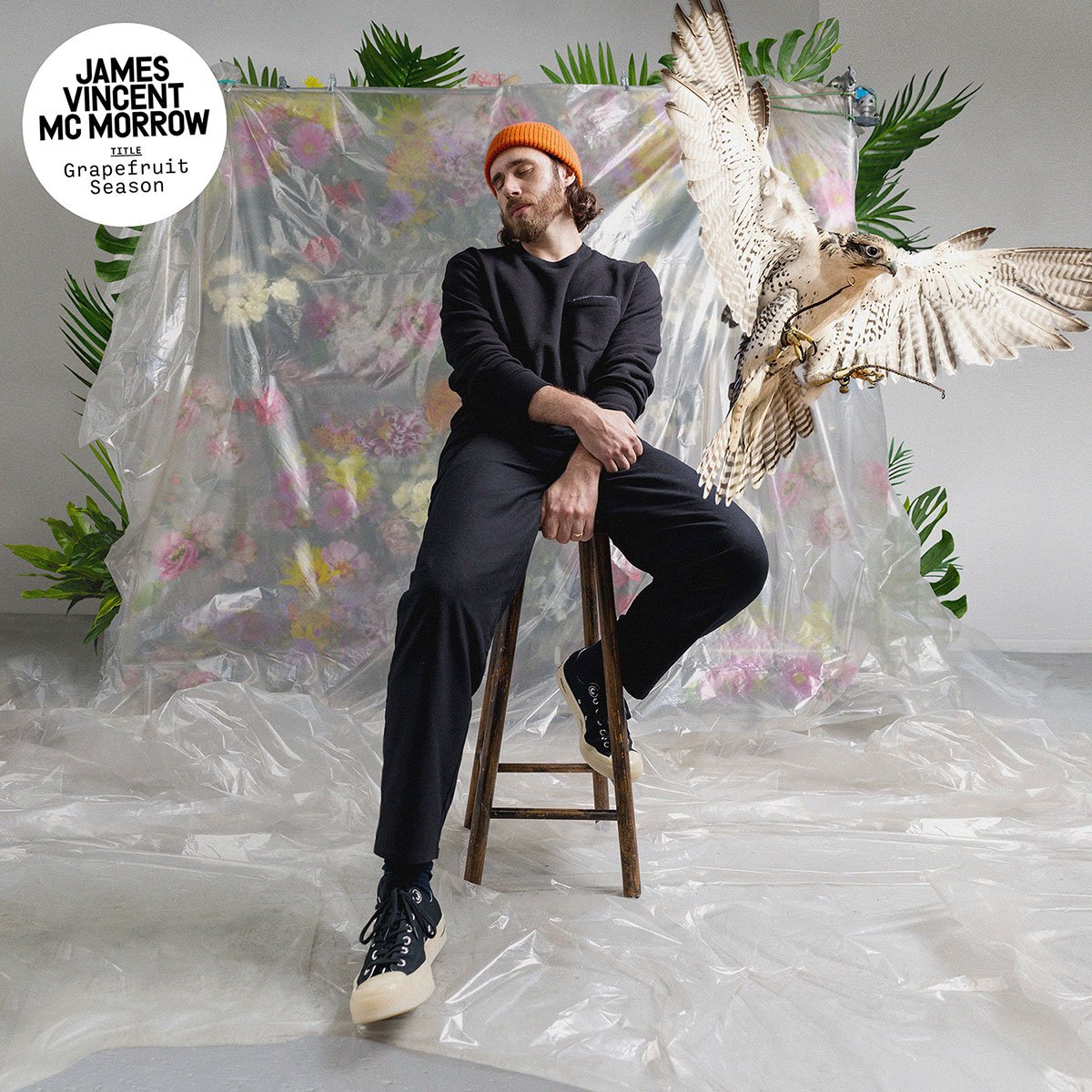 "Before I started making 'Grapefruit Season' I was definitely missing moments, always focused on the next thing and the next possibility. When I started making this album in 2018, a lot had changed for me. Not in any deliberate sense, I just started feeling like I was giving less of a fuck about what the world thought of me, and caring more about what i thought of myself. So I made songs about that, about feeling ok with the prospect of never feeling truly OK," McMorrow said on Facebook. "Each song became a little island that I could populate with whatever ideas and characters I wanted, it wasn't about outside voices or pressure, it was about me and the person I was starting to know myself to be. And I fucking loved it. It got me somewhere I've always wanted to go, but honestly, wasn't sure I'd ever get to. I hope you can hear it in the work. To me when I listen to the album, for the first time it's work that feels wholly like my life, all the chaos, the nuance, all the hard turns left and right at any given moment. I'm incredibly proud of it and I still can't believe it's finally in the world, it's been such a journey."
The 14 tracks on "Grapefruit Season," are inspiring and hopeful while being rooted in the uncertainty of reality.
The album begins with the bright and upbeat melody of "Paradise," which has a nice retro electronic aesthetic.
He switches the beat and channels Ed Sheeran's "Shape Of You" on "Gone." On it, McMorrow goes all-in about his refusal to face change – "I give less fucks than I used to, still give a lot of fucks," he sings.
He continues his introspective journey with "Planes in the Sky," one of my favorite tracks on the album. On it, he details his struggles and talks about the problems with overthinking with a deliciously dreamy pop chorus.
McMorrow dives deep into the rhythm and blues vibes on "Tru Love." Throughout the album, he alludes to his mental state, and on the track, he sings, "I've been going through breakdowns, in such a delicate state now."
The mellow tone matches his reflective yet also romantic lyrics when he sings, "I'm obsessed with how you see me."
McMorrow switches his style to rootsy folk acoustic on "Waiting," as well as "We Don't Kiss Under Umbrellas Like We Used To." On "Waiting," he explains the patience of his mate who listens to his struggles. He sings, "So you're waiting to see when my hope will come back, and I'm waiting."
He realizes the effect he has on her on the piano pop ballad "Poison To You." He understands that it's not just his life that he is impacting when he sings:
"So what if I get too drunk?
What if I call you up?
What if you answer?
Or what if I, what if I wait too long?"
McMorrow shows his ironic witty humor on "Hollywood and Vine," a track that drips with nostalgic tones. My favorite line is when he sings "Foot on the ceiling, head on your knees, I pray to Kanye you'll never leave."
Kenny Beats joins McMorrow for the funky "I Should Go." It's got a fun push and pull and could easily be played on a Top 40 station right after Maroon 5.
"Grapefruit," another one of my favorite tracks, combines all of the things that I love about McMorrow; his vocal range, the soft acoustic sounds and big, swelling electronic movements.
The album closes with "Part Of Me," where McMorrow sounds deeper and depressed. It features a haunting chorus:
"The part of me that needs to be constantly fucking up
Fucking up now
Is the part of me that knows it might nevеr be good enough
Good enough for you."
Throughout the 53 min 21 sec on "Grapefruit Season," James Vincent McMorrow displays his vulnerability as a songwriter and his range as a singer who pulls in listeners and shares with them his deepest secrets.
See James Vincent McMorrow Friday, April 8, 2022 at Union Transfer in Philadelphia, Saturday, April 9 at Brooklyn Steel in Brooklyn, New York and Sunday, April 10 at the 9:30 Club in Washington D.C.
Get "Grapefruit Season" from James Vincent McMorrow, Amazon, Apple Music, YouTube Music, Spotify, Tidal and Deezer.
Favorite Tracks:
Paradise
Gone
Planes in the Sky
Tru Love
Waiting
Poison To You
I Should Go
Grapefruit
Part Of Me