In an earlier blog, I talked about spontaneous compassion – a concept where a person acts on the impulse of contacting someone they think about.
It happened to me soon after when a friend from grade school called me because he thought of me so we made plans to get together for pizza and beer.
The same thing happens sometimes with music. I was at the bar with my wife a few weeks ago and the song "Best Of My Love" by The Emotions came on the radio and I immediately started rapping "Kryptonite" by Killer Mike over top of it.
My wife, the bartender and everyone around me gave me the strangest look. "Girl Talk," I said. "What, you don't know Girl Talk?"
Girl Talk, specifically the album "Night Ripper" got me through so many tough moments in my life. Our journey began soon after its release May 9, 2006 by a dude with shaggy hair named Gregg Gillis who was creating amazing music in Pittsburgh, Pennsylvania and was rumored to strip down to his tighty whiteys and dance on his DJ table.
From marathon writing sessions throughout my senior year of college to party playlists and power yoga sessions "Girl Talk" has remained as one of the most motivating influences on my life.
It also came at a time when I was playing with Fruity Loops when I wasn't studying political science and the 164 artists sampled on "Night Ripper."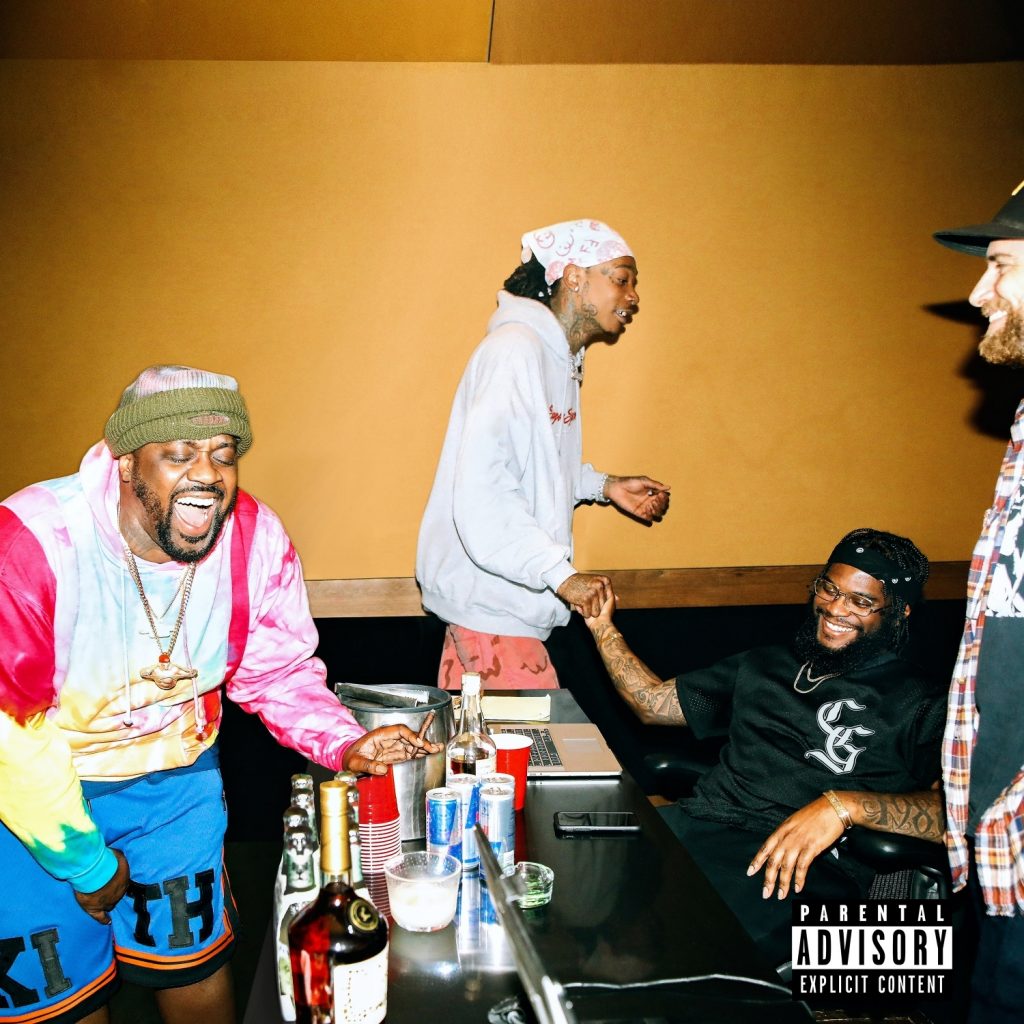 The last time I saw Girl Talk was in 2014 at Firefly Music Festival and I really hadn't thought about him much since before that night at the bar. So I looked him up and was once again re-energized by his work.
Together with Wiz Khalifa, Big K.R.I.T. and Smoke DZA, Girl Talk released his sixth album "Full Court Press," Friday, April 8, 2022 via Asylum, Taylor Gang and his own Illegal Art records. It the first album Girl Talk since "All Day" was released in 2010.
Full Court Press is a culmination of friendships going back ten-plus years and a "unique intersection of all of our work," said Gillis in a release.
The fit sounds so natural from the first single "Put You On," which just seems to go together like an outfield fly and Roberto Clemente. But, the collaboration was a challenge for the producer.
"With any particular sample or beat, I usually have a strong idea of what I'd like to do with it. But when working with other people, it might go somewhere else completely. Sometimes it's difficult for me to shake what I originally had in mind. I think that's partially because I spent so many years working alone, in complete control of every detail," he said. "It's both exciting and challenging to be pushed creatively, and in the best situations, you find yourself enjoying someone else's ideas more than what you originally had planned."
Throughout the 10 tracks, the quartet switches out like tag-team duos that are ready to hop in the ring to rumble at a moment's notice with a surprise appearance from Curren$y on the album closer.
The album opens with a laid back boom bap track "Mind Blown," where Wiz Khalifa and Smoke DZA trade verses back and forth like passing back and forth a joint. I respect the Iverson reference by Smoke DZA "We crossed the genetics, give it A.I. moves, Uh, we 'bout a decade in right now, we polished."
On "Put You On" Wiz Khalifa wastes no time for dropping directly into the verse. Big K.R.I.T. is perfect on the chorus as he spits "Breakin' that bread up, foreign that rev up, look how I rep the Miss."
Throughout the album, the artists take solo tracks with Girl Talk lobs up a sick beat for these heavy hitters to crush into the bleachers.
Smoke DZA is breezy on "Season," and the track has some serious Mac Miller "K.I.D.S." vibes with the 90s rock notes and some positivity – "If it get cloudy, we just change the season." Even though it's an easy song, the lyrics are all about getting after it.
I think that Wiz Khalifa excels at storytelling in his lyrics and with Big K.R.I.T. they put gold diggers and the fair-weather friends in the crosshairs on "How The Story Goes."
"Full Court Press" is definitely a driving record and Wiz Khalif and Smoke DZA set the tone on "No Singles," with the chorus:
"Cruisin' down the street in my '64
Blowin' kush smoke out the window
Pockets full of hundreds, no singles."
The smooth chorus just sets up Big K.R.I.T. to screech in with that southern growl going off on his verse.
On "Ready For Love," Wiz Khalifa and Girl Talk get intimate between the 80s pop vibes. The bass-heavy track is a knockout for the duo combining the sweetness of Wiz Khalifa singing on the chorus with his smooth rapping on the lyrics.
The album gets super soulful on the "Revenge of the Cool," and the heaviest moment on the album is "Ain't No Fun."
The 70s samples that Girl Talks pulls for "Fly The Coop" matches Big K.R.I.T.'s style perfectly. The melody swells when Big K.R.I.T. gets loud and I love how lighthearted the lyrics are:
"Shit, I dropped the top to get some air through my hair, then I popped a fin
You was thinkin' 'bout a swim, bitch, I'm talkin' Benz
Hold up, higher than angels when they toke up."
The album closes with "Everyday" with Curren$y who channels those fun 90s sounds with laid-back tight lyricism.
Curren$y makes it sound so easy:
"Blendin' in with the track like the hi-hat
Stoned every time I rap, put New Orleans on the map
The top goes back if you push the button
I don't really be clubbin', they gotta pay me to come in."
On "Full Court Press" Girl Talk assembles the best players in the game to join his all-star hip hop reunion. Like a skilled coach, he utilizes the talents of his stars to create a winning combination, song after song.
For 31 minutes and 15 seconds, Girl Talk takes listeners on a journey covering his favorite hip hop styles and spotlighting Wiz Khalifa, Smoke DZA, Big K.R.I.T. and Curren$y.
See Girl Talk Thursday, April 28, 2022 at Brooklyn Steel in Brooklyn, New York; Friday, April 29 at Union Transfer in Philadelphia, Pennsylvania and Thursday, Sept. 22 at Firefly Music Festival in Dover Heights, Delaware.
Get "Full Court Press" from Amazon, Apple Music, YouTube Music, Spotify, Tidal, Deezer, and Pandora.
Favorite Tracks:
Put You On
Season
How The Story Goes
No Singles
Fly The Coop
Everyday