Like a warm wave, the soothings sounds of Fleet Foxes' lush layered instruments and harmonies wash over me. It's been a while, three years in fact since I heard a new album from the Seattle, Washington-based folk rock band and a little more since I enjoyed one this much.
Of course, it came as a surprise to many, but it was planned out with the same precision that made me a fan after the first two Fleet Foxes albums. At 9:31 a.m. on the Autumnal Equinox, Sept. 22, 2020, the band released its fourth studio album "Shore" on Anti- Records.
From the opening chords, the album is a return to the sunny west coast breezy form after the brooding, moody political "Crack Up," in 2017, which was the first Fleet Foxes album after drummer Josh Tillman went on to form Father John Misty.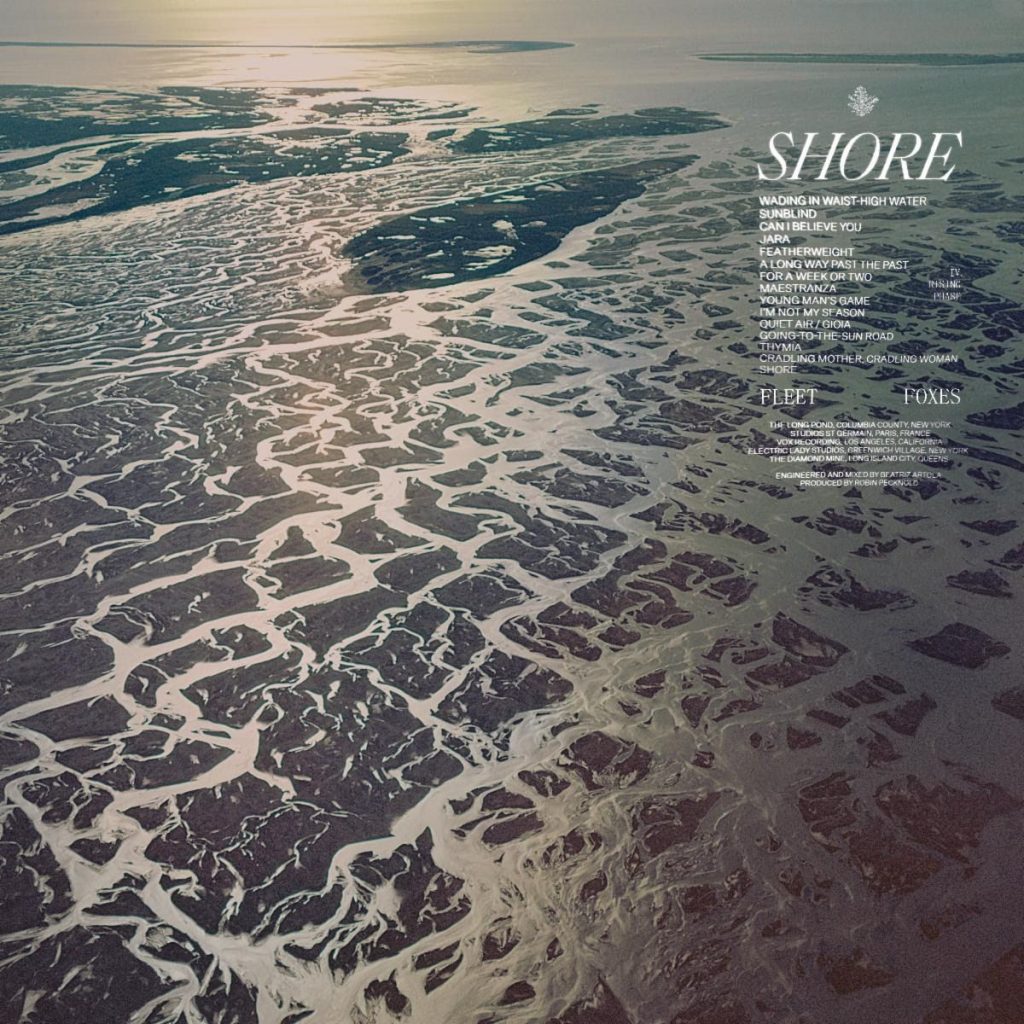 While the band took a break from tour in September 2018, singer, songwriter and guitarist Robin Pecknold picked up the pen and pick and began writing the music for this new album, which would eventually take nearly two years to complete.
The surprise album opens with a new voice Uwade Akhere, who was studying at Oxford University at the time. Her vocals are laid over the same warm familiar Fleet Foxes tones to begin "Wading in Waist-High Water." She will return for "Can I Believe You" and the album title track.
The rest of Fleet Foxes returns for this album, including co-founding members Skyler Skjelset on guitar and mandolin, and keyboardist and mandolin player Casey Wescott. They are joined by longtime bassist Christian Wargo and multi-instrumentalist Morgan Henderson.
Many more musicians were brought in to record various sections of the album, which began during quarantine in Hudson, New York and continued in Long Island City and New York City as well as Paris, France and Los Angeles, California. Recording and mixing engineer Beatriz Artola was there for all of it
The song "Wading in Waist-High Water" acts as an introduction for the album, which really beings to pick up with "Sunblind." On it, Pecknold pays tribute to those same feelings I had in college when I first started listening to Fleet Foxes when I was high on beat poetry and Elliott Smith, who is named-dropped on the track, as are many others.
"I'm going out for a weekend
I'm gonna borrow a Martin or Gibson
With 'Either/Or' and 'The Hex' for my bookends
Carrying every text that you've given."
-"Sunblind," Fleet Foxes
The album continues to expand as we hit the third track of 15, "Can I Believe You." No, it's not a question, because Pecknold knows it and says that he sees in everything he sees and does. The huge sound comes thanks to approximately 500 voices solicited and collected via Instagram.
"Shore" is less experimental than "Crack Up," even though the vocals on "Jara" sound like something sampled from a tUnE-yArDs album. The title is a reference to Chilean folk singer-singer Victor Jara and has a steadfastness in its groove.
Pecknold creates a beautiful heaviness through layers of guitars and mandolins on "Featherweight." It's a weather song as it looks forward to the changing of seasons as an opportunity for things to begin anew. It's like a kid waiting for that first day of school.
While strings are a prominent part of any Fleet Foxes album, the horns on "A Long Way Past the Past," have a soulful 70s quality that adds another element of brightness to the album. It also has that positive feeling to close out the song:
"That's that, we're a long way from the past
I'll be better off in a year or in two."
There are also nature sounds on the album that bridge "For A Week Or Two" and "Maestranza," that deepen the album's connection with the cosmos. It's matched by ocean sounds on that cross between "I'm Not My Season" and "Quiet Air/ Gioia."
The old soul groove that opens "Young Man's Game" contrasts the forward-propelling energy that is the youngest-sounding song not the album, and maybe that's because it features Hamilton Leithauser's children. It features the great line, "I've been a rolling antiquе for all my life."
Psychedelic 60s chords punctuate "Going-to-the-Sun Road," which is named for the 60-mile stretch that's only open for a couple months every year in Glacier National Park in Montana. The song closes with Tim Bernardes singing beautifully in Portuguese.
The most ambitious track on the album is "Cradling Mother, Cradling Woman," which has bursting melodic horns of a Sufjan Stevens project. It opens with the voice of Brian Wilson taken from a demo of Beach Boys "Don't Talk (Put Your Head On My Shoulder)." It is also one of the nine tracks on the album to feature Grizzly Bear drummer Christopher Bear.
"And I've been a while gone
But the air is clean
And I had it all wrong
But I made my peace
Passing thought, empty street
Agony, not to me, it's not defeat."
-"Cradling Mother, Cradling Woman"
The album ends with the title track, which perfectly bookends the intro. It puts the whole of the album in summary and name drops John Prine for a second time, who presumably was an overseeing spectre over the album.
Pecknold said the song was inspired by a surfing accident where he broke his leash and had to swim to shore. The final image of the album is of the quarter moon, which was the lunar phase when the album was released.
With "Shore" Robin Pecknold created a Fleet Foxes album that only improves with the sands of time. There is a lot to unpack throughout the 15 tracks and 55 minutes but it's worth finding every treasure buried beneath the "Shore."
Get "Shore" from Fleet Foxes, Bandcamp, Amazon, Apple Music, YouTube Music, Spotify, Tidal and Deezer.
Favorite Tracks
Sunblind
Can I Believe You
Featherweight
Young Man's Game
Going-to-the-Sun Road
Cradling Mother, Cradling Woman