Leaning into the unknown is often the most challenging exercise. It's like the scene in "Indiana Jones and the Last Crusade" where our hero has to take a leap of faith.
That exploration process is precisely what it's like listening to the fifth album from Tall Tall Trees, "Stick To The Mystical, I" released Friday, Sept. 8, 2023 via Joyful Noise Recordings.
Since 2020's "A Wave of Golden Things," I've been a fan of the blend of psychedelic folk created by Mike Savino, the multi-instrumentalist behind Tall Tall Trees and inventor of the Banjotron 5000, a contraption rivals That1Guy's Magic Pipe.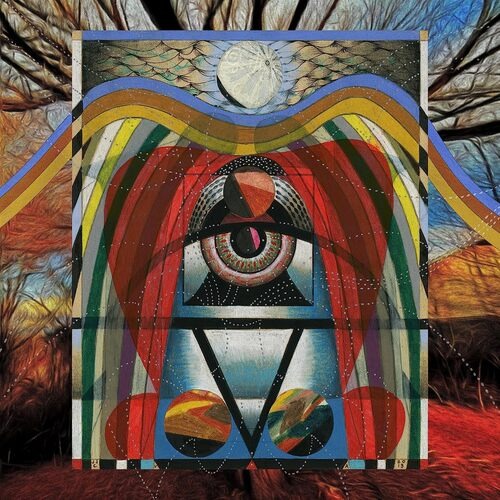 For this album, Savino was joined by percussionist Josiah Wolf who co-wrote and recorded the album at Savino's GalleyTapes studio in Asheville, North Carolina. The album was then mixed by producer Kramer and the album artwork is a painting entitled "Nock 79" by JJ Cromer additional elements supplied by Savino and David Woodruff.
Opening with the haunting and funky, "So Let Them Come," and then turning into the ethereal "A Finger Pointing At The Moon" Savino and Wolf excise their demons early on and keep the vibes flowing for 10 tremendous tracks.
"I had a bunch of songs, but we didn't use any of those at all," Savino said on his website. "We were so into improvising that we just started recording until we stumbled onto something that excited us both and chased that. Josiah's knack for quirky and experimental beats brought me into places I'd never go alone."
The duo dives into experimental folk feeling for "Castle In The Sky," which features the first catchy hook on the album as it floats in a sea of psychedelia.
I kept returning to the sunny Tom Petty vibes of "Dust On The Windowsill," which has a rambling road-story vibe as it rides an imaginary asphalt wave in the desert.
The organ's drone of "Feel Good" catapults the chorus "It doesn't really matter what you look like, if you feel good."
I got lost in the folky banjo improvisational jam "This Is Just A Mountain Song" which captures the spontaneous songwriting process of the studio.
"As a producer and songwriter who often self-records, I have an inclination to overwork the dough and try and shape it into something," Savino said. "In this case, the dough just came out good. I was inspired by my recent work with the legendary producer Kramer, who ended up mixing and mastering the album. Working with Kramer in the studio was enlightening because he instantly deletes everything he doesn't like. It's a very Zen way of working that I've since adopted entirely."
The duo sounds like they're having fun on "Sundrops" which is just as light as the title suggests with some funky rhythm and blues.
Sandwiched between the instrumental jams "Bicycle Knight" and "Groupon Massage," the lightweight "Spirit of '95" gives Keller Williams vibes, who himself is a master of rendering genres to fit his style.
For 32 minutes and 49 seconds, Tall Tall Trees expands its sound and vision that sees all with its mystical eye.
See Tall Tall Trees with Griffin William Sherry Sunday, Oct. 15 at
The Sultan Room in Brooklyn, New York and Wednesday, Oct. 18 at The Pinhook in Durham, North Carolina.
Get "Stick To The Mystical I," from Joyful Noise Recordings, Bandcamp, Amazon, Apple Music, YouTube Music, Spotify, Tidal, Pandora, Deezer and qobuz.
Favorite Tracks:
So Let Them Come
Castle In The Sky
Dust On The Windowsill
Feel Good
This Is Just A Mountain Song
Sundrops
Groupon Massage