Whether you're a fan of beach jams, rocking blues, or jazzy vibes, South Jersey has you covered this summer.
North to Shore
The inaugural North to Shore festival begins its musical journey in Atlantic City, where you'll find a collection of exciting concerts and events to delight every music lover.
Tony Mart Presents Mardi Gras AC
While we're in Atlantic City, don't miss the Tony Mart Presents Mardi Gras AC, free concerts 7 p.m. every Wednesday beginning June 28 at the Kennedy Plaza Stage across from Boardwalk Hall. See Martin Barre's Jethro Tull in June and LaBamba's Big Band with Special Guest Billy Walton in September.
June 28 – Martin Barre's Jethro Tull
July 5 – Buckwheat Zydeco Jr. & Ils Sont Partis Band Plus Sugaray Rayford
July 12 – Third World Plus Heather Hardy and The Lil' Mama Band
July 19 – George Porter Jr and The Runnin' Pardners
July 26 – Johnny Sansone Band
Aug. 9 – Tito Puente Jr.
Aug. 16 – Shemekia Copeland Band
Aug. 23 – The Weight Band Featuring Members of The Band and Levon Helm Band
Sept. 6 – Labamba's Big Band with Special Guest Billy Walton From Springsteen, Southside and Bon Jovi to Conan O'Brien Rock 'N Soul, Swing and R&B and Jersey Shore Classics
Chicken Bone Beach Jazz
Also located in Kennedy Plaza, the Chicken Bone Beach Jazz series is 7-9 p.m. every Thursday, June 29- Sept. 7 is for you.
Summer Concerts at Gardner's Basin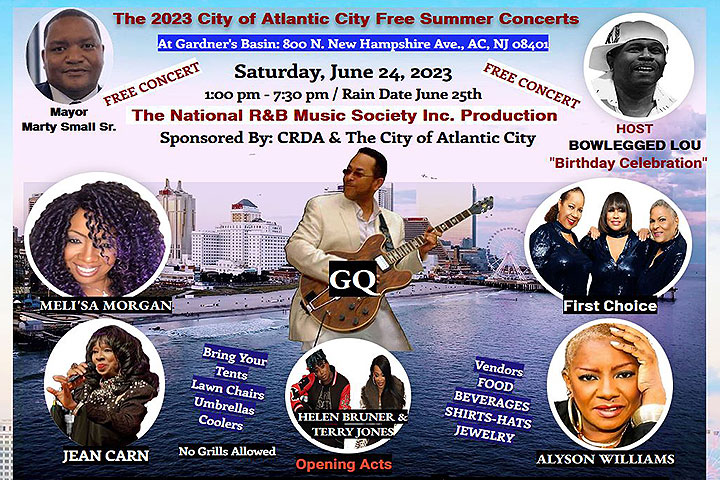 For rhythm and blues fans, the Atlantic City Free Summer Concerts at Gardner's Basin are 1-7 p.m. Saturday, June 24, July 29 and Aug. 2.
Ventnor Summer Beach Jam
For those who prefer their music with a touch of sand between their toes, put don't miss the weekly Summer Beach Jams in Ventnor. The food vendors open at 5 p.m. and the music starts at 6 at Newport Avenue Beach.
May 27 – Citron Band
June 3 – Bob Sterling
June 10 – No Pressure
June 17 – Michael Buble and Elvis tributes
June 24 – The Friends Band
July 1 – Jersey Tenors
July 8 – Derek Crider Band
July 15 – The Beat Tells
July 22 – Rat Pack
Aug. 5 – The Loop
Aug. 12 – Dueling Pianos and Sir Rod
Aug. 18 – Parrot Beach
Aug. 26 – Party Wave Band
Sept. 2 – The Flynns
Sunset at Ski Beach
Also in Ventnor, join the crowd at Ski Beach for the Sunset at Ski Beach Wednesdays June 28 -Aug. 30. Enjoy bands like Don't Call Me Francis, Legacy, B Street Band, and more with the music starting at 6 p.m. and the vendors opening at 5 p.m. 
June 28 – Don't Call Me Francis
July 5 – Legacy
July 12 – B Street Band
July 19 – Funk Daddy
July 26 – The Business
Aug. 2 – Dead Reckoning
Aug. 9  -The Usual Suspects
Aug. 16 – Countdown to Ecstasy
Aug. 23 – Sensational Soul Cruisers
Aug. 30 – The Exceptions
Somers Point Beach Concerts
The 30th Annual Somers Point Beach Concert Series at The William Morrow Beach begin 7 p.m. starting on Friday, June 9 and continues through Sept. 9 with a diverse lineup from R&B to classic rock, tribute bands to blues.
June 9 – John Cafferty and the Beaver Brown Band
June 16 – Curtis Salgado
June 23 – The Tony Mart Allstars "Everybody Loves Ernie"
June 30 – Martin Barre's Musical History of Jetro Tull
July 4 – The Billy Walton Band with Michael "Tunes" Antunes
July 7- Mardi Gras in July starring James Andrews
July 14 – The Weeklings
July 21 – The Dan Anthony Band
July 28 – Gary US Bonds and the Roadhouse Rockers and The Hilarious Rev. Billy C. Wirtz
Aug. 4 – Stanley Jordan plays Jimi and The Brandon Ireland Band with "Big Bob" Erano
Aug 11 – Terrance Simen and The Zydeco Experience
Aug 18 – Tommy Castro and The Pain Killers
Aug 25 – Tom Hambridge and The Rattle Snakes
Sept 1 – Red
Sept. 8 – Cyril Neville and Orari Neville and The fuel and The Jimmy Brogan Band
Sept. 9 – The Good Old Days Festival at Kennedy Park
Festivals and More
For festival-goers, there's a multitude of choices. In June the Barefoot Country Music Fest kicks off June 15-18 in Wildwood. June 22-25, Beardfest conintues its tradition in Hammonton, New Jersey. The month closes with The Peach Music Festival June 29-July 2 on Montage Mountain in Scranton, Pennsylvania.
In July, The Beach Road Trip is coming to Atlantic City July 7-9 for BRT Atlantic City and in August, country music returns Aug. 11-13 to Atlantic City with the  Tidalwave Music Festival on the beach and the 2023 Musikfest featuring Dan + Shay, Goo Goo Dolls and Train is Aug. 3-13 in Bethlehem, Pennsylvania.
In September, the Delaware Valley Bluegrass Festival is Sept. 1-3 in Woodstown,  New Jersey,  Made in America Festival is Sept. 2-3 in Philadelphia, Pennsylvania, Sea.Hear.Now Festival combines surf and music Sept. 16-17 in Asbury Park and the XPoNential Music Festival celebrates 30 years Sept. 22-24 at Wiggins Park in Camden, New Jersey. Also, Frantic City is expected to return Sept. 23 in Atlantic City.
South Jersey's summer is set to be filled with good vibes and great music. Make sure you've got your tickets, your sunscreen, and your love of music. See you there!