Post Malone's career has been written for dead since it began with "White Iverson" in 2015. It's incredible how many people want to talk to me about Post Malone and sometimes it's to tell me that they think he's overrated and untalented.
With his third album, "Hollywood's Bleeding," Post Malone proves that his undisputed reign over pop music won't die anytime soon. Throughout the 17 tracks, Post Malone slays his detractors like demons and uses their attacks to fuel his ascent to the top of the charts.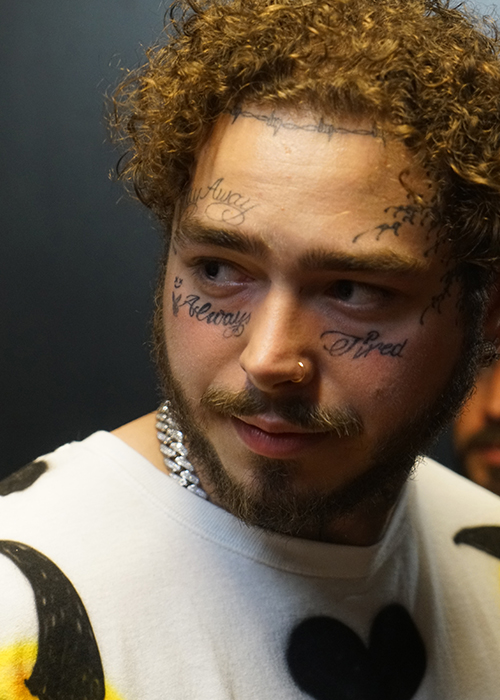 His fame has reached a pinnacle in the last few years that if this were the 1970s, Post would have already been featured on an episode of "Scooby-Doo." What makes his songs so attractive to today's audience is they turn melancholy into melody without trying to mask the emotion in the lyrics.
If Pitchfork thinks Post Malone is just a lucky frat boy, then they should read their own disjointed reviews of his albums. He isn't just a rapper, or an emo singer-songwriter, or a loner gamer or an Ozzy Osbourne fan – he's all of those things. The fact that he's unafraid to show all of those sides of himself without the filter of his Marlboro cigarettes is what makes him so successful.
Opening with the title track, Post sets the scene of Hollywood, where everyone is looking for reasons to chase feelings and will use anyone who stands in their way. Throughout "Hollywood's Bleeding," Post swaps styles between songs like the jewelry he raps about.
The album quickly slips back into the swagger from his last album, "Beerbongs and Bentley's" on the braggadocios come-up track, "Saint-Tropez." It includes a CV of trophies and accomplishments but the Post sings with the authenticity that makes it resonate for another hit track. He's checking things off his bucket list, but he's also putting in the work to make it happen.
The album may feel familiar to listeners because five singles supported its release including, "Sunflower," "Wow," "Goodbyes," and "Circles" reached No. 1, No. 2, No. 3 and No. 4 respectively on the Billboard Hot 100.
DaBaby joins Post on one of the later standalone tracks, "Enemies," which dropped as a single just after the album was released Sept. 6, 2019, by Republic Records. On it, Post Malone tells his former friends, "It's too late turn this around/So don't try to tell me that you're happy for me now."
"Allergic" which was the final single released in late September, has some of the most cutting lyrics on the album. Between it and the track that follows, "A Thousand Bad Times," Post Malone is powering through the recovery of a breakup. With these songs, Post Malone puts on his armor and sword and is ready to take on all of Hollywood's vampires.
"So sad but true
You're friends with all my demons
The only one who sees them
Too bad for you."
-Post Malone "Allergic"
Post's autotuned vocals are nearly perfect, aided by "Beerbongs and Bentleys" production partners Louis Bell and Frank Dukes. He sounds appropriately empty on "Circles," a song about a relationship that is only fueled by lust.
The feature list on "Hollywood's Bleeding" reads like the guest list at Jimmy Fallon's birthday party. It includes Future and Halsey on "Die For Me," Meek Mill and Lil Baby on "On The Road," SZA on "Staring At The Sun" and Young Thug on "Goodbyes."
Of course, the genre-bending feature is Ozzy Osbourne's haunting vocals on "Take What You Want." Not only does Osbourne sound like he just finished "Blizzard of Ozz," but Travis Scott jumps in for the second verse and a blazing guitar solo drives the bridge into a grand finale.
I feel like Post is best at his extremes – introspective or explosive. On "I'm Gonna Be" he gives his ethos for being Post Malone: "I'm gonna be what I want, I'm gonna do what I want, I'm going hard 'til I'm gone." He's leaving it all out on the court for us just like Iverson.
On the Kanye West collaboration, "Internet," Post hits his peak. Combining the Kanye-influenced gospel-inspired orchestration with Post's sarcastic songwriting and natural voice results in nearly two minutes of bliss.
"Goodbyes" is another breakup song, but this time, it's right before he gets the courage to say so long. So, he goes out on a bender, listens to some Nirvana and decides that he's got to make a change.
Father John Misty co-wrote "Myself," a song about living a tour bus life and being the person that fans want performers to be on stage but also living off stage. Post sings, "All the places I've been/ I wish I could've been there myself."
There is no stopping Post Malone's pop songwriting presence and I'm happy to see him rolling through all his detractors. As long as he stays off the Internet, he should be fine.
Post Malone will perform a sold-out show with Swae Lee and Tyla Yaweh Friday, Oct. 11 at Jim Whelan Boardwalk Hall in Atlantic City.
Get "Hollywood's Bleeding" from Post Malone, Amazon, Apple Music, Google Play, Spotify, Tidal and Deezer.
Favorite Tracks:
Enemies
Allergic
Circles
Take What You Want
I'm Gonna Be
Internet
Goodbyes
Myself