One of my favorite things about the Internet is that it makes me feel like we are living in an age of discovery. Whether we are searching for new things, learning new facts or finding old things that are new to us; there is a nearly infinite amount of knowledge at our fingertips as new content is created and uploaded every minute.
I wouldn't exactly call Nada Surf old, but I let the band's wave of popularity pass me in the 90s and didn't catch up with the New York City alternative rockers until 2016's "You Know Who You Are."
More than 25 years after its debut album hit shelves, Nada Surf sounds refreshed and relaxed on its ninth studio album "Never Not Together," released Friday, Feb. 7 on Barsuk Records.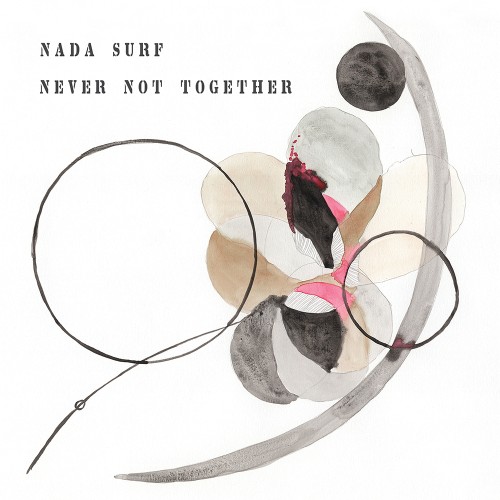 The core three of the band, Matthew Caws, Daniel Lorca, Ira Elliot, and their longtime collaborator, keyboardist and singer Louie Lino are unbound with new energy but sound just as familiar and comforting as ever.
Across the nine tracks on "Never Not Together," Nada Surf pours itself into songs about optimism, love, sadness and also an extensional wading that was just as fitting nearly 30 years ago as it is today. These ideas are all pulled together in 42 minutes 16 seconds through a combination of idealist rock melodies and unforgettable hooks.
The band's power-pop formula is only squeezed tighter by warm harmonies recorded Rockfield Studios in Monmouthshire, Wales. It isn't all just hippie idealism as Caws' lyrics dig into social media, bullying, raw determination and empathy.
Beginning with "So Much Love," Nada Surf brings back those Clinton-era vibes from the drums to the verses building up to a release on the chorus. The song really hits home for me because it is how the songwriter, Caws, gets out of his head and remembers what matters.
"How much love? I can't say
Just know I need to get out of its way
So much love for your friends
When you feel off, think of them."
-"So Much Love," Nada Surf
The songwriting on this album is such a highlight that it's easy to overlook the production. There are spacey synths on "Come Get Me" and "Something I Should Do," there is a special atmosphere created on the acoustic opening to "Just Wait," and the opening to "Looking For You" has a whimsical, orchestral feel.
My favorite track on the album is "Live Learn and Forget," which is just as much of a Taoist parable as it sounds. It is about living in the moment and letting go of all the bullshit.
There's an overarching theme of slowing down on the album. As the band members grow older, they are taking more of a long view approach to life. On the track "Just Wait," Caws is telling us it's gonna be OK, but we just have to relax and ride it out. Pretty good advice right now amid the COVID-19 pandemic.
Nada Surf looks to the past and it plays to the future on "Something I Should Do." Using its heavy guitar rhythm punctuated by synths, Caws delivers spoken-word interludes between verses. The second one is an interesting meta-analysis of social media, self-hatred and empathy.
"I'm trying to look out, leave the mirror out of it
See the tree and contemplate it
And not question who or what I am in relation to the tree
But I don't know what it means yet."
-"Something I Should Do," Nada Surf
The most ambitious track on "Never Not Together" is "Looking For You." Nada Surf begins with strings and goes into the thick groove of alternative rock before soaring off into a couple of exhilarating guitar solos that are tied together by the vocal harmonies.
There are plenty of messages scattered throughout this album like treasures in the forest and at times they are almost treated like throwaway lines. For example, on "Crowded Star," the lyric "Every day is a teacher waiting to be seen" is just sandwiched in the first verse.
There is a lesson about bullying and gender stereotypes on "Mathilda," that ranges from moody and contemplative to angsty and even gets introspective before an extended outro that is outwardly political and exquisite. It ends with the lines: "There's a special Hell that we build for ourselves/ And it's handed down in homes and playgrounds."
"Never Not Together" draws together the most refined aspects of Nada Surf and packages them into a collection of optimistic and empathetic songs. The band weaves together rock rhythms and soaring with buoyant lyrics for fulfilling album for old and new fans alike.
Get "Never Not Together," from Barsuk Records, Amazon, Apple Music, Google Play, Spotify, Tidal and Deezer.
Favorite Tracks:
So Much Love
Live Learn and Forget
Just Wait
Something I Should Do
Looking For You