Blending complex and emotional beats with deep, introspective lyrics, the Portland-based band Mordecai has created a strong debut album, "It's Never Enough."
The duo of multi-instrumentalist Andrew Alexander Endres and violinist Kate Kilbourne create an experimental electronic soundscape that combines rhythm and blues beats, and pop and electronic dance music melodies with pop-punk vocals.
Endres wrote the songs as well as played and produced nearly every instrument on the 10-track album that is expected to be released Wednesday, Aug. 30 with a release party at Holocene in Portland. He is backed by Kilbourne on vocals, synths and violin and a friend of the band, Grant Pierce, tracked drums on "Perfect."
With the opening synths on "Control," Mordecai presents a vibe that represents the spirit of Portland. The opening synths are mellow and build with the emotion propelled by Endres' voice.
"I had these songs and melodies and wanted to give expression to them. I've primarily been an instrumentalist and I wanted to give myself room to express these ideas using my voice," Endres said via email. "I wrote all the songs over the last three years. Each of them is from a different time period so they all have different motivations and themes."
Kilbourne has the perfect complement to Endres' voice and there is no better example than "Hanging On." This is one of my favorite tracks because it has pop, punk and emo sound that shifts into a contemporary pop vibe by the end.
The duo has great chemistry and they help one another showcase their talents. They met while studying music and working in the music office at Portland State University, however they began playing together years after graduation.
After touring the west coast last year, the band began tracking the songs for its debut album. "It's Never Enough" was recorded primarily at Endres' home studio in addition to Reinhold Music, as well as borrowing a friend's studio.
While displaying his range as an instrumentalist and a vocalist, Endres makes writing pop hooks sound so easy. The hook on "Try Again" is compelling and heartbreaking at the same time. While the music drives the plot, his lyrics saying that the excuses won't change a thing are just cutting. His writing boils down these themes to raw elements and the result is: "Please try again, this makes no sense, I can't trust you to make amends."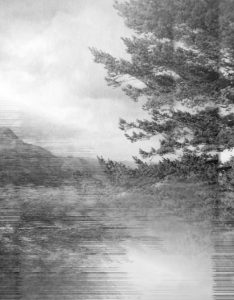 What makes "It's Never Enough" so good is not just that the songs are ear-wormy, but that they convey these powerful messages in super tight, catchy songs. Tracks like "Alone," with lyrics about fear-based self-deprecation, make all that torture sound like pleasure in the studio.
Throughout the album, the synth work is complex. There is some intense ambiance happening in the background that at times bubbles to the surface and blends brilliantly with a rhythm or harmony. Songs like "Perfect," have layers of sound that mash up and shift throughout the track. Even without lyrics, the mood of the sound conveys a strong message.
The beats on this album are one of the standout features. On "Calm Down," there is an intense, dark sound that starts and is completely transformed by Kilbourne on violin. Her touch is subtle but her playing adds so much texture to the song that it's hard to not get lost in her melody.
"It's Never Enough" is an album that draws and blends various styles. The heavy beats and deep bass on "Follow" are in stark contrast to the way a song like "Shell" unfolds; with synths that expand fill the background with a whimsical, tropical sound.
Mordecai creates complex arrangements that give the band a shroud of mystery. With the closing track, "Price," there is eerie organ effect that creates an undercurrent of uneasiness that intensifies throughout the song.
Following the band's Aug. 30 album release show at Holocene, Mordecai will leave for a European tour in September including stops in France, the Netherlands, Germany, Belgium.
See Mordecai with Amani and Amenta Abioto 8:30 p.m. Wednesday, Aug. 30 at Holocene in Portland. Tickets are $8.