For the past five years, I have been hanging on to the releases by Australian singer-songwriter Mallrat as she has dripped them out in the form of short-form EPs.
The Brisbane-born Grace Shaw has been trekking through her emotions and defining her sound through "Uninvited," in 2016, "In the Sky," in 2018 and the prolific "Driving Music" from 2019.
For those who haven't heard of Mallrat besides my near-obsessive references to the Kevin Smith movie in this blog, the 23-year-old blends pop, singer-songwriter, emo, punk and hip hop vibes in a way that female fans of Post Malone may have found their match.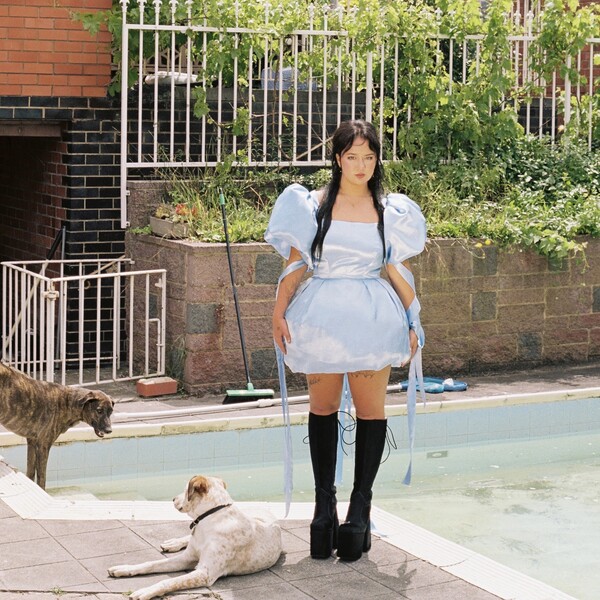 Now, the musician has found the right formula on her debut album "Butterfly Blue" released Friday, May 13, 2022 via Dew Process and Nettwerk.
The album opens up with a dreamy, duel introduction both with the track "Wish on an Eyelash" that leads into the first proper pop track "To You."
On the hip-hop-influenced "Surprise Me," Mallrat tag teams with rapper Azealia Banks, to chop up guys who are sending mixed messages in the club.
Drawing inspiration from southern hip hop and early 2000s pop, Mallrat falls completely into "Your Love."
The emo-inspired "Heart Guitar" has a bedroom pop feel and has some of the warped pop vibes I caught from underscores.
The grungy "Teeth" is powered by crunchy chords to capture the laid-back sound of 90s rock. The droning riff that propels the song to the chorus is so alluring.
On "Rockstar," Mallrat is sick of her lover's games and sets her dream-pop sights on someone on stage. My favorite part about the track is how she turns on a dime from the anger of betrayal to the sweetness of the wishing for what will come next.
"Fuck you for playing games with my heart
And keeping me in the dark, I loved you right from the start

Maybe I'll fall in love with a rock star, we'll be married forever
I'll forget all about you one day"
I savor the folk vibes on "I'm Not My Body, It's Mine" which has some great talking blues vibes. It somehow combines folk, country and rap in a tight memorable track.
"What if we leave on the same night?
Break all the glass in a locked car
Head full of rocks, I'm a rockstar
But I know a place and it's not far
We could escape with a jumpstart
Took some time but I'm fine, fine
Feels so good I could cry, cry
And I'm not my body it's mine, mine"
Those acoustic singer-songwriter vibes return for the last two tracks.
On "Arm's Length," Mallrat pines over someone who is taken. But, that doesn't stop her from dreaming up all the plans for the two of them between that "Arm's Length."
On the title track, which closes the album, Mallrat is staying awake in bed after too much coffee and screen time. As she approaches sunrise, she tries to dream about someone who she can't have but wonders still what she should do.
With her debut album, Mallrat creates 11 tracks that show the diversity of her talent leaving fans wondering what she will do next. From quiet singer-songwriter to brash rock vibes, Mallrat shapes the songs on "Butterfly Blue" to fit her ever-evolving style.
See Mallrat Thursday, Sept. 22 at Firefly Music Festival, taking place Sept. 22-25 in Dover, Delaware.
Get "Butterfly Blue" from Amazon, Apple Music, YouTube Music, Spotify, Tidal, Deezer and Pandora.
Favorite Tracks:
To You
Your Love
Heart Guitar
Teeth
Rockstar
I'm Not My Body, It's Mine
Arm's Length
Butterfly Blue