Maggie Rogers communicates through unrestrained songwriting and inspirational production on her debut album, "Heard It In A Past Life," released Friday, Jan. 18 on Capitol Records.
"For a long time, I've introduced myself as a banjo player from the eastern shore of Maryland," Rogers says on her website. That was before she got Pharrell Williams choked up on camera while listening to her song "Alaska" in 2016. Since then, "Alaska," has been streamed more than a hundred millions of times.
The two producers met while Rogers was enrolled in the Clive Davis Institute of Recorded Music at New York University. It's fitting that Rogers would be in the right place at the right time as she writes songs that are firmly on the pulse of modern music.
On the 12 tracks spanning 45:31 on "Heard It In A Past Life," Rogers uses an arsenal of skills to beautifully tell stories of past loves, mistakes and insecurities.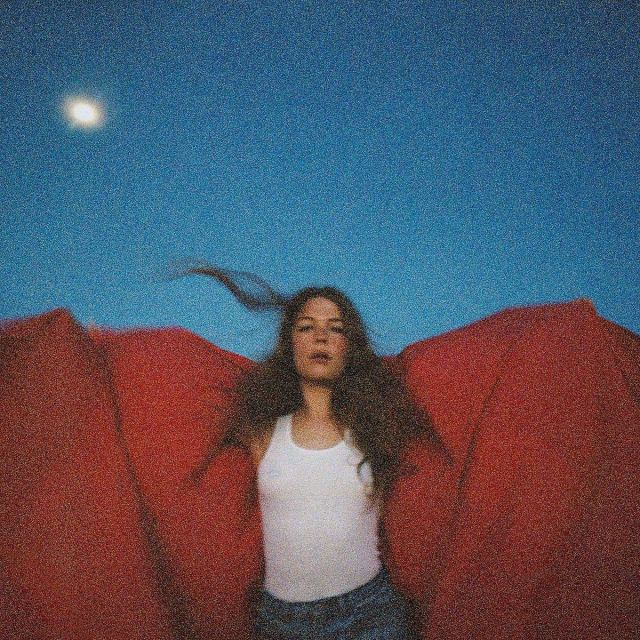 As a songwriter, producer and multi-instrumentalist, Rogers combines elements of folk, pop, hiphop and electronic beats to describe the sagas that illustrate her autobiography. In addition to banjo, she also plays harp, guitar and piano.
The album opens with one of my favorite tracks, "Give A Little," which describes meeting a new love while being swept up in a transformative period in her life. One of the lyrics that keeps resonating with me is:
"But hear me now I'm crying out,
Let me be the light upon the lake."
The track is a great opening for the album, which is an honest meditation on the emotional journey that Rogers has been on the past couple years, and includes some of her past vulnerabilities as well.
Rogers pounces upon notes like a cat stalking her prey in the night. She seizes upon emotions and squeezes out the meaning until they are at their most concentrated honesty.
There are moments on this album that tell the behind-the-scenes tales that take place between the words. The chords that the synth creates on "Overnight" is the sound that happens after a few beers and the pressure shifts between your brain and the pub.
One of the more quiet moments on the viral single "Alaska" seems to grasps onto the atoms that create an atmospheric emotional presence. Another of my favorite lines on that song is "Learned to talk and say, Whatever I wanted to."
There are a lot of references to light throughout the album. Ironically, the song "Light On," was the last track written for the album and the one that most describes her quick asset to fame, the 24-year-old told NPR.
"Light On" expresses the release of Rogers' anxiety perfectly. She describes being swept up into the midst of international fame while trying to remain the person that she is.
"Oh, I couldn't stop it
Tried to slow it all down
Crying in the bathroom
Had to figure it out
With everyone around me saying
"You must be so happy now"
-Maggie Rogers "Light On"
With the plethora of sounds that emerge on "Heard It In A Past Life," Rogers' voice adapts for the production of each. That instrument is completely illuminated when contrasted by a single piano on "Past Life."
"Say It" represents some 80s and 90s pop songwriting that is fluid with its boundaries and transports back and forth between heavy rhythm and blues and upbeat pop.
Rogers uses an army of emotion to overpower listeners on "On + Off." It includes a sweetly sticky reverb on the keyboard and a shifting melody that ends with an artistic flourish. If I had to pick one, it would have to be my favorite track on the album.
There is a lot of mixing elements of genres throughout the album. The more dominant themes involve blending folk melodies and electronic rhythms, like on "Fallingwater."
Using muted pop tones to paint the background, Rogers describes the anxiety that almost caused her to bail out of a gig in Paris. It took a couple laps around the block and a cigarette break before she decided to stay.
I understand that the pressures of a deadline and the confines of a writing style can create new creative paths that I wouldn't otherwise find. Being thrown into the fray seems to have worked for Rogers. Given the all the time to get everything exactly right, I don't think she would have produced a better debut album.
I hope you already got tickets because most of the shows on the Maggie Rogers tour are sold out. She is performing with Melanie Faye Monday, March 25 and Tuesday, March 26 at the 9:30 Club in Washington, D.C., solo Friday, March 29 at the Hammerstein Ballroom in New York City, New York and with Faye Saturday, March 25 at The Fillmore Philadelphia in Philadelphia, Pennsylvania.
Get "Heard It In A Past Life" from Maggie Rogers, Apple Music, Amazon, Google Play, Deezer, Spotify, and Tidal.
Favorite Songs:
Give A Little
Overnight
Alaska
Light On
On + Off
Back In My Body