I spent a lot of time in quarantine on YouTube. I saw a video "Smoke and Drive" and then I went into a little wormhole and found more of these videos by Machine Gun Kelly including covers of "Misery Business" by Paramore with Travis Barker and "Champagne Supernova" by Oasis with Yungblud. That last one as that made really take notice.
Before that, I had only heard of the Clevland, Ohio rapper. I knew his name from playing The Pool After Dark at Harrah's a couple  years ago in addition to previous shows in Atlantic City.
So then, I was just plain intrigued. Is he a rapper, rocker, some combination of both like Post Malone? Then I saw the video for "My Ex's Best Friend," featuring blackbear.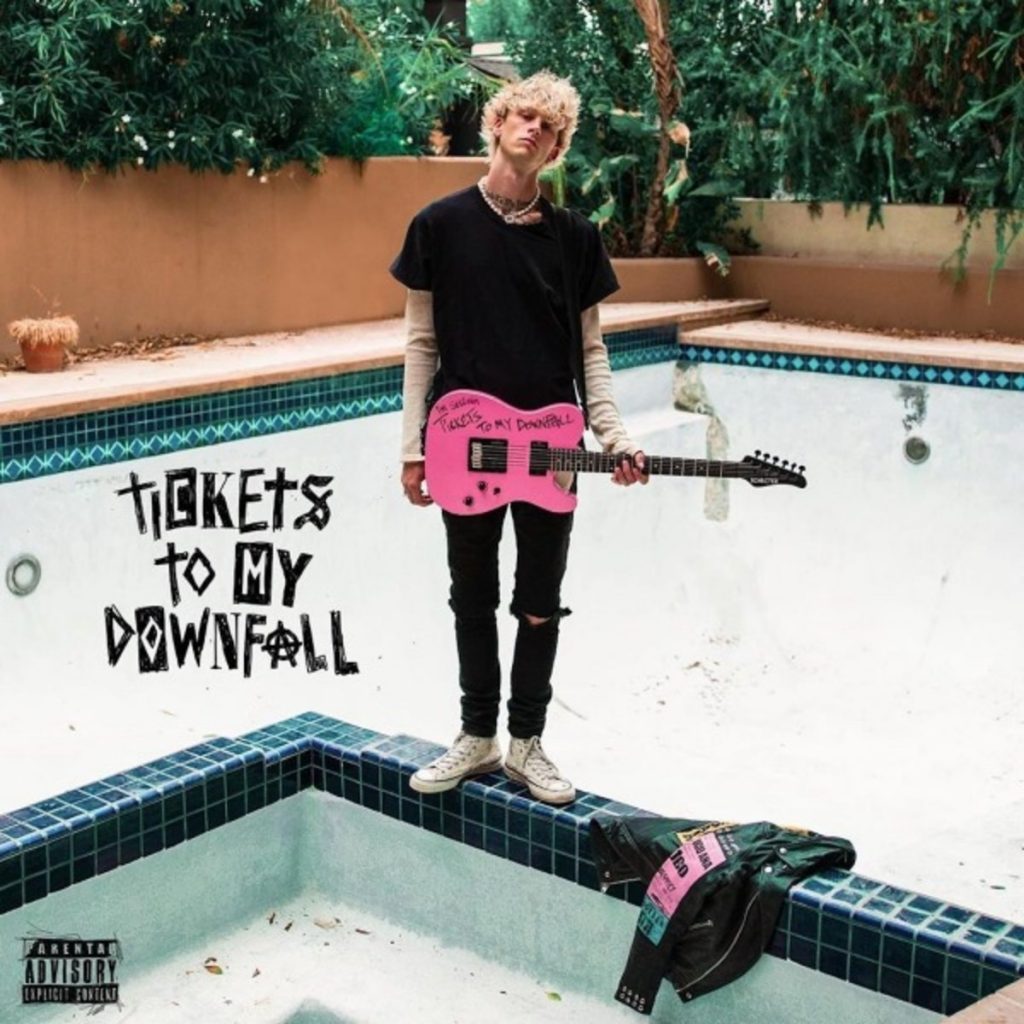 In it, Machine Gun Kelly is playing a pink Schecter on top of a car that has flipped over and is skidding down the highway on its roof. That's how he hit the offramp right into my heart.
With his blend of punk pop backed by none other than Travis Barker, Machine Gun Kelly has me feeling like half my age with his latest album "Tickets To My Downfall."
Released Sept. 25 via Bad Boy and Interscope Records, Machine Gun Kelly has traded his rap-fueled tracks for 15 songs across 36 minutes of fun, passionate and personal music played at full volume.
In addition to providing the thunderous, sharp drumming on all the tracks, Barker also serves as producer, and guides Machine Gun Kelly, born, Colson Baker, toward unabashed rock 'n' roll excellence.
From the acoustic-intros to the building drum-laded bridges, Machine Gun Kelly takes a purposeful turn away from the lifestyle that could be loosely linked to that of contemporaries Lil Peep, Mac Miller and Juice Wrld or at least could have made him wonder if he could be next.
Emo and its older cousins punk and hardcore have a relationship to the straight-edge scene which advocates, strongly, against drug and alcohol use as well as anti-facism movements in addition to fighting alongside gay, lesbian, transgender and queer communities as well as anyone who felt they were in the minority and could only succeed in America against all odds.
So, what better genre than the explosive yet introspective pop-punk to welcome Machine Gun Kelly? On the "Title Track," he says he needs time to decompress from the drugs that he's taking to help him cope and he feels like he's selling tickets to his downfall because all he sees are friends around watching and cheering on his self-destruction.
That toxic "I'll sleep when I'm dead" attitude carries on like an unplanned day drinking bar crawl on "Kiss Kiss," but it starts to catch up with him on "Drunk Face," where he compares his addiction to a girl he just can't quit. Approaching 30 years old, he feels like he's still had enough time to have fun and enjoy himself while putting off getting better for another year.
"Yeah, let's get high as fuck
I'm trying to cover up
Eyes that have seen too much
I'd go blind for her touch."
-"Drunk Face," Machine Gun Kelly
New Jersey native Halsey joins Machine Gun Kelly for one of the truest-to-form 00s pop punk songs, "Forget Me Too," where the singers wrestle with the positive and negative feelings surrounding past relationships. Rapper Trippie Redd joins him for another track about his past loves, "Nothing At All."
On his most raw track, "Lonely," Machine Gun Kelly talks about wishing he had more time with his father, whose voice is featured on the outro. Near the end of his life, he tells the story of Baker's birth, including the complications with the umbilical cord and a heart condition diagnosis.
The album follows the traditional punk formula of packing in a bunch of songs in a short amount of time. The songs on "Tickets To My Downfall" average just more than two minutes and the shortest at just less than a minute is, "WWIII." It easily has the most attitude of any of the tracks.
Comedian Pete Davidson joins for the weird interlude "Kevin and Barracuda," which is fitting for this album. It's a record that serves both a therapeutic purpose of getting the words out, but also just because, fuck it, why not?
The most radio-friendly track that, if you didn't know who or what Machine Gun Kelly was, would probably make you a fan is "Concert For Aliens." It's has a firm Blink-182 thumbprint, and it works great on this track.
The track that pulls in the most of that MGK hip-hop flavor is the crossover track "My Ex's Best Friend" featuring Blackbear rapping the bridge. As the title and the behavior explained on previous songs can allude to, the singer isn't feeling all that conflicted about hooking up with his ex's best friend.
Iann Dior joins him for a collaboration on "Nothing Inside" and you can hear him defending some drunken behavior to his girlfriend, actress Megan Fox on the interlude "Banyan Tree." In addition, Barker and Machine Gun Kelly are joined by multi-instrumentalist Kevin Bivona from The Transplants and guitarists Omer Fedi and Nick Long on most tracks.
He ends with a touching track, acoustic-led "Play This When I'm Gone" that he wrote for his daughter Casie. He confesses to being under a lot of pressure as a famous musician and literally wrote it for her to listen to after he dies as he sings: "I wrote you this song to keep when I'm gone, If you ever feel alone."
With "Tickets To My Downfall," Machine Gun Kelly puts his guitar, emotions and heart into punk rock and produces a fierce album of hits that blend well with Travis Barker's heavy beats. Whether you're a Machine Gun Kelly fan or nostalgic for the days of getting a handful of songs that kick from a pop punk album, this album is for you.
Get "Tickets To My Downfall" from Machine Gun Kelly, Amazon, Apple Music, YouTube Music, Spotify, Tidal and Deezer.
Favorite Tracks
Title Track
Drunk Face
Forget Me Too
Lonely
WWIII
Concert For Aliens