"Blood Harmony" the latest album from blues and roots rock band Larkin Poe lures listeners in with the southern charm of sisters Rebecca and Megan Lovell and slays them with strong musicianship.
Led by the pair of multi-instrumentalists who previously performed at the Philadelphia Folk Festival with their older sister Jessica as The Lovell Sisters, the band released their sixth studio album Friday, Nov. 11 via their own Tricki Woo Records.
Rebecca handles vocals and also plays electric and acoustic guitars, mandolin, banjo, violin, piano as well as programs drums and bass and arrangements while Megan joins in with vocals, lap steel guitar and dobro; bassist Tarka Layman and drummer Kevin McGowan round out the band.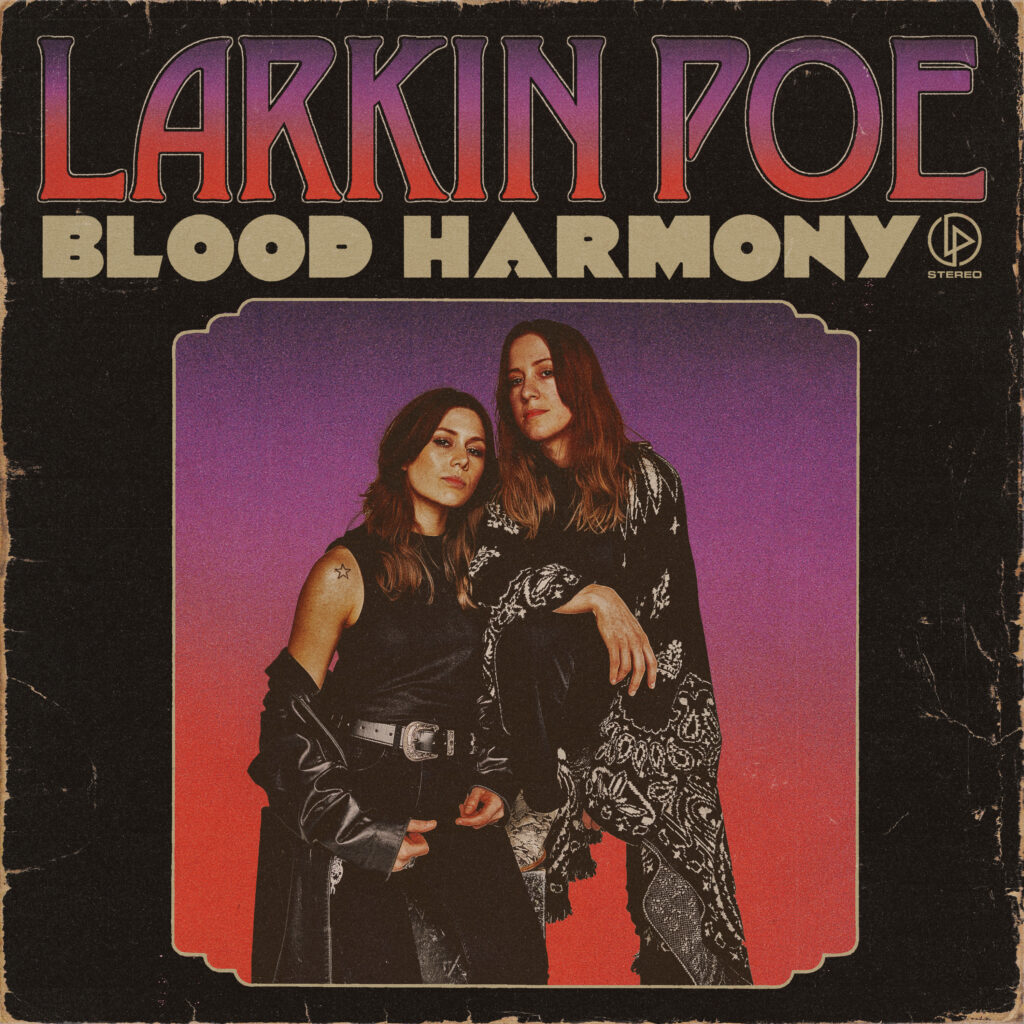 "We have such fond memories of our upbringing and experiencing the beauty of southern hospitality in its truest form—it's a very loving and inclusive energy," Rebecca Lovell said in a release. "There's an idea that we don't walk alone, and that there's safety in keeping your door open to anyone and everyone. What we try to share through our music is the emotional equivalent of opening your door to everyone and inviting them in for sweet tea."
The album starts with the blues-heavy, banjo-led "Deep Stays Down" which has an old-school vibe with its stomping rhythm. Then, the track opens up like a V-8 engine with a screaming guitar lick at about two and a half-minute mark.
"Bad Spell" combines classic rock with a killer modern electric guitar. The ladies display that southern sweetness on "Georgia Off My Mind," as they lean into both their natural harmony and their roots in Calhoun, Georgia.
"Growing up in Tennessee and Georgia shaped my sister and myself in so many beautiful ways," said Rebecca Lovell in a release. "Now, as an adult, I feel grateful to reflect on that childhood and to call Nashville home. I loved writing this song, and getting to share southern hospitality, southern comfort, with all the sweet souls we encounter on our travels around the world, feels empowering."
The band displays a range of influences on "Southern Comfort" that draws influences from rock 'n' roll and jammy rock bands like The Allman Brothers as they sear through the track.
Rebecca Lovell delivers an inspiring guitar lick on "Bolt Cutters and the Family Name" that can really only be experienced truly at an incredible volume screaming out of an orange 1970 Ford Mustang Mach 1 tearing down on a summer afternoon.
If you need some morning motivation, "Kick the Blues" will serve you well any day of the week and help you shake out of a rut with some good old-fashioned advice.
Fans of Tedeschi Trucks Band will like the comforting organ and vibes on the blues ballad "Might As Well Be Me."
For a four-piece band, Larkin Poe explodes through speakers with a huge sound throughout the 11 tracks on "Blood Harmony." As much as I fell in love with the vocal harmonies, the guitar solo and jammy breakdown on "Summertime Sunset" might be my favorite two minutes among the 42 minutes and 27 seconds.
The album closes with the statement "Lips as Cold as Diamond." The stark blues story comes from the tradition of murder ballads and some parts are sung a cappella. The track doesn't have a chorus – just the frigid refrain: "Never cold, never cold, never cold no more, never cold."
With "Blood Harmony," Larkin Poe shows its gritty and sweet sides and is sure to win over a new wave of listeners unaware of the band's endless talent.
See Larkin Poe Thursday, March 9 at the 9:30 Club in Washington, D.C., Friday, March 10 at Brooklyn Bool Philly in Philadelphia, Pennsylvania and Saturday, March 11 at Webster Hall in New York City, New York.
Get "Blood Harmony" from Larkin Poe, Amazon, Apple Music, YouTube Music, Spotify, Tidal, Deezer, Pandora and Qobuz.
Favorite Tracks:
Deep Stays Down
Bad Spell
Southern Comfort
Bolt Cutters and the Family Name
Kick the Blues
Might As Well Be Me
Summertime Sunset