I am trying to implement simplicity in my life lately. As I look around I am finding that less is not only better but sometimes more beautiful.
I've even applied that to the music that I'm playing. Is there anything better than acoustic guitar and harmony? It's like that scene in "Almost Famous" when a young Cameron Crowe finds all the vinyl that his sister left for him and it blows his mind.
That was kind of how I felt the first time I heard Kings of Convenience. Just like hockey and basketball, it seems like the Europeans have taken a simple North American pleasure and perfected it beyond our wildest imaginations.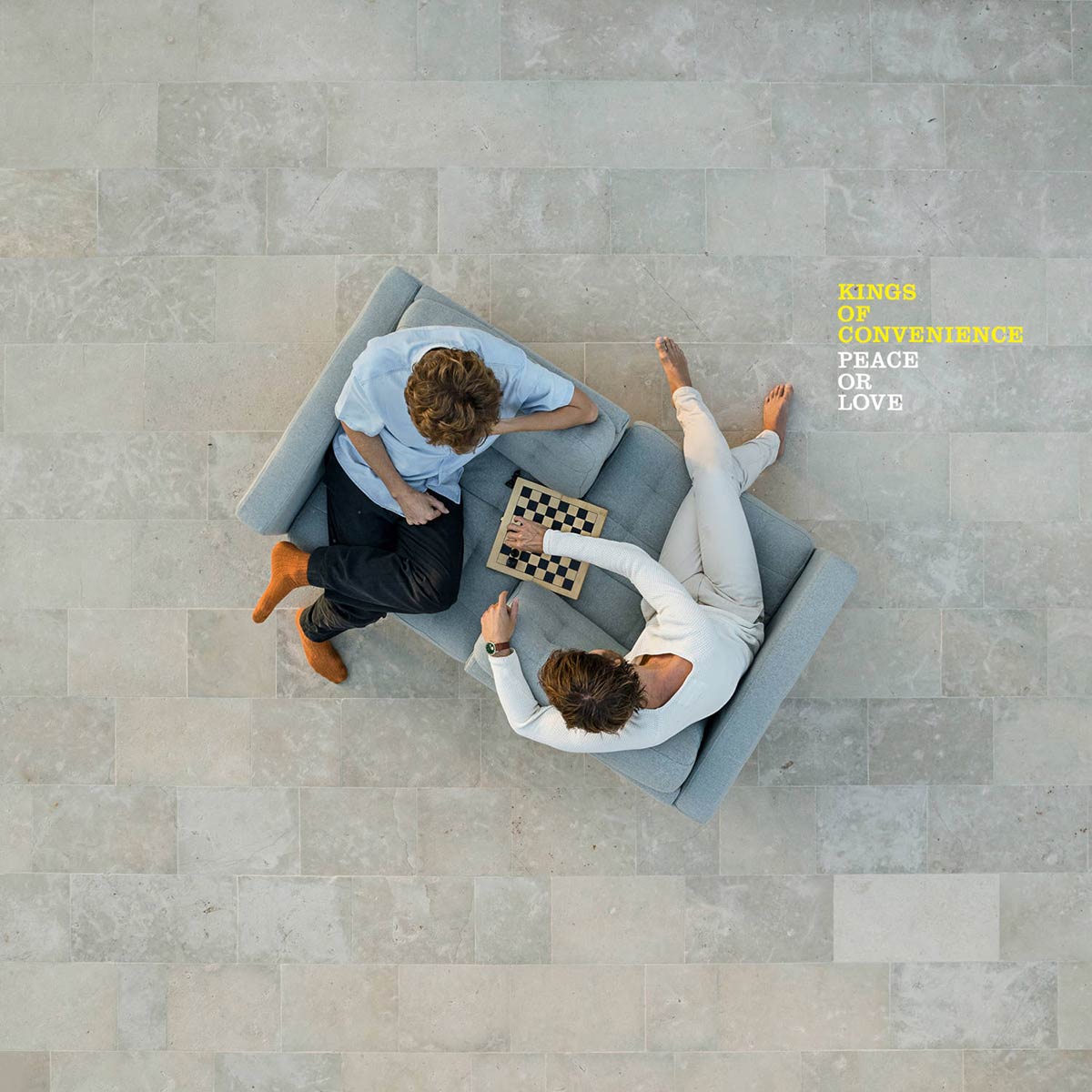 The Bergen, Norway duo of Erlend Øye and Eirik Glambek Bøe have created a magical musical world that I happily hop into from time to time since I first heard them following the release of the band's 2004 debut "Riot on an Empty Street."
From there, I devoured the band's 2001 debut "Quiet Is the New Loud," which may be my favorite album from Kings of Convenience and I picked up the breezy 2009 album "Declaration of Dependence."
Now, 12 years after the pair's last album, Kings of Convenience has recaptured the enchanting harmony of its first two albums with "Peace or Love" released June 18, 2021 on EMI records.
From the opening notes on the first track, "Rumours," I felt like I was arriving at a homecoming. It is a redemption song, sticking up for a friend who has had rumors spread about them, while also being empowering with the chorus: "Don't let them tell you who you are."
As the song's fingerpicking, which sounds more technically as well as crisp than on previous albums, the song comes to a dreamy close and I immediately feel a sense of wonder wash over me.
"Rocky Trail," the first single, features that simple Mediterranean rhythm punctuated by viola which captured audiences with the band's first two albums.
The way the track ends it's a brilliant combination of the two guitar players interplaying off each other. It's an example of how two friends who have been playing with each other can anticipate the others musical phrasing and seemingly finish the thought.
An example is the harmonic combination of the two fingerpicking guitars dancing around their two voices which makes the first 40 seconds of "Comb My Hair" bliss for this music writer.
Feist, who was featured on a couple of track on, "Riot on an Empty Street," rejoins the duo for "Love Is A Lonely Thing," as well as "Catholic Country."
The simple melody of "Fever" is one of the things that made me fall in love Kings of Convenience. It's rooted in the lyric, "Fever, you've got fever," which leads each verse and sets the tempo for an extended musical bridge. These kind of extended interludes are like being led by the hand into in a beautiful daydream.
I love the way that Bøe and Øye play off each other's acoustic guitar fingerpicking. They seem to slide up and down the scales circling around one another in a tango.
"Ask For Help" has some of my favorite guitar playing on the album, down to the harmonics before the last chorus and then the boys break down into a tremendously vibrant outro.
"Catholic Country," features Feist on the chorus "The more I know about you, the more I know I want you," and has songwriting credit from The Staves. It describes the scene between the two characters intricately and leaves enough space for the lister to fill in the details.
The 37 minutes and 37 seconds on "Love and Peace" transport the listener to island-inspired melodies and airy lyrics.
With its latest album, Kings of Convenience has returned to craft 11 songs in the same delicate mold of its three previous albums. With wispy melodies and introspective lyrics, the Norwegian duo has again shown its mastery of beautiful simplicity.
Get "Peace or Love" from Kings of Convenience, EMI records, Amazon, Apple Music, YouTube Music, Spotify, Tidal and Deezer.
Watch a documentary about the album on YouTube.
Favorite Tracks:
Rumours
Comb My Hair
Fever
Ask For Help
Catholic Country