Artists never know when they are going to reach their peak potential or how history will judge their career. There is no guessing where that next wellspring of creativity is going to come from or better yet, when.
For the most part, working creatives are stuck with showing up every day and putting in the work to find that source of inspiration. Just ask Australian rock band King Gizzard and the Lizard Wizard.
Since 2010 the sextet has released several live albums, a concert film, multiple collaborations and on Friday, April 22, its 20th studio album and first double album, "Omnium Gatherum."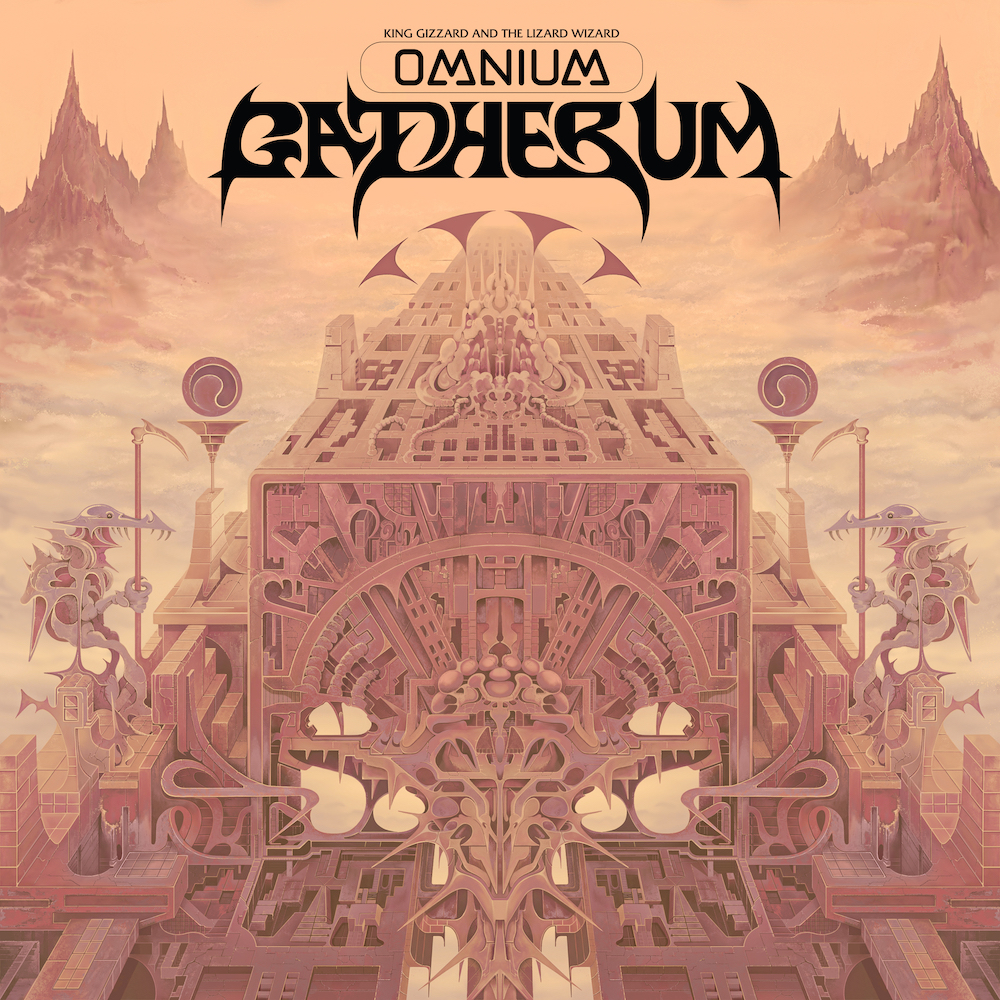 Consisting of multi-instrumentalist singer Stu Mackenzie, singer and keyboardist Ambrose Kenny-Smith, Cook Craig who shares guitar, bass, keyboards and vocals along with Joey Walker, bassist and keyboardist, Lucas Harwood and percussionist Michael Cavanagh, King Gizzard and the Lizard Wizard has made a name for itself bouncing around the globe as a big powerful ball of weird, guitar-heavy rock 'n' roll.
"Omnium Gatherum" starts off slow with the introductory "The Dripping Tap," which takes up a sizable chunk of the album at 18 minutes and 17 seconds.
The plodding start then explodes into a cacophony of psychedelic noise rock that plays out like a movie with multiple acts. The song's catchy chorus gets sped up on repeat for a trippy interlude halfway throughout the track. A little after that the song goes on a short bluesy romp. At the end of this opening adventure, the band goes on a poppy little melodic tangent. The fun is only beginning for "Omnium Gatherum."
The second track, "Magenta Mountain," opens with a synth that sets the scene for this epic fantasy. It has the welcoming vibe of a 60s psychedelic pop track while maintaining the band's authentically funky soul.
The jazzy "Kepler-22b" samples Barney Mcall's "Yemaya One and stays in that sunshine psychedelia of the 60s.
"I actually found Barney's record at a store in New York," said Craig in a release about the album. "I hadn't heard any of his stuff before, but remember putting it on and being blown away straight up. I remember thinking damn this is literally a sampler's dream. It took me a while before I actually realized he was from Melbourne too. I guess it's funny like that, sometimes you gotta travel halfway around the world to discover an inspiring piece of music made by someone who probably lives on the same block as you."
Those jazz fusion feels carry through on "Ambergris," which manages to combine Jaco Pastorius and Prince into one velvety smoothy symphonic package.
On "Sadie Sorceress" the band channels its inner Rage Against The Machine and Beastie Boys as it spins a hip-hop tale that combines some heavy-hitting lines and light-hearted beats.
That hip-hop bravado returns for "The Grim Reaper," which not only pays homage to those old-school rap sounds but also allows for some 2000s rap, particularly Eminem.
Traveling through the years, the band lands in the 70s with some Bay City Rollers on "Evilest Man." Throughout the track, they reference a character quite similar to Rupert Murdoch, who has had a near monopoly on Australian news for decades.
"I wonder if he knows this song
Probably read before it was done
He probably hacked my phone
I'll change the locks when I get home."
"The Garden Goblin" breaks down the fourth wall and pokes fun at its own psychedelic trip, which reminds me of the way that Frank Zappa would let his jokes play out throughout a song or even throughout multiple albums.
"Couldn't he be friendly like the gnome?
Wipe that smirk right off his face
Doesn't he want the garden to grow like me and you?"
The band continues its commentary on their own position on "Persistence." On the chorus, they harmonize "Oh baby, I got persistence, yeah, I go the distance."
One of the songs that really captures the anamorphic nature of King Gizzard and the Lizard Wizard is "Presumptuous," which just bleeds this sexy 70s Carols Santas style while also bringing in some Earth Wind and Fire magic.
On "Predator X" the band does its best Megadeth impression and then flips the channel again to bring back those trippy 60s vibes return for "Red Smoke," which has an offbeat Animal Collective style. Then, album closes with a Latin jazz-inspired instrumental jam on "The Funeral."
At one hour and twenty minutes, "Omnium Gatherum" serves nearly as a greatest hits to date of King Gizzard and the Lizard Wizard. By throwing in all of its favorite styles into one album, each track sounds fresh and makes repeat listens active in anticipation of the next turn.
Get "Omnium Gatherum" From The Gizzverse, Bandcamp, Amazon, Apple Music, YouTube Music, Spotify, Tidal, Deezer and Pandora.
Favorite Tracks:
The Dripping Tap
Magenta Mountain
Kepler-22b
Ambergris
Sadie Sorceress
Evilest Man
The Garden Goblin
Persistence
The Grim Reaper
Presumptionious