Combining two types of heady music, Jazz is Phsh is playing in support of its debut album Thursday, April 20 at World Café Live in Philadelphia sponsored by Oscar Blues Brewery.
As a fan of both jazz and Phish, Jazz is Phsh is an extraordinary way to experience the jam band's music. Jazz is Phsh combines the free flowing elements of fusion jazz and applies them to an array of Phish songs to create a compelling sound that is more just a tribute.
https://vimeo.com/157516330
The band was founded by brothers Adam and Matthew Chase, who have collaborated with bands including Jazz is Dead, a Grateful Dead-inspired jazz band. As notable members of the music community, the brothers attracted a roster of musicians such as Jeff Coffin of the Dave Matthews Band, and Dennis Chambers and Kofi Burbridge from the Tedeschi Trucks Band.
"It's been such a fun process introducing the music of Phish to players from different musical backgrounds and getting to enjoy their unique interpretation of the arrangements," said Adam Chase in a release.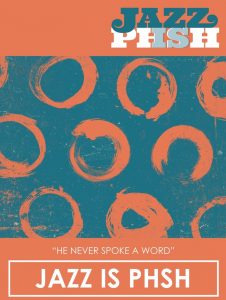 Jazz is Phsh released its 12-track debut album, "He Never Spoke A Word," Friday, March 3. It includes some mind-expanding interpretations of my favorite songs including "Foam," "46 Days," "Meat," "Weigh" and "Camel Walk."
"Camel Walk," is my first pick from the album as the band perfectly hits the Phish flavor from the first note. Although the shredding psychedelic guitar solos of Trey Anastasio are traded for a more classic-infused sound, the band's jazz interoperation of Phish is spot-on.
The album includes a funky version of "Meat," and an intense cover of "Foam" that meanders between free jazz and fusion with some Caribbean-influence sprinkled in. As probably the most difficult piece of music to tackle, the band truly make's "Foam," its own masterpiece, spanning just more than nine and one-half minutes.
Jazz is Phsh ends its tour supporting "He Never Spoke A Word" 8 p.m. Thursday, April 20 at World Café Live in Philadelphia sponsored by Oskar Blues Brewery. The band is also playing 8 p.m. Saturday, June 3 at the Capitol Theatre in Port Chester, New York.
Get "He Never Spoke A Word" from Jazz is Phsh or via Spotify and Tidal.