I can't think of any trio of musicians in recent memory that I like as much as Haim since I discovered The Beastie Boys when I was 13-years-old.
I first found the Los Angeles-based sister-led rock band back in 2017 with the track "Want You Back" from the album "Something To Tell." Long before that, they got started playing together as children in their parents' cover band, Rockinhaim, which played fairs and festivals around Los Angeles.
The three are all multi-instrumentists; Este, 34 plays bass and sings; Danielle, 31, is the frontwoman guitarist, lead singer and master of the drum machine, and Alana, 28, shreds on the guitar in addition to playing the keys.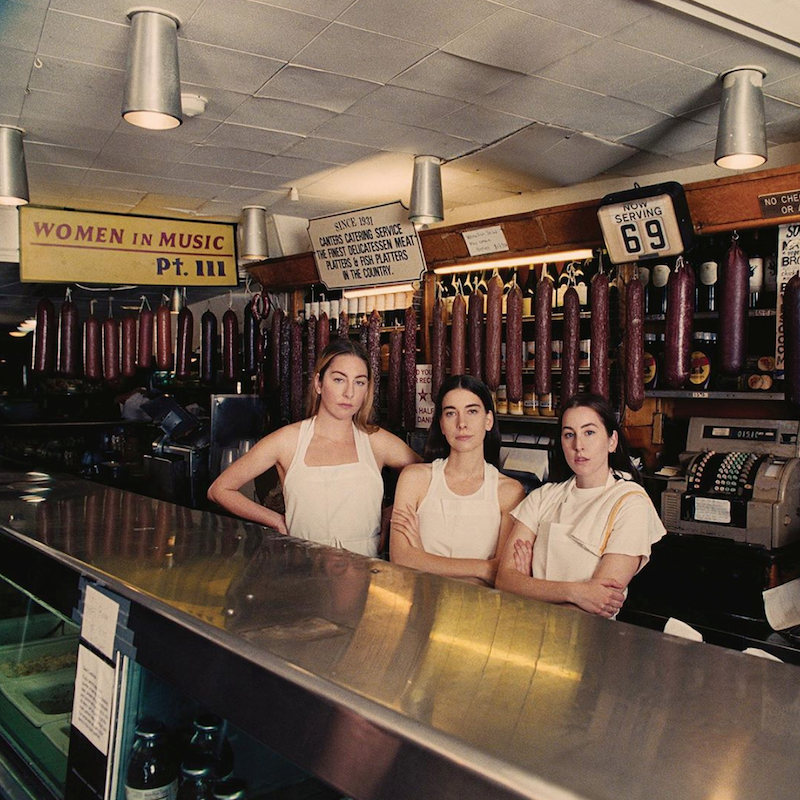 The women seamlessly harmonize with one another in a way that sounds completely natural like the perfect seasoning sprinkled across their tracks. Everything about them is authentic which influences their range between anywhere from Aerosmith to Wilson Phillips at times.
Haim's third album, "Women In Music Pt. III" was released June 26 via Polydor and Columbia records after being moved back two months due to the Covid-19 pandemic.
Harkening back to the band's roots of playing in delis and small venues throughout their hometown, the album cover features the sisters at Canter's Deli in Los Angeles in a photo by Paul Thomas Anderson. He also directed some of the band's music videos for this album. The Haim sisters had planned a deli tour to support the album that got shelved.
The songs on "Women In Music Pt. III" are all just reflective of the styles and interests of the band members. The 13 tracks plus three bonus tracks that total 51 minutes, 39 seconds, span rock, pop, hip hop, electronic dance, folk, jazz and blues influences.
The album proves that the Haim sisters are more than just women in music, they are cultural and fashion icons, representing a moment in time, as strange as the time may seem. Even the name, "Women In Music, Pt. III," which is a perfect title for the album, came to Danielle in a dream.
Beginning with a free jazz saxophone riff from Henry Solomon, the album takes off with Este's thick bass lines on "Los Angeles." Danielle sings about how she's bummed out walking around her hometown, which everyone thinks sucks, and being from Atlantic City, I get it. I also understand the way she sings with respect for her hometown pride.
Probably my favorite song on the album is "The Steps," even if it's only for Danielle's thunderous drumming. But it also has some great guitar work throughout the track. It's personal and a big fuck you, which I feel like there are quite a few well-deserved one-fingered salutes raised throughout the album.
The women are unabashed on the album and are clearly blazing their own path with each guitar lick and snap of a snare drum. There is just as much attitude on here as their previous work but the walls are leveled on "Women In Music Pt. III."
I found myself getting lost in the really intense moody moments, like with the synthesizers and drum machines on "I Know Alone." Danielle gets descriptive about her depression, with lines like "I know alone, like no one else does" and the chorus – "When Sunday comes they want me to shine."
"Up From A Dream" describes waking from a domestic nightmare on top of a heavy indie rock guitar track that gets help from Cass McCombs. Hearing the effects and the distortion on this track is where I started to notice the distinctly crispy tones as opposed to the do-it-yourself punk quality that was present on the band's previous albums.
Another of my favorite tracks, even if it is just for the guitar, is "Gasoline." It's a sexy song that is super funky and puts Danielle firmly in the driver's seat as she steers the mood: "You did me bad, and I did it back. You needed ass, well, what's/ wrong with that?"
The 90s inspired rhythm and blues dance track "3 am" feels exactly like something I would hear coming from the room of my friend's sister when I would go over to play video games as a kid. Even the opening skit making fun of a booty call and the way the song gets an extra bump for the last chorus makes it a perfect homage to the music of the era.
From the same era but on a completely different radio station would have been a track like "Don't Wanna." It is on songs like this that show how the ladies have fun and jam on pop music. There is something about this song that just screams summer.
I really feel the expansive production work "Leaning On You," which sounds jammy like the latest Vampire Weekend album, "Father of the Bride." Danielle was a guest guitarist on the album and its bandleader Rostam Batmanglij co-produced this album and played instruments like the 12-string guitar on this track. He joins Danielle and her boyfriend, Ariel Rechtshaid an electronic music producer who has also worked with Vampire Weekend, as a producer on the album.
Another phenomenal track is the depression anthem "I've Been Down," where Danielle sounds incredibly raw while accompanied by Solomon's saxophone. It sounds inspired by Sheryl Crow the way that "Man In The Magazine" sounds inspired by Joan Baez. The latter throws back the sexist remarks the bandmates have received about their art from music critics.
The ladies venture into the experimental electro-pop territory on "All That Mattered" that features some understated guitar shredding by, I believe Danielle. Alana picks up the lead guitar for an awesome riff on "FUBT" which is going to be my new favorite acronym.
Songs like "Now I'm In It" are just dripping with swagger. These women can not only rock but that they can get deep, and slow things down for a bit before they break out the heavy rhythms.
One of the saddest songs on the album, and the most personal is "Hallelujah," where each sister talks about their struggles – Este with Type 1 diabetes, Danielle's depression and the death of Alana's best friend.
The final track is the breezy "Summer Girl," which features a riff of Lou Reed's "Walk on the Wild Side" and Solomon returning to add his whimsy on the saxophone.
"Women In Music Pt. III" is a brilliant album from start to finish and is easily my favorite album of 2020. It shows off the powerful songwriting and harmony created by Este, Danielle and Alana Haim more than any of their projects to date.
This writer and most listeners will have a hard time finding a better collection of songs. "Women In Music Pt. III" will be talked about for decades to come.
Get "Women In Music Pt. III" from Haim, Amazon, Apple Music, Google Play, Spotify, Tidal and Deezer.
Favorite Tracks:
The Steps
Gasoline
Don't Wanna
I've Been Down
Leaning On You
Man from the Magazine
All That Mattered
FUBT
Hallelujah
Summer Girl