Crossovers in comic books are always a big deal. I actually own a copy of "Archie Meet The Punisher."
I was always more of a fan of the team-ups, like when the Harlem Globetrotters would join the gang on "The New Scooby-Doo Movies," more than the that of "DC versus Marvel Comics" and similar crossovers that seemed to dominate comic bookshelves every few years throughout the 90s and 00s.
So a few years ago, I was so overjoyed to come across the album "Czarface Meets Metal Face," which was a collaboration between 7L, Esoteric and Inspectah Deck, and MF Doom. It was my introduction to both and I was hooked from then on for their combination of my love of 90s hip-hop and comic books from the same era.
I went down the rabbit hole of the past catalogs of Czarface and MF Doom separately and then, with the attention span of a kitten, I moved on to something else.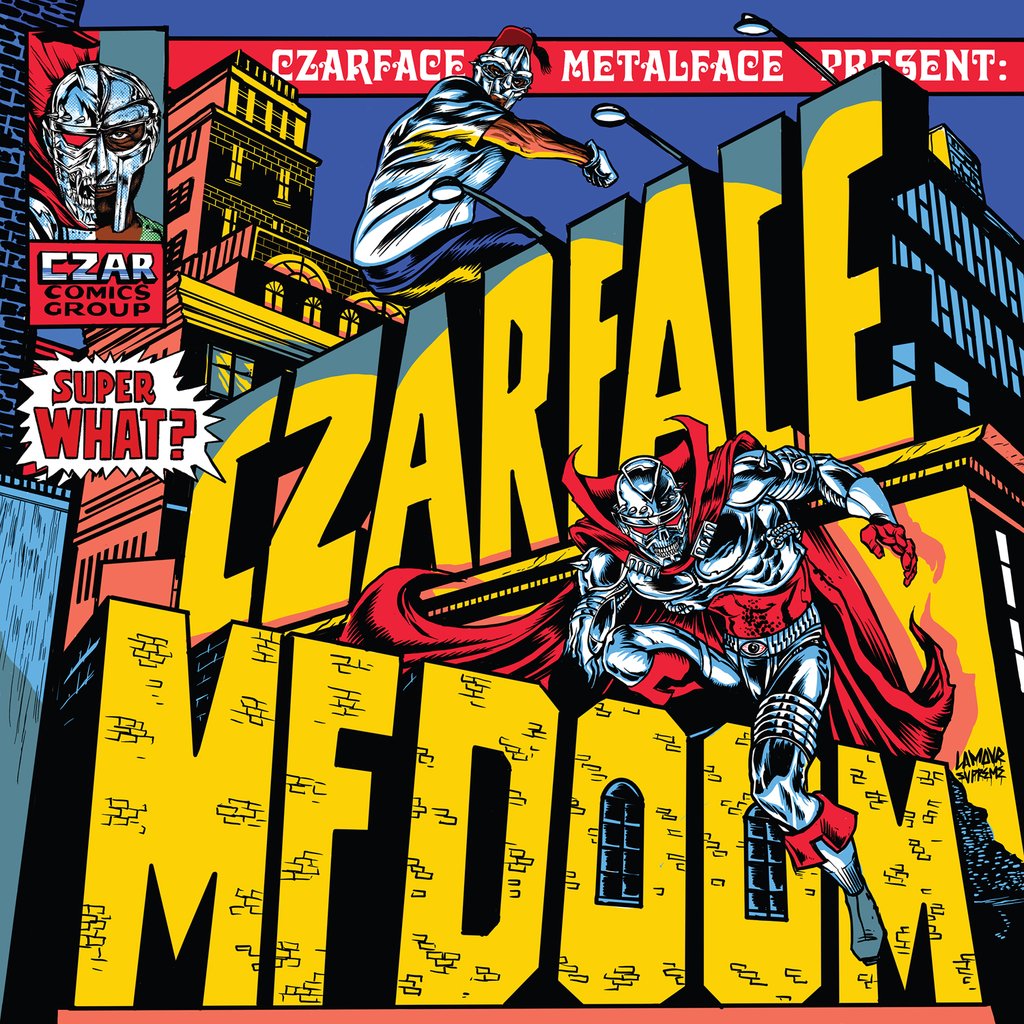 DOOM, which is how he was mostly known, had an alter ego like all good comic book heroes, and an origin story. Daniel Dumile was once known as Zev Love X in the hiphop group KMD until his brother and fellow bandmate, DJ Subroc, died. He then donned the Dr. Doom mask and starting taking on MCs throughout New York City.
That collaboration between the two would be his last release because MF Doom died on Oct. 31, 2020 at 49-years-old.
In honor of MF Doom, Czarface released the first MF Doom posthumous album "Super What?" May 7, 2021 on Silver Age records.
The 10 tracks were recorded in April 2020 and mixed and mastered that summer. Czarface and MF Doom decided to shelve the album during the Covid-19 pandemic.
"Super What" is split into halves with a "Doom Side" and a "Czar Side." The album teased me with a cover by Lamour Supreme based on "Daredevil" No. 216 and clocking in at 25 minutes and 44 seconds left me reaching for the next issue, like any good comic book.
The album includes appearances from DMC, Kendra Morris, Del the Funky Homosapien and Godforbid.
On the opening track "The King and Eye," DMC takes the mic to deliver a classic, short verse:
"D.M.C. in the place to be
Darryl makes comics just like Stan Lee
Like Peter Parker, I live in Queens
And like T'Challa, I am a king."
On the smooth and loose "Mando Calrissian," Doom slides up right behind Inspectah Deck and delivers a laid back intro couplet: "Natural element, rational, irrеlevant, what he lack in sentiment was stashed in the tenement ."
Doom brings that villain energy for "DOOM Unto Others," featuring his raspy deep voice telling tales from his origin story. He's got some great lines:
"We're all beginners, touch soil in the winter
Stash box of fresh Timbs, top grill, all glimmer
Shine burn your eye if you try to fly
Chameleon turn to fry if you burn the pie, bye."
I love Esoteric on this track. From the top of his verse to the bottom, he is channeling an intensity on an otherworldly level and delivers some of my favorite lines on the album:
"My whole camp fire, something like a Webelo
And even though your words go unheard like the T in Pinot Grigio
I gotta cut you short like the 2020 season bro."
The song really heaps on the comic book sterotypes by closing with an ad for the album including a plug for super7.com.
The upbeat vibe from "Break In The Action" is absolutely addictive with Doom leading off the song with the line, "Soul surviving, DOOM's so conniving."
The bouncing rhymes that he delivers between Method Man samples are honest and hitting:
"It's a dirty game, get hectic, real tiring
Top it off, now they playing victim and the violin
Dripping the color envy, more greener than Ireland
Surrounded by snakes more mеaner than a lion's den."
If you came to "Super What?" looking for comic book references than "This Is Canon Now" delivers more consistently than a Wednesday pull list at your local shop. From Iron Man to Spider-Man and even Jack Kirby gets name dropped along with Black Panther, Thor, Reed Richards, and Superman among others throughout the track from Esoteric.
Since this was recorded in 2020, there are a lot of references to the pandemic throughout the album. There is some double-talk about masks and lines about conspiracies.
On "So Strange," MF Doom talks about growing up but caught me with the line: "Simple figures, 'cause the spirits so cerebral, Dancing like Knievel, scared money feeble."
The final track of "Super What" is my favorite with its super catchy hook from Inspectah Deck singing "Hey young world, it's your world." The track is meant to serve as a lesson from the older generation to the younger about what they learned during the pandemic. The track peaches kindness over obtaining material things, family, education and more positive things. It's a helluva high note to end on.
Losing a friend is never easy and all you can do is honor their legacy as you continue to live a life that they can't. With "Super What?" Czarface cements the greatness of MF Doom as comic book canon for one last collaboration.
Get "Super What?" from Bandcamp, Amazon, Apple Music, YouTube Music, Spotify, Tidal and Deezer.
Favorite Tracks:
Mando Calrissian
Young World
Break In The Action
So Strange
Young World