After going on hiatus four years ago, English indie rockers Bombay Bicycle Club have returned with an album that is intended to live a legacy. By combining pop hooks, rock rhythms that are punctuated by synths, "Everything Else Has Gone Wrong," but Bombay Bicycle Club got this album right.
At 11 tracks and 41:40, the band's fifth album released Jan. 17, 2020 via Mmm… Records and Island Records takes an enthusiastic approach to reconciliation. After releasing one of my favorite albums of 2014 "So Long, See You Tomorrow," the band called it quits.
In the intervening years, its members went their separate ways but maintained contact. Bassist Ed Nash released an album featuring drummer Suren de Saram entitled "The Pace of the Passing" under the name Toothless and guitarist and singer Jack Steadman formed Mr. Jukes, and released "God First," both in 2017. Guitarist Jamie MacColl went back to school and got his master's degree.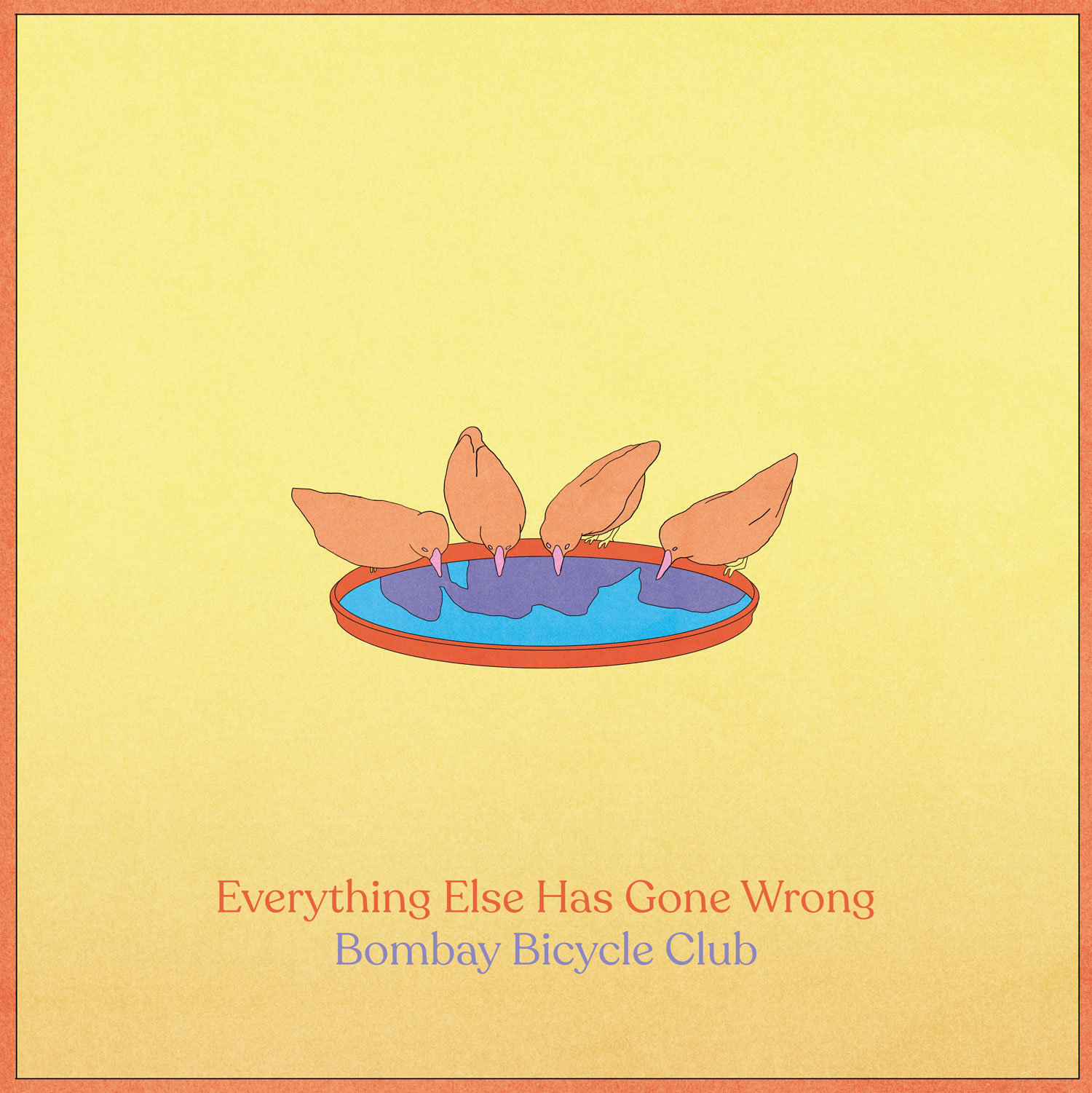 Then in 2019, the band reentered Konk studio, 10 years after recording the first Bombay Bicycle Club's debut "I Had the Blues But I Shook Them Loose" there.
"Everything Else Has Gone Wrong" is a melodic journey in positivity. You'd have to be happy to get back together with your bandmates after splitting up and it comes through in the songs. The album serves as a comforting weighted blanket and at the same time, an uplifting album to help you get out of bed.
"This is an album for anyone who's ever turned to music in a time of crisis, whether personal or political," the band wrote its Facebook page. "It's about the solace one can get from listening to music or playing music when everything else in your life or the world has gone wrong. It's about finding kernels of hope and renewal in dire situations."
Beginning with the bright synths on "Get Up," Bombay Bicycle Club hits its mark in creating an album that makes listeners feel good from their ears to their souls. The song is a feel-good intro that contrasts those happy sounds with a deep, thumping bass line.
One of my favorite tracks, "Is It Real," takes a nostalgic look at life and how time moves, as noted by Ferris Bueller, fast. The song takes the approach to live presently because trying to stop the shifting gears of the universe is a fruitless effort. It contains one of my favorite lines on the album: "Is it real? Wind the tape back/ Watch the whole reel 'til the picture goes black."
The repeating chorus on the title track "And yes I found my second wind," can serve as the premise of the album. The band recorded four albums and then got burned out before reuniting with newfound energy and outlook on their time together.
It's not a full-blown case of the fuck-its, but there is some solace that comes from turning on the stereo or singing your favorite song when "Everything Else Has Gone Wrong." It's a meta-experience captured by the band beautifully for this album.
The tone of "Good Day" is all about the side effects of rumination. While the subject of the song wants to just have a good day, he recognizes that it is his own thoughts and perspective that are turning on him. It's not external forces, but he is mixing up his internal signals.
"First my looks and now my friends
Day-by-day, I'm losing them
Losing them, losing collagen, losing elastin
The melting ice caps in my drink
Made me stop and think about
Think about time running out"
-"Good Day," Bombay Bicycle Club
If we roll through the index of The Diagnostic and Statistical Manual of Mental Disorders, fifth edition, commonly referred to by psychologists as the DSM–5, the symptoms codependency aligns well with the lyrics of "Eat, Sleep, Wake (Nothing but You)."
It's a tightly modern emo song that incorporates some of the band's gritty rock beginnings and also demonstrates how much the songwriting of Bombay Bicycle Club has advanced in 10 years. The lines are almost pulled from a Dashboard Confessional song, but they are sung with a different intensity here: "Those looks at the start, the words in the dark/ But never a flame, we just wanted the spark."
The song that best embodies that emotional spirit is "Do You Feel Loved?" Opening with tropical beats flutes the album moves into a rolling current of heavy rhythms and glistening melodies.
Its hopeful lyrics like "All the cracks around your head/ Will fill with light" and "Electric waves/ Will wash your doubts away" are eagerly punctuated by a plethora of horns.
Ending with the whimsical, "Racing Stripes," the album put a positive foot forward for the post-album future. The haunting, repeating chorus of "This light will keep me going/ And I don't even know wherever I may go," is sung more like a mantra than a hook.
It's true that the brightest days come after the darkest and Bombay Bicycle Club proves that with its latest album. After breaking up following arguably the band's best album, it could have been easy to wonder what would have happened if they kept going. Instead of being filled with regret, Bombay Bicycle Club pulled it together and found the inspiration to create a durable album.
When "Everything Else Has Gone Wrong," I'm going to cue up this album by Bombay Bicycle Club and know that the good feelings are just a song away.
See Bombay Bicycle Club Sunday, June 7 at the 9:30 Club in Washington, D.C., Wednesday, June 10 at Union Transfer in Philadelphia, Pennsylvania and Thursday, June 11 at at the Capitol Theatre in Port Chester, New York.
Get "Everything Else Has Gone Wrong" from Bombay Bicycle Club, Amazon, Apple Music, Google Play, Spotify, Tidal and Deezer.
Favorite Tracks:
Is It Real
Everything Else Has Gone Wrong
Good Day
Eat, Sleep, Wake (Nothing but You)
Do You Feel Loved?
Racing Stripes