Bob Dylan is one layered fella. The singer, musician, writer and artist contains multitudes. He tells us so on his 39th studio album "Rough and Rowdy Ways" released June 19 via his longtime company Columbia Records.
Rooted in the folk tradition of storytelling, the album has acoustic, blues, rock 'n' roll and even some jazz influences that sound revived from Dylan's most recent series of albums. "Rough and Rowdy Ways" was released as a double album with nine tracks on one and the 17-minute closing track "Murder Most Foul" onto the second. It totals one hour and 10 minutes containing some of some of Dylan's finest work to date.
For those who haven't been following along as closely as I have to Robert Zimmerman's career in recent years; after the success of 2001's Grammy-nominated "Love and Theft," Dylan released three more albums of original music – "Modern Times" in 2006, "Together Through Life," in 2009 and "Tempest" in 2012. All have been self-produced under the name Jack Frost.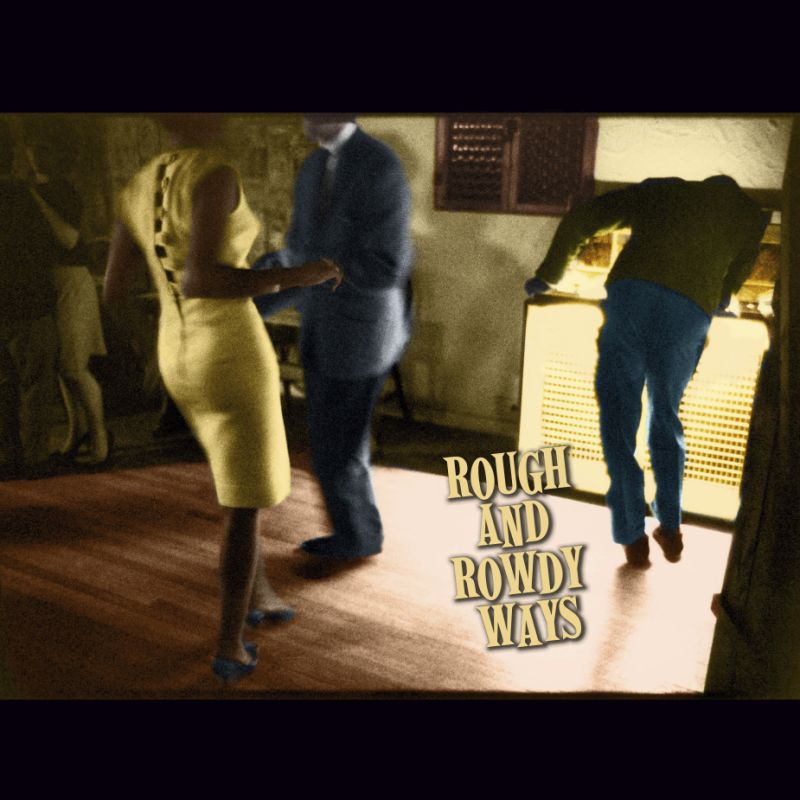 He also released a Christmas album in 2009 "Christmas in the Heart," which contains one of my favorite songs any time of the year, "Must Be Santa," and three albums of songs from the American Songbook; "Shadows in the Night" in 2015, "Fallen Angels" the following year, and the triple album "Triplicate," in 2017.
Like "Rough and Rowdy Ways," "Modern Times" and "Together Through Life" features a vintage photograph for the album artwork. This one is by British photographer Ian Berry who captured it in 1964 at an underground club East London town of Whitechapel.
At 79 years old, Dylan has long had nothing left to prove, he even won a Nobel Prize; not like he seems to let that, or anything else, influence his art. He sounds loose and like he's having fun with his touring band, who I've seen a handful of times over the past decade-plus any time his "Never Ending Tour" stops in town.
The appearances from Fiona Apple and Blake Mills are completely lost to me and that says nothing about their contributions, it's just that I can't find them. The legendary keyboardist Benmount Tench from The Heartbreakers, fellow keyboardist Alan Pasqua and Tommy Rhodes, who may be a vocalist but probably isn't the comedian, also appear on the record. The album also has no producer listed. The touring band includes Donnie Herron on pedal steel guitar, violin and accordion, Charlie Sexton and Bob Britt joining Dylan on guitar, bassist Tony Garnier and drummer Matt Chamberlain.
There's no sense in trying to figure it all out on "Rough and Rowdy Ways" because, as he tells us on "I Contain Multitudes," "I drive fast cars, and I eat fast foods/ I contain multitudes." Did we all forget that Dylan can be funny?
His voice sounds tired compared to the youthful Dylan who sang "A Hard Rain's a-Gonna Fall" in 1963 but he sounds good considering the number of cigarettes he's smoked and Heaven's Door whiskey he's drunk. People didn't like his voice then and they still don't, but I think he sounds like an old singer should.
The band jams and lays it on think for "False Prophet," one of the singles released ahead of the album. It's a crawling blues tune that borrows heavily from Billy "The Kid" Emerson's 1954 B-side "If Lovin' Is Believing" where Dylan piles on so many illusions that they trip over one another. The closing line seems to be a wink at his critics: "Can't remember when I was born/ And I forgot when I died."
"I'm nothing like my ghostly appearance would suggest
I ain't no false prophet
I just said what I said
I'm just here to bring vengeance on somebody's head
-"False Prophet" Bob Dylan
Dylan's ability to weave a tale is as sharp as ever. On "My Own Version Of You," he creates his own "Frankenstein" tale with an eye for cinema-details and uses it to build metaphors about Machevailian tactics about the ends justifying the means and leaving the listener to take it from there.
"I'll pick a number between one and two
And I ask myself, 'What would Julius Caesar do?'
I will bring someone to life in more ways than one
Don't matter how long it takes, it'll be done when it's done"
-"My Own Version Of You," Bob Dylan
Dylan delivers a tender waltz-like tune on "I've Made Up My Mind to Give Myself to You." Did we forget that Dylan can be romantic? He genuinely lets his guard down to create a lovely ballad that wouldn't entirely stand out at a wedding reception.
Is there an age limit that songwriters hit when they just talk about death? Willie Nelson wrote "Roll Me Up And Smoke Me When I Die" just before his 80th birthday, eight years ago. Dylan has been addressing his death on every album of original music for nearly two decades. Like the outlaw Nelson, Dylan is still fighting back death, and on "Black Rider," he sounds like he's got plenty of fight left.
"Black rider, black rider, tell me when, tell me how
If there ever was a time, then let it be now
Let me go through, open the door
My soul is distressed, my mind is at war
Don't hug me, don't flatter me, don't turn on the charm
I'll take a sword and hack off your arm
-"Black Rider," Bob Dylan
Dylan carries that same fire into "Goodbye Jimmy Reed," a rollicking blues tune that has a boot-stomping live sound. In the tribute to the bluesman, he has fire in his belly: "They threw everything at me, everything in the book/ I had nothing to fight with but a butcher's hook."
"Key West (Philosopher Pirate)" asks more questions than it answers: How often does Dylan go to Key West? What Does he do when he's there? Is it the Ernest Hemingway connection that draws him there? Does he ever leave his tour bus, ever, even in Key West? Has he played the song for Jimmy Buffett? So many questions.
The final ballad, "Murder Most Foul," probably deserves its own review and holds its own as a separate disc. It was released in March as the first single on the album and uses the assassination to President John F. Kennedy as a starting point to dive into a critique of American culture since the 60s.
There are so many references in this song, it's like "Infinite Jest" with the number of footnotes. There are beautiful lines and I like all the contradictions that Dylan puts together like "I'm goin' to Woodstock, it's the Aquarian Age/ Then I'll go over to Altamont and sit near the stage."
He really hits hard at the Kennedy assassination, offering a heartbreaking picture "I'm leaning to the left, I got my head in her lap/ Hold on, I've been led into some kind of a trap." He also compares Kennedy to Jesus Christ saying they sacrificed him and only dead men are free. All pretty heavy stuff. Part of the song, he's making DJ requests to Wolfman Jack. It sounds like this could have been the Nobel acceptance speech that everyone wanted to hear.
"What's new, pussycat? What'd I say?
I said the soul of a nation been torn away
And it's beginning to go into a slow decay
And that it's thirty-six hours past Judgment Day"
-"Murder Most Foul," Bob Dylan
Dylan doesn't sound like an angry old man; he sounds like a fighter getting ready to hop back in the ring. He's trash-talking like Muhammad Ali, with humor and setting up pitfalls to rope-a-dope critics into believing in a much bigger and better meaning to the words beneath their surface, but we all know there really is and he's winking at us all the while.
Get "Rough and Rowdy Ways" from Bob Dylan, Amazon, Apple Music, Google Play, Spotify, Tidal and Deezer.
Favorite Tracks:
I Contain Multitudes
False Prophet
My Own Version of You
Black Rider
Goodbye Jimmy Reed
Key West (Philosopher Pirate)
Murder Most Foul