With St. Patrick's Day coming up, it's the perfect time to introduce you to my new favorite Celtic band – Baile an Salsa.
Baile an Salsa is a musical experience. The band fuses Celtic traditional music with Latin rhythms to create exhilarating and passionate songs The 10-piece band released "Ériu," its second full-length album of Salsa-Trad tunes, Saturday, Feb. 10.
Based in Galway, Ireland, Baile an Salsa is an international band comprised of world-class musicians representing seven different nations who all met in the city. Through its music, Baile an Salsa invites listeners to feel the spirit of Galway and fully embrace it with dance.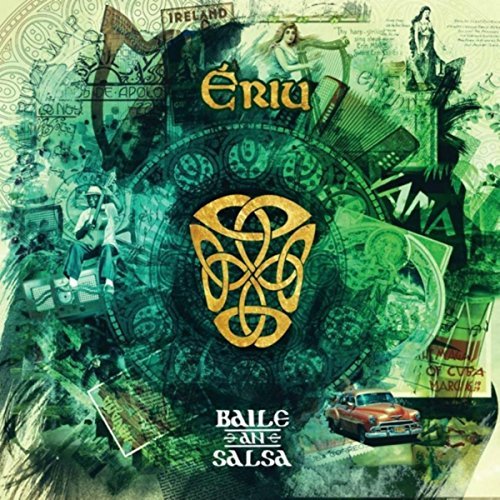 Since forming in 2012, Baile an Salsa released a self-titled EP in 2013 and released its debut album, "Tribú" the following year. The band has gained an international fanbase that began in Galway and Dublin, Ireland and continued as Baile an Salsa performed at festivals across the world, including the 56th annual Philadelphia Folk Festival where I got a chance to interview its members.
Outside of Tommy Chong's book "The I Chong," I never had an interest in salsa dancing but, Baile an Salsa had an entire crowd salsa dancing during its set at the festival.
The band is accordion player Ger Chambers of Ireland, vocalist Andres Martorell of Uruguay, conga player Alan Preims of Italy, timbales and bodhrán player Brian "Rags" Ferguson of Ireland, flute, whistle and Galician pipes player Gabriel Gonzalez Diges of Spain, bass player Benjamin Becerra of Venezuela, playing bata, percussion Frailan Moran of Cuba, fiddle player Michael Chang of Seattle, Washington, pianist Bríd Dunne of Ireland, and banjo and mandolin player Colm Naughton of Ireland.
With all those instruments and cultural influences, Baile an Salsa creates enchanting sounds that transcend all genres and languages. The band has tremendous chemistry to create beautiful, unique moments throughout its latest album.
By seamlessly singing in Spanish and English, Martorell's charming voice fully embodies the spirit of Baile an Salsa. Throughout "Ériu," the band pulls listeners into this warm and unique embrace. The result is pure, meaningful and fun music.
Martorell said via email that his inspiration for the album was "The need to bring out our message, our fusion of cultures, the need to give back to the wonderful land in Ireland something back for all that has given us."
Last summer, the Baile an Salsa began a crowdfunding campaign to record, produce and release "Ériu." By successfully reaching its goal by the end of August, the band laid down the tracks for the album at Grouse Lodge recording studios in Ireland.
"It was great for us to know we have so many friends around the world who believe and love this project as much as we do," Martorell said.
The 11 songs on this album create an atmosphere that is similar to that which accompanies a dark pub after few pints – everything brightens up and becomes a little more interesting. Baile an Salsa makes both salsa and Celtic music accessible for new listeners by making it fun and affable.
Each of the musicians in Baile an Salsa shines independently but they work so well together on "Ériu." One of my favorite moments on the album is the back and forth between Chambers playing the accordion and Gonzalez Diges playing flute on "Dublin Town."
On "Louth Samba," Becerra's bass dances out from the shadows for a jazzy interlude. During these extended musical bridges, the band digs deep into its roots of traditional music and the talents of its talents are shining under the spotlight.
It's so easy to get caught up in the passion of those bridges between Celtic and Latin traditions, like the instrumental section of "Lineas Paralelas," which creates one of the most whimsical moments on the album.
"Ériu" captures the spirit of Ireland and the energy of Baile an Salsa in a way that is only second to seeing the band live.
See Baile an Salsa Friday, May 4 at the Kansas City Irish Center in Kansas City, Missouri; Saturday, May 5 at the Irish American Heritage Center in Chicago, Illinois, Monday, May 7 at the Cedar Cultural Center in Minneapolis, Minnesota; Saturday, May 26 at Monroe's Live in Galway, Ireland and Sunday, May 27 at Whelan's Live in Dublin, Ireland.
On St. Patrick's Day, raise a pint of Guinness for Baile an Salsa for keeping Celtic traditions alive and appealing in Galway.
Get "Ériu" from Baile an Salsa, Apple Music, Amazon, Spotify, Tidal and Deezer.
My favorite songs: "The Dancing Bodhrán," "Marry Me," "Long Way Home," "Louth Samba," "Dublin Town," "Sabado En Sea Road."