Apathy puts the past and the future in his sights as he contemplates the present for his latest album.
A voicemail from his father who died shortly before recording and more from his friends introduce his seventh studio album, "Where The River Meets The Sea," released May 28, 2021 via Dirty Version Records.
Anytime anyone asks who my favorite rapper is, the answer is always Apathy. I was an Apathy fan before I heard "K.I.D.S" from Mac Miller and after MCA from The Beastie Boys died.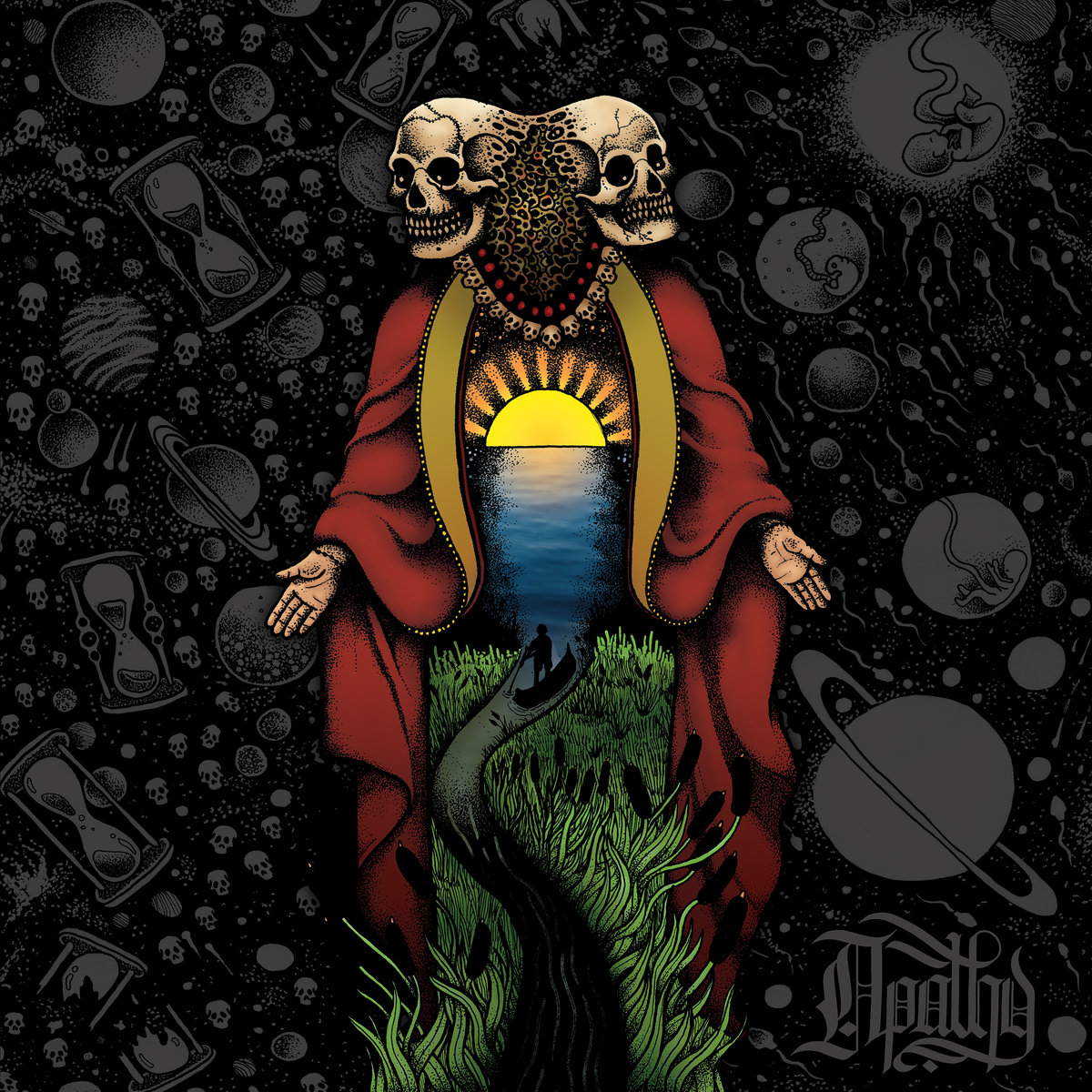 I first heard the King of Connecticut on a collaboration he did with Sage Francis, a rapper I discovered after he performed in Buffalo, New York, when I was writing for the newsmagazine ArtVoice. I got a copy of "Where's Your Album?!!," which is still one of my favorite mixtapes ever, and I dove it.
I was hooked on his thoughtful production that featured not only classic rock but also alternative rock and even television theme songs, that he combined with his deep voice. I even used one of his instrumentals on the first version of The High Note podcast theme song and to this day, "The Grand Leveler," gets me hyped.
Apathy is always at his best when it comes to delving into personal subjects and the album opens properly with a jazzy beat for the title track. Fellow Demigodz and frequent Apathy collaborator Celph Titled joins in the production booth with Craig Skauge for this album.
On the track, Apathy talks about losing his father and having his focus on his son and daughter, who are the subject of the second verse between a delightful chorus from Bennett.
"One thing I really need to stress, this is so vital
High tide, low tide, life always goes in cycles
So even at your lowest, focus through that spyglass
Where the river meets the sea is where the future meets the past, splash!"
-"Where The River Meets The Sea," Apathy
The classic Apathy flow and skits on past albums return for "Jonathan Livingston Seagull," featuring Brevi, which is a story I knew nothing about until I heard Kevin Smith talk about it on a podcast.
The track follows my favorite Apathy formula of combining biography with blue-collar stories of being broke and budgeting Little Debbies for lunch.
The other side of Apathy, which is typically accompanied by Celph Titled, is heavy on the bravado and guns as big as bazookas.
"And while you rollin' up blunts and light weed
I'm rollin' up on alien squads at light speed
There ain't another rapper that's spittin' this like me
That dude you say that's different you like? There's like three."
-"We Don't Fuck Around," Apathy
On "P.S.E." he talks about growing up in grade school and being a terrorist since the "Public School Era." Joining him in the boys room are Styles P and Lil Fame who take turns keeping watch down the hallway while they tag on the stalls and mirrors.
Apathy completely switches up his flow on "Underwater," in a way I've never heard before. It's like a combination of Eminem and psychedelic house music featuring a chorus by Brevi. Anoyd is ready to go off on the second verse which sets up Chris Webby for the spacey third verse. The track actually features Carl Sagan from "Cosmos" on the outro, in a little nod and another lovable reference by Apathy.
I love the nerdy gems hidden throughout Apathy's lyrics and "Force Fields" puts the comic strip front and center. Featuring Pep Love and Tajai, the track builds in space for each rapper to execute their special power without wasting any time.
Apathy, who got his real estate license before the pandemic and frequently talks about how hard it is to make money off rap music, is committed to his music. Piano melodies work so well for Apathy and his dances across the notes for the first verse and then turns up the bass for the second:
"Rain on my garden, now my parade
Days I was starvin', floodin' my brain
Now I go the umbrella out for the pain
Everything wash off, every drop in the drain."
On "Dream Sequence" Apathy tries to keep his head in the clouds for his creativity and make hay while the sun shines for his family. Classic movie quotes, which are a staple of Apathy songs, bookend the track and Bennett returns to thread the verse between the MC and a feature by Snak The Ripper.
Apathy's best work uses classic tones and strings like the piano which provides the melody for "Remember The Night." Another one of the rapper's best skills is bringing back the curtain on the rap industry while putting it in perspective with everyday living. Hayze picks up on the vibe for a chill verse playing off Apathy's themes and tying up the track.
Sometimes it takes an external force to push us to do things. People always talk about a silver lining to clouds and I'm sure everyone knows someone who made out OK during the pandemic.
"Where The River Meets The Sea," puts Apathy back behind the microphone and in the production booth for a deep album that will take the underground rapper to new heights.
See Apathy and Celph Titled Friday, Aug. 27 at CrowBar in Tampa, Florida.
Get "Where The River Meets The Sea" from Apathy, Bandcamp, Amazon, Apple Music, YouTube Music, Spotify, Tidal and Deezer.
Favorite Tracks:
Where The River Meets The Sea
Jonathan Livingston Seagull
P.S.E.
Underwater
Force Fields
A Rainy Day In Connecticut
Dream Sequence
Remember The Night