Philly Folk Fest Invites You To Fest In Place Aug. 13-16
Creativity is nothing new to the volunteers who run the Philadelphia Folksong Society. You don't get to claim the title of hosting the longest continuous outdoor music festival in North America without learning how to innovate along the way.
The 59th annual Philadelphia Folk Festival invites a global audience to fest in place Aug. 13-16, 2020 with interactive musical experience complete with multiple streaming stages all online.
Benjamin Gibbard, Shakey Graves, Talisk, Tom Rush, Buffy Sainte-Marie, Allen Stone, Josh Ritter, Los Lobos, Rhiannon Giddens with Francesco Turrisi, Richard Thompson, Trixie Mattel, Irish Mythen, John Flynn, Molly Tuttle, Natalie MacMaster with Donnell Leahy, and Robert Earl Keen are all on the top of the digital bill. Tributes to festival founder, Gene Shay and beloved performer John Prine are scheduled.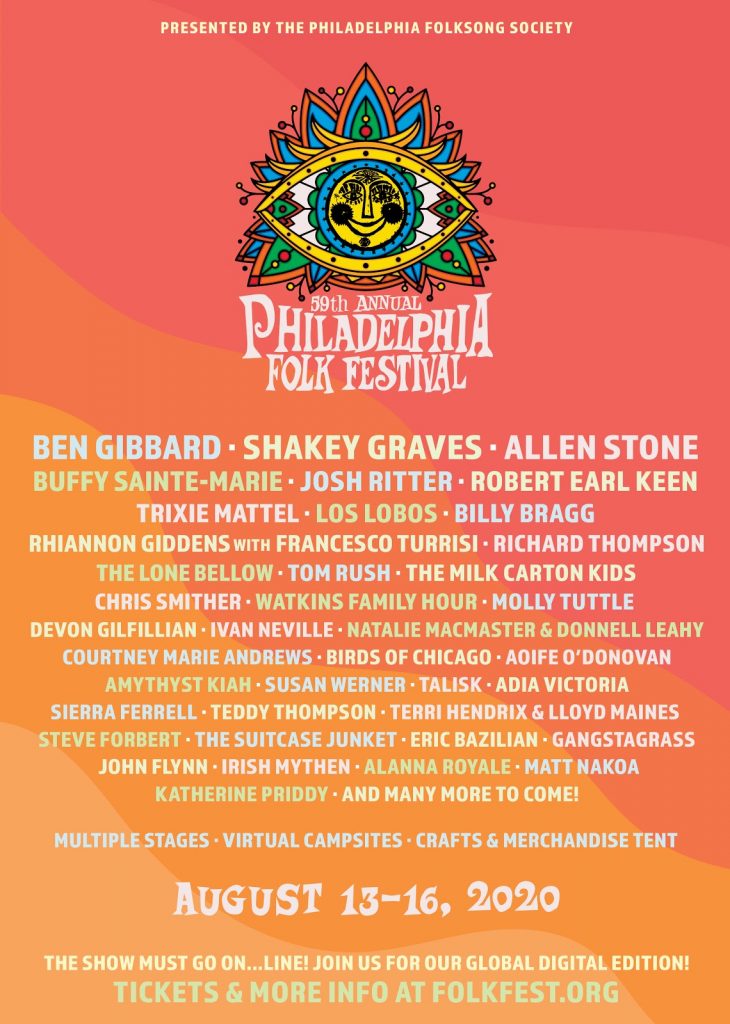 "I am positively giddy about this year's initial lineup," said Lisa Schwartz, the festival and programming director. "The extraordinary artists that will be joining us represent the pinnacle of the industry – legends and legends in the making. At a time when we most need to find the silver lining, we will be able to stay safe, fest in place, and enjoy some of the best music in the world, with the world. How cool is that?"
The full initial lineup announced includes: Adia Victoria, Alanna Royale, Allen Stone, Amythyst Kiah, Aoife O'Donovan, Ben Gibbard, Billy Bragg, Birds of Chicago, Buffy Sainte-Marie, Chris Smither, Courtney Marie Andrews, Devon Gilfillian, Eric Bazilian, Gangstagrass, Irish Mythen, Dumpstaphunk, John Flynn, Josh Ritter, Katherine Priddy, Los Lobos, Matt Nakoa, Molly Tuttle, Natalie MacMaster and Donnell Leahy, Rhiannon Giddens with Francesco Turrisi, Richard Thompson, Robert Earl Keen, Shakey Graves, Sierra Ferrell, Steve Forbert, Susan Werner, Talisk, Teddy Thompson, Terri Hendrix, The Lone Bellow, The Milk Carton Kids, The Suitcase Junket, Tom Rush, Trixie Mattel and Watkins Family Hour.
In addition to the three days of online love and live music, more festival favorites will be translated for a digital venue including an animated map of the festival grounds, chat features, campfire open mics, Zoom campsites, craft show food and merchandise tents. Viewers will also be able to pause and rewind performances so they won't miss one beat of the music thanks to the festival's partnership with Mountain View Staging.
"They can move about the entire festival site and visit all four stages, pick up some awesome fest apparel from the merch tent, and even enter the campgrounds for a quick jam session," Mountain View Staging project manager Sam Bolenbaugh said. "At Mountain View Staging, our design team and our partners have truly embodied the fest in place spirit to bring each aspect of what folks have come to expect and love about this event to the 59th Philadelphia Folk Festival direct to each and every viewer."
The Philadelphia Folk Festival is also willing to teach analog folks digital tricks with how-tos on how to access and watch the performances on various devices. For the tech-savvy, the festival will be streamed in high definition 1080p video and stereo audio running at 48kHz.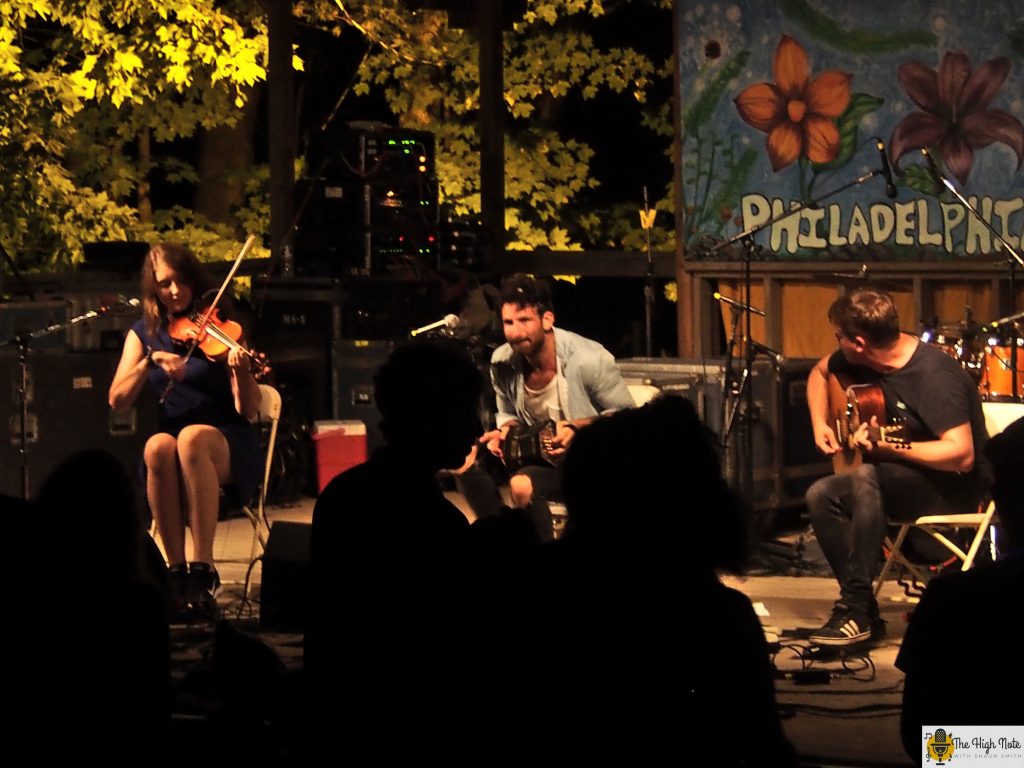 Ticket holders will be given access to archival footage as well and other bonus content in advance of the event itself, which provides an extra incentive to register early.
This year's festival will run 12 hours each day, noon to midnight Friday and Saturday, and 10 a.m.-10 p.m. Sunday. Thursday night will recreate the festival's traditional Campfire Open Mic performance. The winner of the Campfire Open Mic contest on Friday and Saturday nights will be chosen as the first act booked for the 60th Annual Philadelphia Folk Festival in 2021.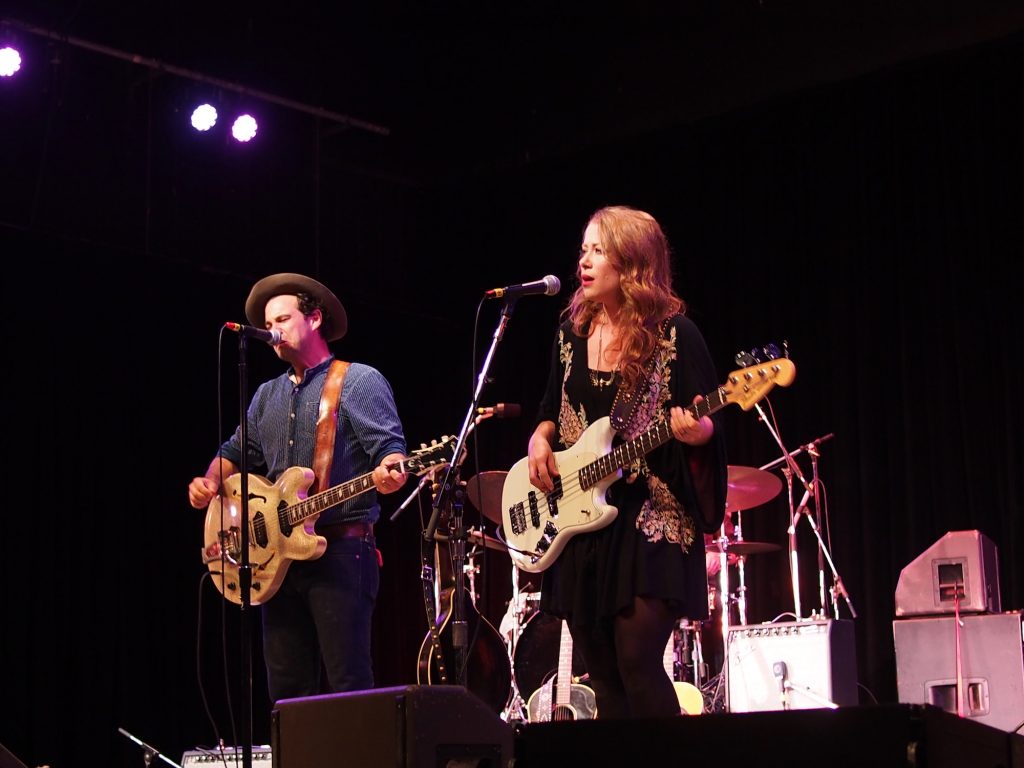 Tickets are available to purchase on a pay-what-you-can scale, beginning at $25 per day for a single-day attendee ticket and $75 for the weekend. Zoom campsites can be purchased for festers to set up a digital space with custom backgrounds to fest in place with friends for $25 for folksong society members and $30 for nonmembers. Campsites can be kept private, invite-only, or public – offering campers the opportunity to allow new friends to join them online.
There are various packages for sale including a physical program and wristband as well as sponsorship opportunities available. Purchase tickets and see more at folkfest.org.